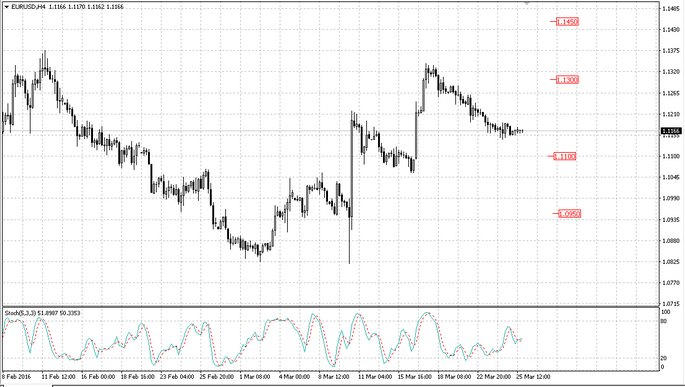 March 28, 2016
---
Traders continued buying the dollar, still the dollar strengthening was weak and soon after the dollar retreated. In general, traders activity was gradually reduced amid the long Easter weekend (European and the US markets are closed). The dollar positions were undermined by the ambiguous statistics from the United States, although all published reports were quite positive. The United States published the final GDP for the fourth quarter. The data came in at the level 1,4% against the forecasted 1,0%.
German government bonds yields decreased in relation to their counterparts (the US and the UK) which pressured the euro. The pair euro/dollar was trading in a flat.
The 10-year government bonds yield in the UK increased in relation to their counterparts (the United States and Germany), which increased the attractiveness of British assets. Moreover the oil market dynamics was hard to ignore. After a correction caused by weak oil stocks in the US, investors once again began to build up long positions that had a positive impact on the British currency. Only by the end of the trades the pair pound/dollar slightly decreased.
The published inflation data in Japan showed that the consumer price index over the year in February was not changed. Low energy prices and weak demand limited the growth of the price. These facts kept pressuring the Bank of Japan to increase the size of the stimulus, although the regulator had softened its monetary policy in January. The pair dollar/yen slightly increased.
Publication source
---
Fort Financial Services information
Fort Financial Services reviews
October 21, 2016
The price maintained its bearish tone on Thursday. The EUR/USD pair stayed around its recent lows during the day. The euro slightly strengthened towards 1.1000 ahead of the US opening. The 50-EMA limited the euro recovery in the 1 hour chart...
---
October 21, 2016
Asian stock markets are narrowly mixed, with Japanese bourses managing marginal gains as the Yen falls against the Dollar. Stock futures in the U.S. are down...
---
October 21, 2016
The ECB monetary policy meeting yesterday saw the euro give up its intraday gains to close on a bearish note. As Draghi signaled that the central bank would need time to assess the monetary policy situation...
---