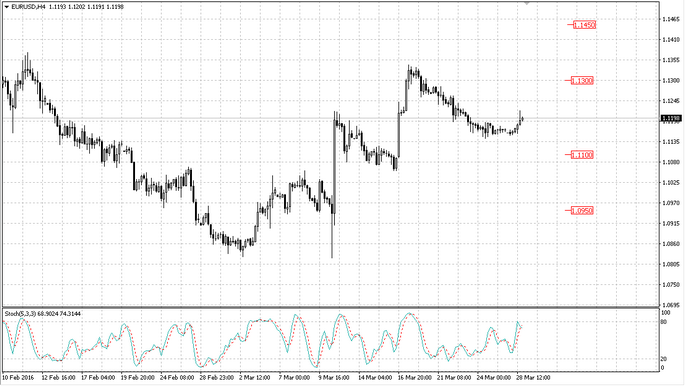 March 29, 2016
---
The dollar continued to be in demand, which returned most of its losses that happened after the Federal Reserve meeting. The traders' activity was low amid the Catholic Easter celebration. We expect the volatility to return today when traders return from holidays.
The surprisingly strong US GDP report supported the dollar as well. The GDP was revised upwards. The US economy grew by 1.4% in the fourth quarter against the previous estimate at + 1.0% and an increase of 2% in the third quarter. These figures became another argument in favor of an early rate hike, which was repeatedly expressed by the FED representatives last week, this in return supported the demand for the dollar. The United States published Pending Home Sales for February. The forecast was 1.0%, the data came in at the level of 3,5%. The trades on the pair euro/dollar closed with a slight growth on Monday.
The GBPUSD remained vulnerable, and continued to advance south amid concerns about Brexit results. High uncertainty about Brexit results provoked an increase in volatility for the pound the pairs. By the end of the trades the pair pound/dollar increased.
The inflation report for February in Japan changed the Japanese and the United States differential of CPI indicators in favor of the latter. The spread was 0.1% in January and increased by 0.43% in the last month of winter. The pair dollar/yen closed the trades with a decrease
Publication source
---
Fort Financial Services information
Fort Financial Services reviews
January 20, 2017
Asian stock markets were mixed overnight, after U.S. and European shares closed in the red Thursday. Japan and mainland China bourses managed to move higher (Chinese GDP beat expectations at 6.8%)...
---
January 20, 2017
UK retail sales fell most since 2012. We see he fastest pace of decline in almost five years in December. It is due to sales of... pretty much everything from household goods to clothing and food...
---
January 20, 2017
Investors await Trump's inauguration and speech due later today as he takes office as the 45th President of the United States. The U.S. dollar was seen giving up some of the gains yesterday with some volatility coming off the EURUSD on the back of the ECB meeting...
---