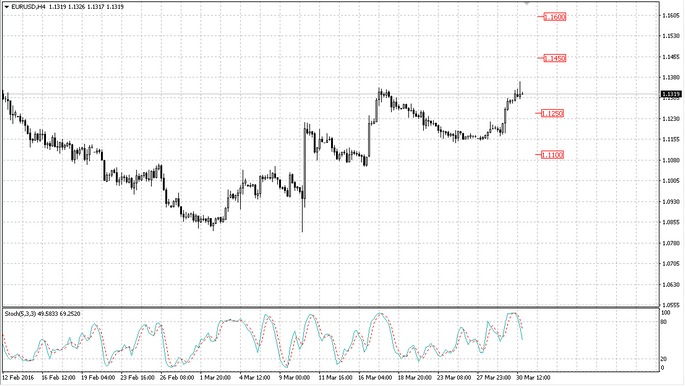 March 31, 2016
---
The dollar suffered significant losses. The US currency fell victim to the extremely soft Fed rhetoric. The regulator emphasized the risks: external and internal, and also mentioned the possibility of policy easing if necessary. The regulator's comments suggest a significant weakening of the dollar, especially in light of the mentioned possible return to the economy stimulation. The ADP for March was published on Wednesday (the previous value was 214K; the forecast was 194K). The data came in at the level of 200K.
It is impossible to ignore the growing "appetite for risk": the new postions on carry trade cuased pressure on the euro as a funding currency. However the pair euro/dollar strengthened by the end of the trades.
The debt market dynamics pointed to the British currency correction. The 10 years UK government bonds yields reduced in relation to their counterparts (the United States and Germany) which reduced the attractiveness of the British assets. The Bank of England performance will be the focus of our attention on Thursday. By the end of the trades the pair pound/dollar decreased.
The yields differential on government bonds of the United States and Japan decreased from November to February inclusively. Retail Sales turnover decreased by 5.4% in Japan. Despite the Japanese and the US retail sales differential indicators at 0% at the end of January, this figure reached the level of 2.2% in favor of the latter in February. The pair dollar/yen closed the trades with a slight growth.
Publication source
---
Fort Financial Services information
Fort Financial Services reviews
December 2, 2016
Revealed a solid 53.2 November ISM reading and a 0.5% October construction spending rise that followed big upward Q3 revisions, both of which lifted prospects for GDP. We also saw a 17k Thanksgiving week spike in claims that reversed the remarkably tight 333k Veteran's Day figure...
---
December 2, 2016
I do apologise in advance for bombarding you with lots of commodity reports, but ahead of Friday's NFP report, the FX markets tend to create lots of false moves, so it is difficult to make much of todays moves...
---
December 2, 2016
Its payrolls Friday and the markets are expecting to see a solid print for November following Wednesday's ADP payrolls increase. Yesterday, the ISM and Markit's manufacturing PMI showed a strong increase in the reading...
---