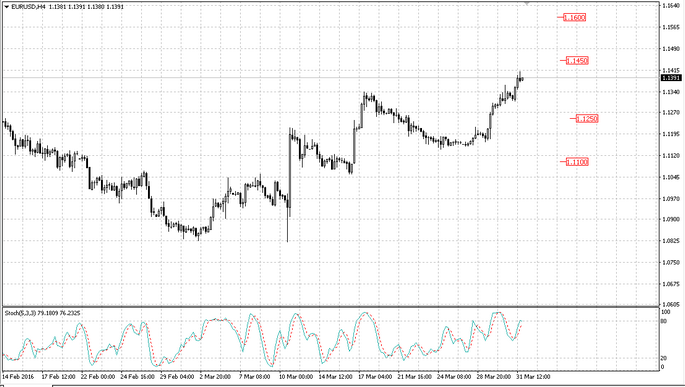 April 1, 2016
---
The dollar continued to lose ground, being under heavy pressure after the recent extremely soft Janet Yellen's comments. The dollar was so shocked by the regulator's rhetoric that was not able to show a positive reaction even after a positive labor market report.
According to the ADP, the level of employment increased by 200 000 compared to the forecasted 194 000. If not the recent Yellen's comments the market could see a decent dollar growth in response to the positive ADP release, which attracted considerable attention in anticipation of the NFP. The USA published Initial Jobless Claims for March at the level of 276K (the previous value was 265K; the forecast was 269K).
After a positive German's CPI release we expect the Euro area inflation data better than a consensus forecast. The ECB soft monetary policy and the oil price growth pressured the inflation in Europe. The preliminary CPI for March came in at -0.1% m/m, in line with the forecast. The pair EUR/USD strengthened.
The United Kingdom published the final GDP for Q4. The report showed 2.1% vs. the forecast of 1.9%. According to Carney, the Bank of England governor, the low growth and low interest rates create problems for banks and corporations. The instrument pound/dollar is consolidating.
The published Japanese macroeconomic statistics continued to disappoint the market. The main factors that pressured the yen were: weak employment and retail sales report and the negative industrial production. The industrial production has been decreasing the last three months. The pair dollar/yen is consolidating.
Publication source
---
Fort Financial Services information
Fort Financial Services reviews
October 21, 2016
The price maintained its bearish tone on Thursday. The EUR/USD pair stayed around its recent lows during the day. The euro slightly strengthened towards 1.1000 ahead of the US opening. The 50-EMA limited the euro recovery in the 1 hour chart...
---
October 21, 2016
Asian stock markets are narrowly mixed, with Japanese bourses managing marginal gains as the Yen falls against the Dollar. Stock futures in the U.S. are down...
---
October 21, 2016
The ECB monetary policy meeting yesterday saw the euro give up its intraday gains to close on a bearish note. As Draghi signaled that the central bank would need time to assess the monetary policy situation...
---