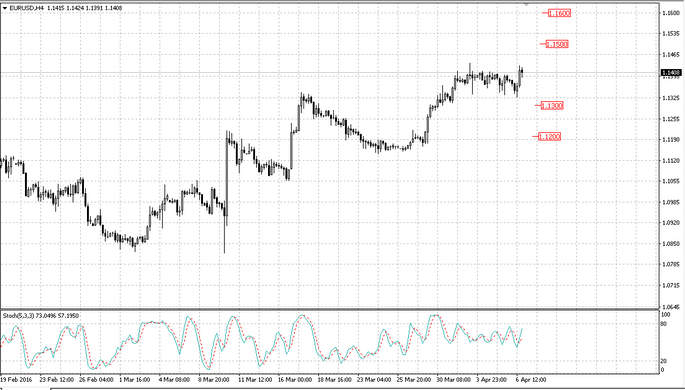 April 7, 2016
---
There was a pessimistic statement by Lagarde (the head of IMF) regarding the growing risks for the global economy. The Federal Reserve latest comments talked about low expectations regarding the interest rate. Finally the oil price decreased. All of these factors together were the main drivers for the risk escape, and against this background the dollar tried to recover. The Fed minutes publication became the main event of Wednesday. Some traders are afraid that the rate hike in April will show undue urgency. Also there were different opinions about the possibility of interest rates hike in April.
The market reaction to the positive USA reports was weak. We noticed the growing optimism in the bonds market. German 10-year government bonds yield kept growing, which made European assets more attractive for investments. Germany revealed Industrial Production for February. The index came in at -0.5% versus the previous data of 2.3% and the forecast of -1.8%. The pair euro/dollar showed a growth.
Service PMI grew both in the USA and the UK. Both indexes grew in comparison to February still the USA PMI growth rate was higher. The pair pond/dollar increased.
The USD/JPY completely ignored the positive macroeconomic statistics from the US and negative reports from Japan. The pair kept on following the dynamics of the stock markets, especially the Japanese one. The pair decreased.
Publication source
---
Fort Financial Services information
Fort Financial Services reviews
December 9, 2016
The single currency was weaker after the European Central Bank decided yesterday that it would continue with its bond purchases program. The ECB extended its QE plans from March 2017 to the end of the year...
---
December 9, 2016
The global stock market rally, which was underpinned by further ECB stimulus measures yesterday and a rise in oil prices, continued in Asia overnight, with most markets moving higher...
---
December 9, 2016
Markets have thrown caution to the wind when it comes to movements as of late as once again US equities set the scene with another stellar rise, though not as big as yesterdays...
---