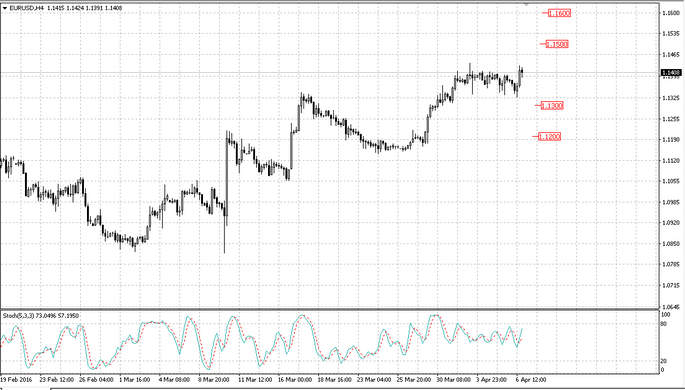 April 7, 2016
---
There was a pessimistic statement by Lagarde (the head of IMF) regarding the growing risks for the global economy. The Federal Reserve latest comments talked about low expectations regarding the interest rate. Finally the oil price decreased. All of these factors together were the main drivers for the risk escape, and against this background the dollar tried to recover. The Fed minutes publication became the main event of Wednesday. Some traders are afraid that the rate hike in April will show undue urgency. Also there were different opinions about the possibility of interest rates hike in April.
The market reaction to the positive USA reports was weak. We noticed the growing optimism in the bonds market. German 10-year government bonds yield kept growing, which made European assets more attractive for investments. Germany revealed Industrial Production for February. The index came in at -0.5% versus the previous data of 2.3% and the forecast of -1.8%. The pair euro/dollar showed a growth.
Service PMI grew both in the USA and the UK. Both indexes grew in comparison to February still the USA PMI growth rate was higher. The pair pond/dollar increased.
The USD/JPY completely ignored the positive macroeconomic statistics from the US and negative reports from Japan. The pair kept on following the dynamics of the stock markets, especially the Japanese one. The pair decreased.
Publication source
---
Fort Financial Services information
Fort Financial Services reviews
January 20, 2017
Asian stock markets were mixed overnight, after U.S. and European shares closed in the red Thursday. Japan and mainland China bourses managed to move higher (Chinese GDP beat expectations at 6.8%)...
---
January 20, 2017
UK retail sales fell most since 2012. We see he fastest pace of decline in almost five years in December. It is due to sales of... pretty much everything from household goods to clothing and food...
---
January 20, 2017
Investors await Trump's inauguration and speech due later today as he takes office as the 45th President of the United States. The U.S. dollar was seen giving up some of the gains yesterday with some volatility coming off the EURUSD on the back of the ECB meeting...
---