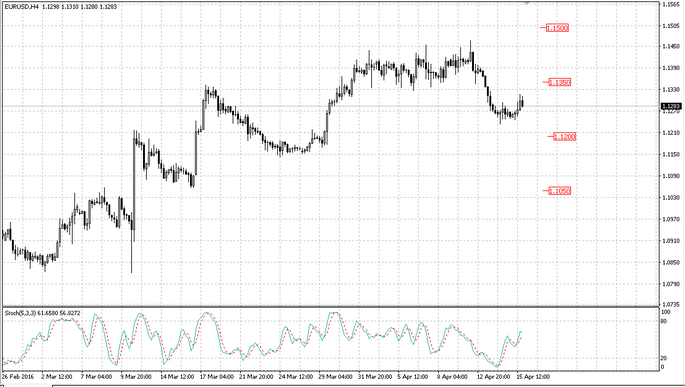 April 18, 2016
---
The market volatility decreased before the summit in Doha, its results may impact the risk assets. In addition, the US currency got under pressure after the Fed comments and the weak inflation data from the US. According to D. Lockhart (Chief Executive Officer of the Fed of Atlanta) he would not vote for a rate hike in April, supporting a cautious approach to the monetary policy tightening due to low consumer spending. By the end of the trades the market volatility increased.
The United States published Industrial Production volume for March. The index came in at the level of -0,6% m/m (the previous value was -0.60% m/m, the forecast was -0.10% m/m) and the Consumer Sentiment index (from the University of Michigan) for April. The index showed 89.7 (the previous value was 91.0, the forecast was 92.0).
The Euro area inflation data had no significant effect on the EUR/USD (the index reached the zero value after falling by 0.1% y/y). The Euro zone published Trade Balance for February. The index showed 19.0 billion euro, the previous value was 20.0 billions. The pair euro/dollar showed a growth.
Bank of England did not bring any surprises, leaving the rate unchanged at the level of 0,5%. The Bank pointed to the risks related to the Brexit. The pound remained calm to the regulator's statements. By the end of the trades the pair pound/dollar sharply increased.
The weak US retail sales, PPI and CPI reports disappointed investors. The US and Japanese government bond yields decreased which reduced the attractiveness of the US assets. The pair dollar/yen decreased by the end of the trades.
Publication source
---
Fort Financial Services information
Fort Financial Services reviews
February 20, 2017
The U.S. dollar is attempting to post some gains to build up from Friday's reversal. Price action has formed an inside bar among EURUSD and USDJPY which could indicate a potential breakout trading that could establish the near-term direction of prices...
---
February 20, 2017
In the US, the Fed will release the minutes of its February meeting. Markets will probably focus on any signals regarding the timing of the next rate hike...
---
February 20, 2017
The dollar fell on Friday amid a light market due to US President's Day. Investors are monitoring the US political situation and waiting for a decision on financial aid to Greece...
---