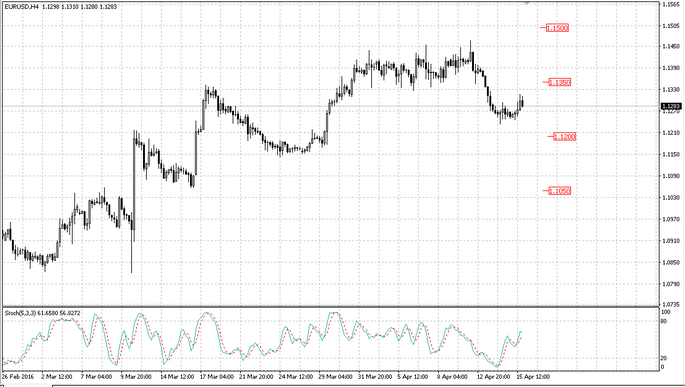 April 18, 2016
---
The market volatility decreased before the summit in Doha, its results may impact the risk assets. In addition, the US currency got under pressure after the Fed comments and the weak inflation data from the US. According to D. Lockhart (Chief Executive Officer of the Fed of Atlanta) he would not vote for a rate hike in April, supporting a cautious approach to the monetary policy tightening due to low consumer spending. By the end of the trades the market volatility increased.
The United States published Industrial Production volume for March. The index came in at the level of -0,6% m/m (the previous value was -0.60% m/m, the forecast was -0.10% m/m) and the Consumer Sentiment index (from the University of Michigan) for April. The index showed 89.7 (the previous value was 91.0, the forecast was 92.0).
The Euro area inflation data had no significant effect on the EUR/USD (the index reached the zero value after falling by 0.1% y/y). The Euro zone published Trade Balance for February. The index showed 19.0 billion euro, the previous value was 20.0 billions. The pair euro/dollar showed a growth.
Bank of England did not bring any surprises, leaving the rate unchanged at the level of 0,5%. The Bank pointed to the risks related to the Brexit. The pound remained calm to the regulator's statements. By the end of the trades the pair pound/dollar sharply increased.
The weak US retail sales, PPI and CPI reports disappointed investors. The US and Japanese government bond yields decreased which reduced the attractiveness of the US assets. The pair dollar/yen decreased by the end of the trades.
Publication source
---
Fort Financial Services information
Fort Financial Services reviews
December 2, 2016
Revealed a solid 53.2 November ISM reading and a 0.5% October construction spending rise that followed big upward Q3 revisions, both of which lifted prospects for GDP. We also saw a 17k Thanksgiving week spike in claims that reversed the remarkably tight 333k Veteran's Day figure...
---
December 2, 2016
I do apologise in advance for bombarding you with lots of commodity reports, but ahead of Friday's NFP report, the FX markets tend to create lots of false moves, so it is difficult to make much of todays moves...
---
December 2, 2016
Its payrolls Friday and the markets are expecting to see a solid print for November following Wednesday's ADP payrolls increase. Yesterday, the ISM and Markit's manufacturing PMI showed a strong increase in the reading...
---