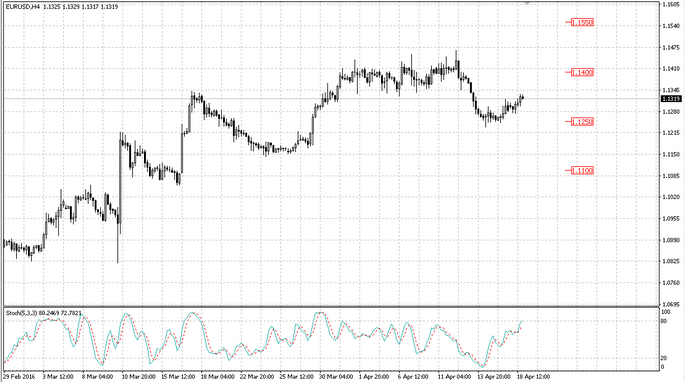 April 19, 2016
---
The dollar weakened amid the risk aversion in the stock markets. The interest in the safe assets grew amid the fall of oil prices. The oil prices fell after negative results of the oil exporters' meeting in Doha. The weaker-than-expected data from the US pressured the dollar as well. The USA Industrial Production fell by 0.6% against the expected 0.1%, Capacity Utilization fell to 74.8% from 75.4%, and the preliminary Consumer Confidence index for April (Reuters/Michigan) fell to 89.7 against the forecast of 92.
The fall of the risk appetite supported the euro as a funding currency. The growth slowdown of the Chinese GDP and the weak economic data from the United States cooled-down the interest in the risky assets. The main factors that caused the dollar fall were: China economic growth decrease to its lowest level and moderately negative data on the US inflation. The pair EUR/USD strengthened.
Traders took profit and closed their orders in oil contracts that caused a technical correction to the psychological level of $ 40 per barrel. Low energy prices n traditionally had a negative impact on the British currency. Then the oil price increased and the pair GBP/USD closed the trades with a growth.
On Monday, William Dudley (the President of the Federal Reserve Bank of New York) said that the US labor market steadily recovered and the Central Bank would gradually and cautiously continue normalizing the interest rates. There were negative reports on Inflation, Retail Sales and Industrial Production last week. These factors also played into the bears' hands in the pair USD/JPY. After a gap downward the USD/JPY grew by the end of the trades.
Publication source
---
Fort Financial Services information
Fort Financial Services reviews
December 9, 2016
The single currency was weaker after the European Central Bank decided yesterday that it would continue with its bond purchases program. The ECB extended its QE plans from March 2017 to the end of the year...
---
December 9, 2016
The global stock market rally, which was underpinned by further ECB stimulus measures yesterday and a rise in oil prices, continued in Asia overnight, with most markets moving higher...
---
December 9, 2016
Markets have thrown caution to the wind when it comes to movements as of late as once again US equities set the scene with another stellar rise, though not as big as yesterdays...
---