21 April, 2016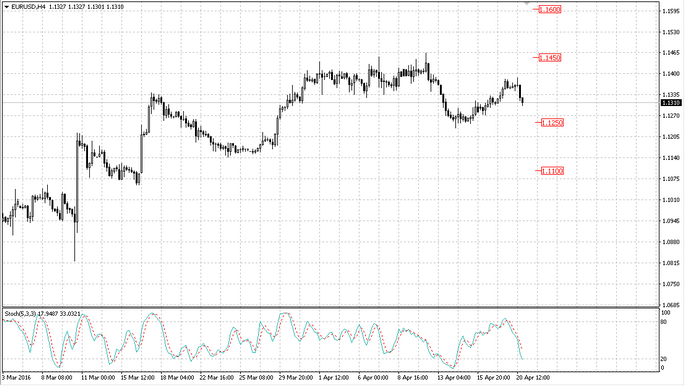 The dollar was under pressure after the weak US statistics publication. In March, Building Permits showed 1.086M vs. the forecast of 1.200M and the previous value 1.177M. Housing Starts index also disappointed the market, falling to 1.089M from 1.194M. The following data supported the US currency: Existing Home Sales showed 5.33M with the forecast of 5.30M.
This week macroeconomic statistics reduced the US and Germany government bonds yield differential, which played into the euro bulls' hands. ZEW index for April reached the maximum level over the past three months amid decreasing fears about the reduction of Chinese GDP. By the end of the trades the pair EUR/USD decreased.
Claimant Count Change for March in the UK grew to 6,7K while the Unemployment Rate remained around 5.1% in February. Average Earnings excluding Bonus for February remained at 2.2%, Average Earnings including Bonus including bonuses fell to 1.8% from 2.1%. The number of unemployed increased by 21 000 people reaching 1.7M. Total wages and salaries in the private sector also slowed down to 1.9%, while the monthly rate fell by 0.9% (the lowest level since July 2014). The pair GBP/USD was trading in a flat.
On the one hand, the weak macroeconomic statistics from the US and the "bullish" sentiment in the commodity market played against the dollar. On the other hand, the "risk appetite" was preserved, that was a negative factor for the yen as a funding currency. The USD/JPY strengthened by the end of the trades.
---
Source link
---
---