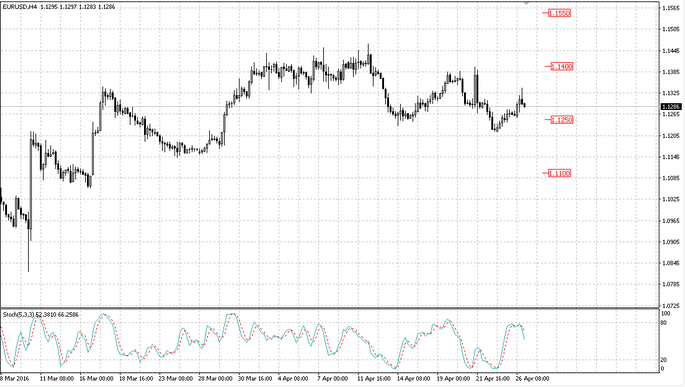 April 27, 2016
---
Yesterday the economic calendar was full of American releases. Durable Goods Orders report for March was published the first (0.8% vs forecast 1.8%). Consumer Confidence for April came in at 94.2 (the previous value was 94.2, the forecast was 96.0). Traders expected to see a hint regarding the state of the economy before the Fed decision on Wednesday, which could have an impact on any further movement of the dollar. Meanwhile investors avoided opening new positions before the Fed meeting.
There was no important news in the Eurozone yesterday. After a strong growth the pair euro/dollar slightly decreased by the end of the trades.
The UK published Mortgage Approvals index for March (45.1K vs the forecast 46.0K). The pair pound/dollar showed a growth but by the end of the trades it slightly fell.
The interest in the safe assets triggered the buying of yen. The rumours that the BoJ won't apply new soft measures supported the yen as well. We believe that the regulator will evaluate more carefully the effect of the running measures and will apply the new ones only in June. The pair dollar/yen strengthened.
Publication source
---
Fort Financial Services information
Fort Financial Services reviews
January 17, 2017
Asian stock markets were mixed, with Japan and ASX heading south amid reports that U.K. Prime Minister May will announce plans for a hard Brexit at today's keynote speech. Yen strength is also continuing to put pressure on the Japanese markets...
---
January 17, 2017
Markets started the week with no sharp changes and lower trading volumes, due to the Martin Luther King Day in the US, ahead of the crucial monetary policy decisions of the ECB and BoC...
---
January 17, 2017
The U.S. dollar was trading weak yesterday in a holiday thin trading session. The Japanese yen strengthened strongly in the early hours today as investors turn cautious ahead of the British PM...
---