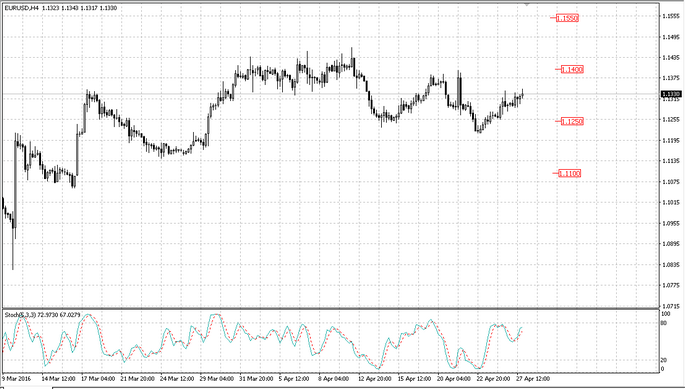 April 28, 2016
---
The dollar remained stable to other majors on Wednesday preparing for the final Federal Reserve System political statements. Investors focused on the outcome of the political meeting waiting for any hints regarding the interest rates change in June. The Fed kept the interest rates unchanged at 0.5%.
Consumer Confidence in Germany significantly improved (9.7 versus the previous 9.4). Consumers believe that the German economy will recover in the coming months and expect its moderate recovery. The pair euro/dollar slightly strengthened.
The pound stopped the growth when the market found out that the UK economy had grown by 0.4%, in line with economists' expectations, but slowed to 0.6% in the previous quarter. The UK economic growth in the first quarter was 2.1%, (on an annual terms) similar to the previous quarter and slightly higher than the expected 2.0%. The pair pound/dollar closed the trades with a decrease.
The pair dollar/yen increased by end of the trades.
Publication source
---
Fort Financial Services information
Fort Financial Services reviews
January 23, 2017
Donald Trump is finally in power, a new era has arrived, and his policy plans in the first couple of weeks will override fundamentals. Markets spent more than two months pricing in growth policies promises, lowers corporate taxes, and deregulations, now it is time to deliver as markets will no more move on words but actions...
---
January 23, 2017
The U.S. dollar continued to extend the declines for what could a third consecutive day. On Friday, Donald Trump took office as the 45th President of the United States...
---
January 20, 2017
Asian stock markets were mixed overnight, after U.S. and European shares closed in the red Thursday. Japan and mainland China bourses managed to move higher (Chinese GDP beat expectations at 6.8%)...
---