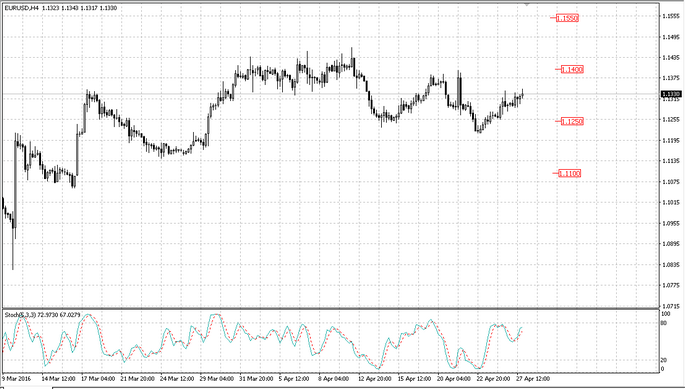 April 28, 2016
---
The dollar remained stable to other majors on Wednesday preparing for the final Federal Reserve System political statements. Investors focused on the outcome of the political meeting waiting for any hints regarding the interest rates change in June. The Fed kept the interest rates unchanged at 0.5%.
Consumer Confidence in Germany significantly improved (9.7 versus the previous 9.4). Consumers believe that the German economy will recover in the coming months and expect its moderate recovery. The pair euro/dollar slightly strengthened.
The pound stopped the growth when the market found out that the UK economy had grown by 0.4%, in line with economists' expectations, but slowed to 0.6% in the previous quarter. The UK economic growth in the first quarter was 2.1%, (on an annual terms) similar to the previous quarter and slightly higher than the expected 2.0%. The pair pound/dollar closed the trades with a decrease.
The pair dollar/yen increased by end of the trades.
Publication source
---
Fort Financial Services information
Fort Financial Services reviews
February 20, 2017
The U.S. dollar is attempting to post some gains to build up from Friday's reversal. Price action has formed an inside bar among EURUSD and USDJPY which could indicate a potential breakout trading that could establish the near-term direction of prices...
---
February 20, 2017
In the US, the Fed will release the minutes of its February meeting. Markets will probably focus on any signals regarding the timing of the next rate hike...
---
February 20, 2017
The dollar fell on Friday amid a light market due to US President's Day. Investors are monitoring the US political situation and waiting for a decision on financial aid to Greece...
---