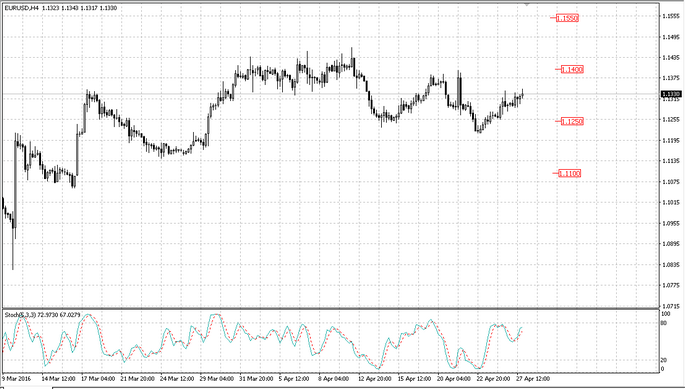 April 28, 2016
---
The dollar remained stable to other majors on Wednesday preparing for the final Federal Reserve System political statements. Investors focused on the outcome of the political meeting waiting for any hints regarding the interest rates change in June. The Fed kept the interest rates unchanged at 0.5%.
Consumer Confidence in Germany significantly improved (9.7 versus the previous 9.4). Consumers believe that the German economy will recover in the coming months and expect its moderate recovery. The pair euro/dollar slightly strengthened.
The pound stopped the growth when the market found out that the UK economy had grown by 0.4%, in line with economists' expectations, but slowed to 0.6% in the previous quarter. The UK economic growth in the first quarter was 2.1%, (on an annual terms) similar to the previous quarter and slightly higher than the expected 2.0%. The pair pound/dollar closed the trades with a decrease.
The pair dollar/yen increased by end of the trades.
Publication source
---
Fort Financial Services information
Fort Financial Services reviews
December 6, 2016
Morgan Stanley strategists believe that the ECB will keep rates on hold at this week's meeting, but can expand its QE purchase program. But they consider different scenarios with various responses from the euro...
---
December 6, 2016
The single currency opened Monday on a bearish note but managed to pare losses as investors brushed aside the Italian referendum results. EURUSD closed at a 2-week high right near the resistance level of 1.0765 as noted in yesterday's commentary...
---
December 6, 2016
Risk aversion intensified during early trading on Monday following reports of Italian Prime Minister Matteo Renzi experiencing a crushing defeat in the referendum on constitutional reforms which sparked concerns of renewed political instability in Europe...
---