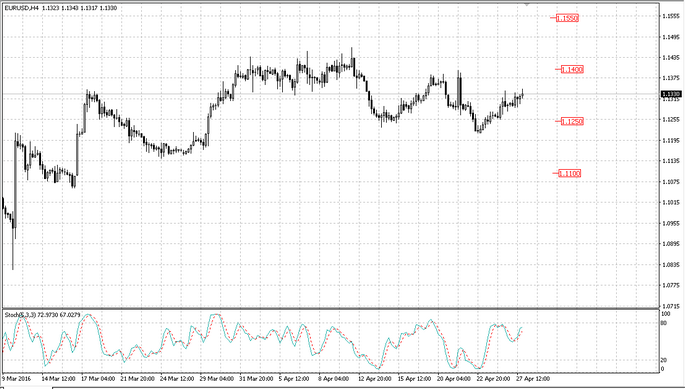 April 28, 2016
---
The dollar remained stable to other majors on Wednesday preparing for the final Federal Reserve System political statements. Investors focused on the outcome of the political meeting waiting for any hints regarding the interest rates change in June. The Fed kept the interest rates unchanged at 0.5%.
Consumer Confidence in Germany significantly improved (9.7 versus the previous 9.4). Consumers believe that the German economy will recover in the coming months and expect its moderate recovery. The pair euro/dollar slightly strengthened.
The pound stopped the growth when the market found out that the UK economy had grown by 0.4%, in line with economists' expectations, but slowed to 0.6% in the previous quarter. The UK economic growth in the first quarter was 2.1%, (on an annual terms) similar to the previous quarter and slightly higher than the expected 2.0%. The pair pound/dollar closed the trades with a decrease.
The pair dollar/yen increased by end of the trades.
Publication source
---
Fort Financial Services information
Fort Financial Services reviews
October 28, 2016
On Friday, the Japanese yen remained close to it weakest level against the greenback for three months during Asia trade, right after a surge in American bond yields as well as the issue of economic data backing the case for growth in American interest rates strengthened the US dollar overnight...
---
October 28, 2016
The mounting expectations over the Federal Reserve raising US interest rates in December have inspired bullish investors to send the Dollar Index to fresh eight-month highs at 99.00...
---
October 28, 2016
The crude oil gains as the Algerian Energy Minister Noureddine Butarfa hit the market with a statement saying that OPEC has a plan to complete the formal part of the output freeze agreement in the next meeting...
---