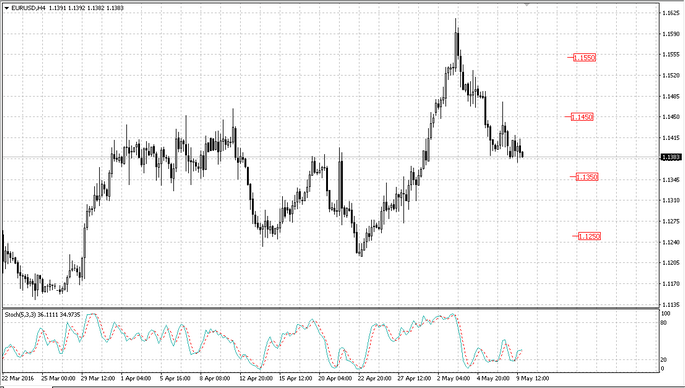 May 10, 2016
---
William Dudley's speech (the head of the Federal Reserve Bank of New York) supported the dollar. According to William Dudley the regulator plans to hike the rate twice this year even though the number of new jobs created in the United States in April has been the lowest in the past seven months. The USA published minor economic data on Monday.
The main drivers for the dollar growth were: new rumors and expectations about the US interest rates increase in the summer, fears of the referendum results in Britain in June and cyclical factors. Meanwhile, the data published in the Eurozone on Monday, showed that the investors' and analysts' sentiment had been improved somewhat in May, but concerns about the global economic outlook continued to pressure the market. The Eurogroup decided to give Greece a new tranche in the next few weeks.
Strengthening of the dollar continued to pressure the pound.
According to Taro Aso (the Japanese Finance Minister) Tokyo is ready to intervene in the market if excessive dynamics of the yen will be able to influence the trade statistics and economic indicators. Earlier the yen generally strengthened after the Bank of Japan refrained from implementing fresh easing measures following the results of the April policy meeting, contrary to market expectations.
Publication source
---
Fort Financial Services information
Fort Financial Services reviews
December 9, 2016
Markets have thrown caution to the wind when it comes to movements as of late as once again US equities set the scene with another stellar rise, though not as big as yesterdays...
---
December 8, 2016
U.S. equities edged higher to post new highs in yesterday's trading marking one of the strongest one day gains since the November elections. The DJIA gained 1.6% while the S&P500 closed with 1.3% gains...
---
December 8, 2016
US markets saw a massive rise today as the Dow was up 300 points and the S&P 500 was up 29 points showcasing that investors believe the advent of Trump will have a positive effect on the US economy.
---