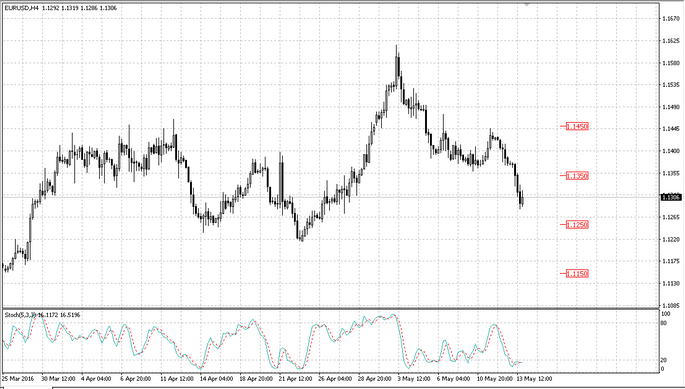 May 16, 2016
---
The dollar strengthened against the major currencies on Friday. The news flow was poor still we shall highlight a number of USA statistics: Producer Price Index (0,2% vs. forecast 0,3%) and Retail Sales report (1,3% vs. expectations 0,8%).
The EUR/USD remained under pressure after the latest Eurozone releases. Germany and the Eurozone published their GDP reports for the 1st quarter (the 2nd assessment). German GDP came in worse than it was expected (1,3% vs. expectations 1,5%). No one expected any change in the Eurozone GDP. However, because of the weak industrial production in Germany and the Eurozone its GDP estimate was worse than expected. (1,5% vs. expectations 1,6%).
The UK did not publish any important news on Friday. The dollar was stable against the pound, as a result the GBP / USD kept decreasing.
According to Haruhiko Kuroda (the head of the Bank of Japan) the Central Bank will do its best to achieve its target (inflation level below 2%). The regulator has enough options to stimulate the economic growth.
Publication source
---
Fort Financial Services information
Fort Financial Services reviews
September 23, 2016
Revealed weak August data for existing home sales and leading indicators, but a tight initial claims report for the BLS survey week of September that left mixed signals that were positive on net, with aid from a 0.5% July rise in the FHFA home price index...
---
September 23, 2016
The US dollar trimmed its losses yesterday after a brief test to the 95.00 support in the US dollar index saw prices closing higher. Price action continues to remain range bound with no evidence of trends being established just as yet...
---
September 23, 2016
After recovering ground following a return to levels not seen in over a month below 1.29, the bounce in the GBPUSD appears to have lost momentum at the conclusion of the week following headlines being made by UK Foreign Secretary Boris Johnson that the process of leaving the European Union does not need to take two years once Article 50 is invoked...
---