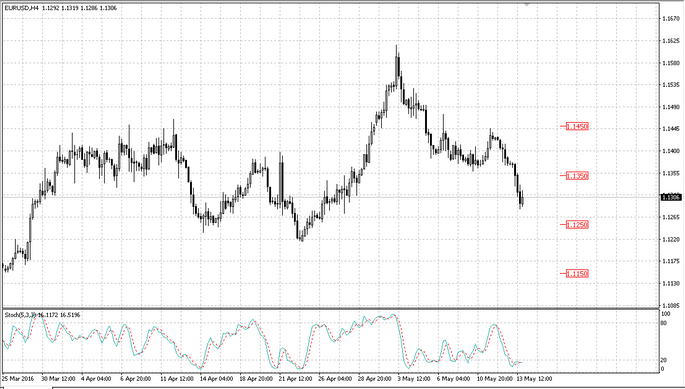 May 16, 2016
---
The dollar strengthened against the major currencies on Friday. The news flow was poor still we shall highlight a number of USA statistics: Producer Price Index (0,2% vs. forecast 0,3%) and Retail Sales report (1,3% vs. expectations 0,8%).
The EUR/USD remained under pressure after the latest Eurozone releases. Germany and the Eurozone published their GDP reports for the 1st quarter (the 2nd assessment). German GDP came in worse than it was expected (1,3% vs. expectations 1,5%). No one expected any change in the Eurozone GDP. However, because of the weak industrial production in Germany and the Eurozone its GDP estimate was worse than expected. (1,5% vs. expectations 1,6%).
The UK did not publish any important news on Friday. The dollar was stable against the pound, as a result the GBP / USD kept decreasing.
According to Haruhiko Kuroda (the head of the Bank of Japan) the Central Bank will do its best to achieve its target (inflation level below 2%). The regulator has enough options to stimulate the economic growth.
Publication source
---
Fort Financial Services information
Fort Financial Services reviews
January 17, 2017
Asian stock markets were mixed, with Japan and ASX heading south amid reports that U.K. Prime Minister May will announce plans for a hard Brexit at today's keynote speech. Yen strength is also continuing to put pressure on the Japanese markets...
---
January 17, 2017
Markets started the week with no sharp changes and lower trading volumes, due to the Martin Luther King Day in the US, ahead of the crucial monetary policy decisions of the ECB and BoC...
---
January 17, 2017
The U.S. dollar was trading weak yesterday in a holiday thin trading session. The Japanese yen strengthened strongly in the early hours today as investors turn cautious ahead of the British PM...
---