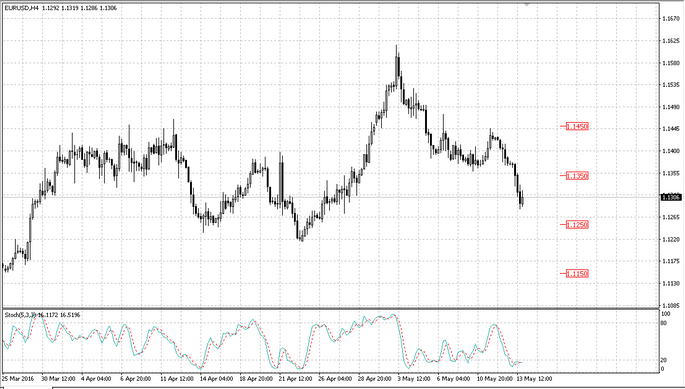 May 16, 2016
---
The dollar strengthened against the major currencies on Friday. The news flow was poor still we shall highlight a number of USA statistics: Producer Price Index (0,2% vs. forecast 0,3%) and Retail Sales report (1,3% vs. expectations 0,8%).
The EUR/USD remained under pressure after the latest Eurozone releases. Germany and the Eurozone published their GDP reports for the 1st quarter (the 2nd assessment). German GDP came in worse than it was expected (1,3% vs. expectations 1,5%). No one expected any change in the Eurozone GDP. However, because of the weak industrial production in Germany and the Eurozone its GDP estimate was worse than expected. (1,5% vs. expectations 1,6%).
The UK did not publish any important news on Friday. The dollar was stable against the pound, as a result the GBP / USD kept decreasing.
According to Haruhiko Kuroda (the head of the Bank of Japan) the Central Bank will do its best to achieve its target (inflation level below 2%). The regulator has enough options to stimulate the economic growth.
Publication source
---
Fort Financial Services information
Fort Financial Services reviews
December 7, 2016
The pound has come under pressure in London trading today. EURGBP buying has been a driver, with the cross rallying some 0.5% to a peak of 0.8510, since ebbing to around 0.8490. Gains failed to sustain above the 20-day moving average, which is at 0.8503...
---
December 7, 2016
This morning saw a substantial drop in both the manufacturing production and industrial production in the UK for the month of October which comes as a timely reminder that the economy remains vulnerable. The pound ended its recent rise against the US dollar yesterday after hitting a 2-month high...
---
December 7, 2016
The U.S. dollar index managed to recover from a 14-day low on Monday at 99.87 with prices turning bullish yesterday. However, the gains remain limited within Monday's range with further upside likely to see the 100.80 resistance being established...
---