The US dollar was seen making attempts to recover some of its losses like yesterday's new home sales data posted a solid month of growth. However, a strong recovery is questionable ahead of the other important events coming up later in the week. More importantly, Friday's speech from Janet Yellen will be the big event to watch for. In the mean time, with EURUSD failing to keep its gains and the inside bar formed earlier, we expect the single currency could fall back to 1.120 to establish support.
EURUSD Daily Analysis
EURUSD (1.129): EURUSD tested session highs to 1.13550 yesterday but failing to build on its gains, prices closed bearish towards the end of the day yesterday. Still, price action remains within the inside bar's range with 1.130 now playing a key role. A confirmed bearish breakout below 1.130 could signal a move to the downside with 1.120 support coming into the picture. On the 4-hour chart, the resistance is seen at 1.1341 which has kept a lid on the rally following EURUSD testing this level twice so far. The breakout from the rising median line could signal EURUSD's decline to 1.1240 - 1.120 support zone. This is also validated by the bearish divergence.
USDJPY Daily Analysis
USDJPY (100.36): USDJPY remains hovering near the 100.00 support level with price action staying muted. On the 4-hour chart, following the test of resistance near 101.00 - 100.50 and the testback to the support at 100.00, further upside is seen only above 101.00 - 100.50 for a move towards 102.00. With the US dollar looking a tad stronger, USDJPY could possibly break out above this resistance level in the next couple of daily sessions.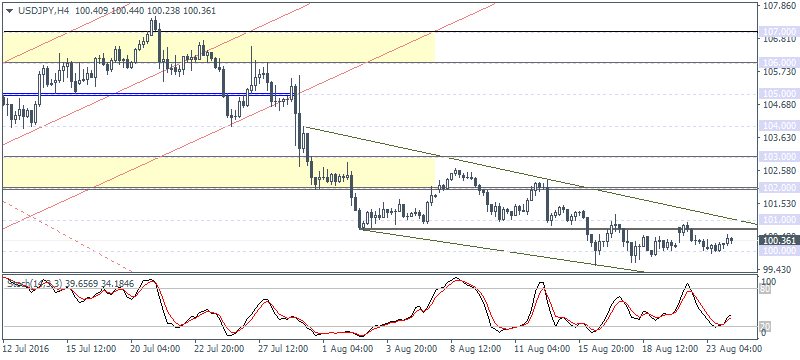 GBPUSD Daily Analysis
GBPUSD (1.317): GBPUSD is seen testing 1.320 resistance level following the inside bar formed on Monday. A bullish close above the high of 1.31856 could signal further upside to 1.34 resistance. On the 4-hour chart, price action is currently in the resistance zone of 1.32 - 1.3170. Therefore, a convincing close on the 4-hour chart above 1.32 could trigger a further upside to 1.336 - 1.335 marking the previous high formed in early August. In the event that GBPUSD fails near the current resistance, the downside could accelerate to test the previous support at 1.30, which could invalidate the daily session's inside bar bullish bias.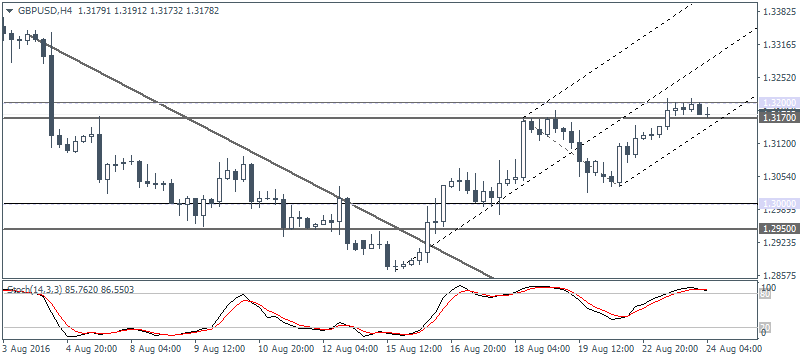 Gold Daily Analysis
XAUUSD (1337.06): Gold prices remain trading below the 1347.20 - 1360 resistance level with price action staying subdued. It is quite likely that prices will slide to 1315 - 1300 support zone before we can expect any meaningful rally above $1360. On the 4-hour session, gold is trading flat within 1340 and 1327.50 levels of resistance and support. The further downside can be seen on a confirmed close below 1327.50 towards the 1300 mark.