September 5, 2016
---
The US dollar initially fell after the NFP report but soon managed to regain its losses towards the end of the day. The US and Canadian markets are closed today which is likely to keep the markets busy until the close of the European session. The US dollar index is likely to, therefore, remain limited in the price action today, but a short-term correction is expected ahead of further gains in the medium term.
EURUSD Daily Analysis
EURUSD (1.1164): EURUSD closed Friday's session at the support level of 1.1155, failing to maintain the initial gains which saw the euro test session highs of 1.1251. On the 1-hour chart time frame, we can see that the declines from 1.1251 highs saw prices retest the inverse head and shoulders pattern neckline resistance for support. A reversal from this level could signal near-term upside, but the rally can be capped near 1.1200 resistance level. The Stochastics has formed a lower low against the higher low in price indicating the hidden bullish divergence which keeps the bias to the upside. Watch for a retest back to 1.1200 and further upside could see prices test 1.1270 - 1.1280 resistance. To the downside, price failure below 1.1150 could signal further downside.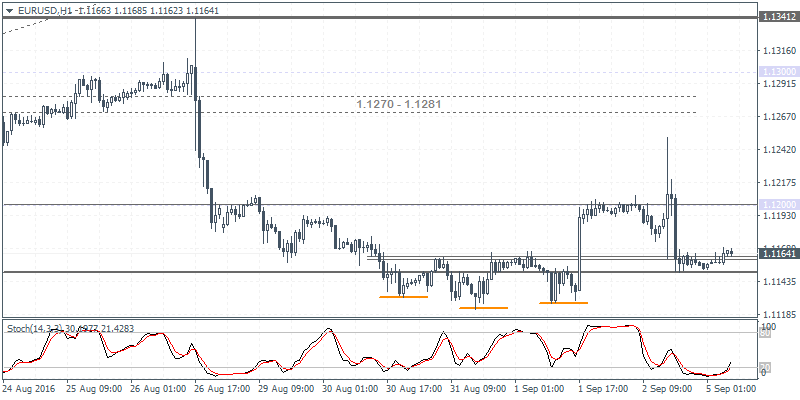 ​
USDJPY Daily Analysis
USDJPY (103.71): USDJPY closed near 104.00 resistance level on Friday and price action remains largely mixed after Friday's strong bullish outside bar. Further upside can be expected on a close above 104.00 for a test of resistance at 106.00. To the downside, support at 102.00 could be tested ahead of further upside. The On the 4-hour chart, however, the bearish divergence points to a stronger correction down to 101.00 - 100.80 level, which could be tested on a breakdown of prices below 102.00.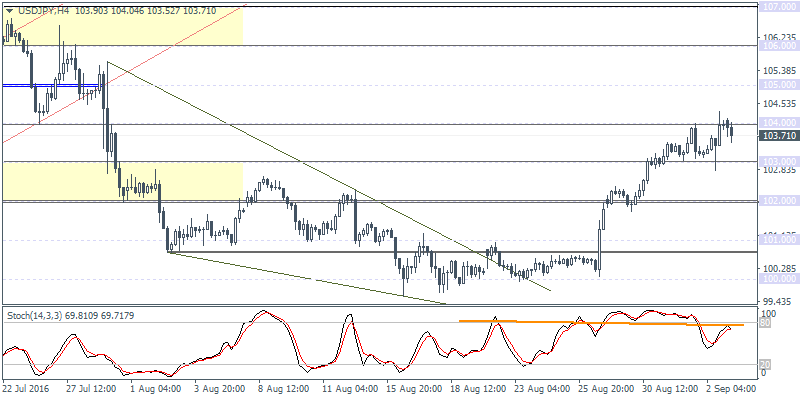 GBPUSD Daily Analysis
GBPUSD (1.3317): GBPUSD cleared 1.3200 resistance level last week, and price action is likely to remain supported above this level, albeit a retest to establish support at 1.3200 remains pending. On the 4-hour chart, we notice the bearish divergence as the Stochastics fails to confirm the highs in price. Support at 1.3200 - 1.3170 is therefore very likely to be tested, ahead of further upside to 1.3400. A breakdown below 1.3200 - 1.3170 could signal near term declines to 1.3067.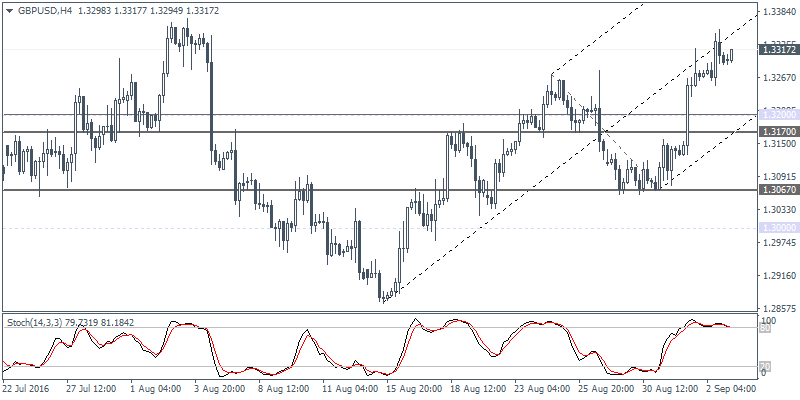 Gold Daily Analysis
XAUUSD (1324.20): Gold prices closed bullish on Friday with prices seen testing 1327.50 - 1331.30 resistance level. With prices being rejected strongly at this level we could expect a near-term pullback in gold prices based on the 4-hour hidden bearish divergence. Watch for a higher low likely to be formed near 1314 - 1312 level. If a higher low is formed here, gold prices could be looking to retest the resistance at 1331.30 - 1327.50 followed by a retest back to 1350.00.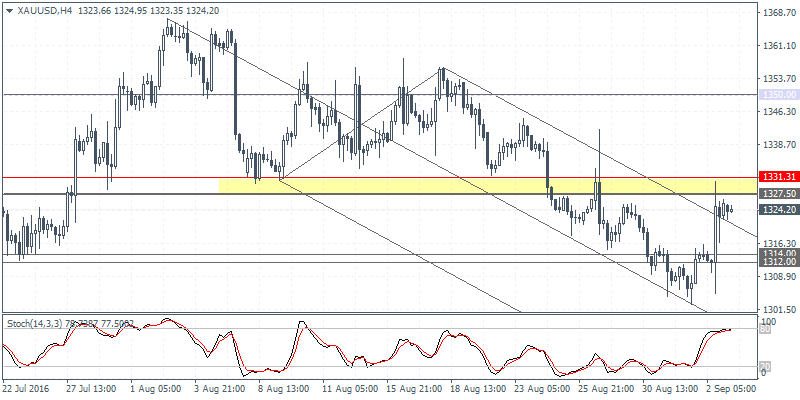 Publication source
---
Orbex information
Orbex reviews
September 26, 2016
Lots of speeches from all around the globe this week, but focus now turns to the US Presidential election, with all eyes on Monday Trump-Clinton debate (up to 20% of US voters remain undecided)...
---
September 26, 2016
The US dollar is trading mixed in early Asian trading as a rather slow day will see speeches from central bank governors including Kuroda, SNBs Jordan and Mario Draghi...
---
September 23, 2016
Revealed weak August data for existing home sales and leading indicators, but a tight initial claims report for the BLS survey week of September that left mixed signals that were positive on net, with aid from a 0.5% July rise in the FHFA home price index...
---