October 10, 2016
---
The US dollar edged higher on the open on the back of the just concluded second presidential debate, giving another victory to Democratic candidate Hillary Clinton. Once again, it was the Mexican peso which posted strong gains within a few hours of the open as the markets saw less chance for a victory by Republican nominee Donald Trump. The markets are closed across Japan, US and Canada today and trading is likely to remain slow for the most part.
XAUUSD Daily Analysis
XAUUSD (1262.35): Gold prices closed with a doji/spinning bottom on Friday, and the current price action is showing a potential reversal off the $1250 handle. A continued momentum could keep gold prices supported to the upside as long as the support at 1250 holds. The upside correction could see gold likely to retrace back towards the 1310 - 1300 level which previously held as support. A retest back to this level, to test for resistance supports the bullish short-term view in gold.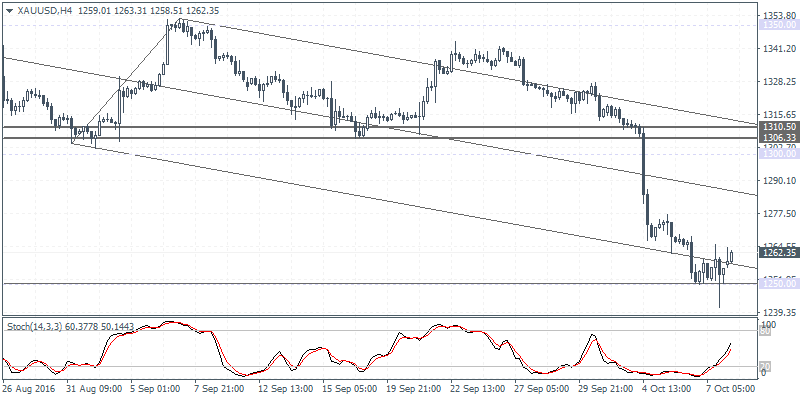 USDJPY Daily Analysis
USDJPY (102.91): The US dollar gapped higher on the open at 103.24Yen, but the price has been edging lower. A break below Friday's low of 102.86 could trigger further downside towards 102.00. However, the support level of 103.00 could potentially offer some short term support despite price currently trading below this handle. The upside could be limited towards 103.70 - 103.50 region to establish minor resistance. Alternately, a continued decline below 103.00 could see USDJPY extend the declines towards the next main support at 102.00 - 101.61.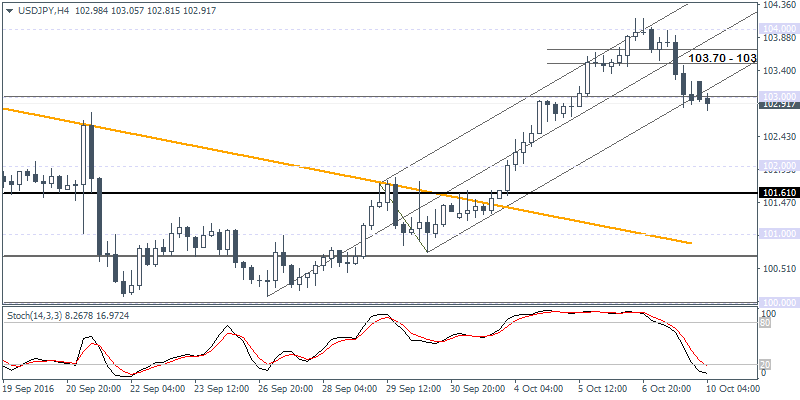 AUDUSD Daily Analysis
AUDUSD (0.7592): AUDUSD completed the head and shoulders pattern noted last week with prices briefly testing the measured target of 0.7555 before quickly pushing back higher. Prices are seen retesting the neckline support at 0.7610, but the further downside can be expected for a more firm test back to the level of 0.7555. A break below 0.7555 could trigger further downside towards the next support at 0.7515. The bearish view could be invalidated if prices settle back above the neckline resistance of 0.7610.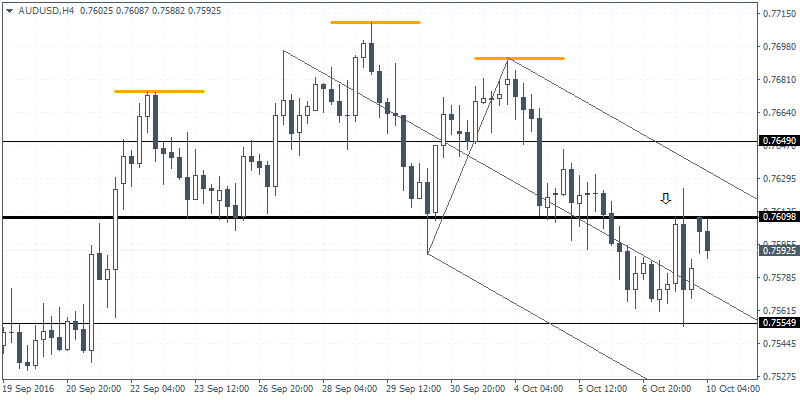 Publication source
---
Orbex information
Orbex reviews
January 20, 2017
Asian stock markets were mixed overnight, after U.S. and European shares closed in the red Thursday. Japan and mainland China bourses managed to move higher (Chinese GDP beat expectations at 6.8%)...
---
January 20, 2017
UK retail sales fell most since 2012. We see he fastest pace of decline in almost five years in December. It is due to sales of... pretty much everything from household goods to clothing and food...
---
January 20, 2017
Investors await Trump's inauguration and speech due later today as he takes office as the 45th President of the United States. The U.S. dollar was seen giving up some of the gains yesterday with some volatility coming off the EURUSD on the back of the ECB meeting...
---