The U.S. dollar continued to push lower yesterday, but prices closed flat by the end of the day, putting to question on whether the greenback will be posting the correction. The uncertainty from OPEC and this weekend's referendum in Italy remain the high risk events that could keep traders on the edge of their seats. The somewhat waning risk appetite was evident by the stronger yen and gold prices yesterday. The economic calendar today will see the second GDP estimates for the third quarter in the US, expected to remain unchanged.
NZDUSD Daily Analysis
NZDUSD (0.7080): NZDUSD has been consolidating around 0.7046 - 0.6982 support level for the past few sessions. With this level coming in as the neckline support of the head and shoulders pattern, the potential for price to be biased to the upside is strong. Initial resistance is seen at 0.7121, and a breakout above this resistance will see NZDUSD rally towards retesting 0.7276 level which could be tested for resistance. Alternately, a continuation to the downside will mean a strong breakout from the current support could signal the declines towards 0.6659 which is the minimum objective of the head and shoulders pattern.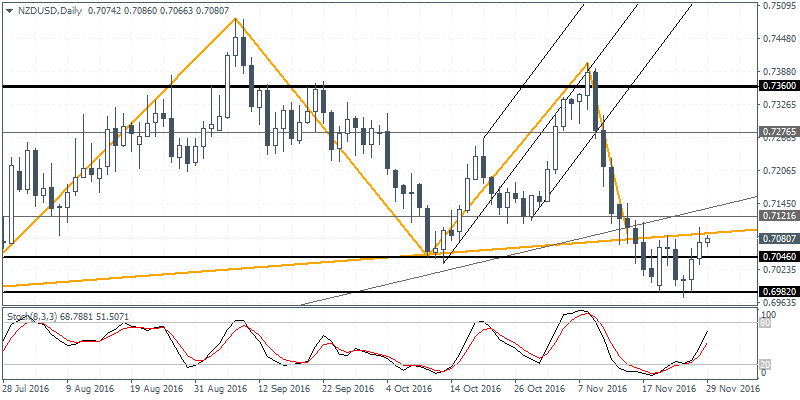 GBPJPY Intra-day Analysis
GBPJPY (138.85): The bearish close in GBPJPY yesterday, coming after the doji pattern following a strong rally is indicative of a near-term correction. Minor support is seen at 138.23 - 138.20 which could hold the declines in the near term. A rebound off this support level could, however, result in a lower high in GBPJPY which will be indicative of further downside, following a breakdown below the support. In the medium term, GBPJPY is likely to slide towards the next support level at 134.30 - 133.72 region. The Stochastics on the 4-hour chart is also showing a hidden bullish divergence pointing to another attempt in prices pushing higher. A lower high could, therefore, confirm the exhaustion to the current uptrend.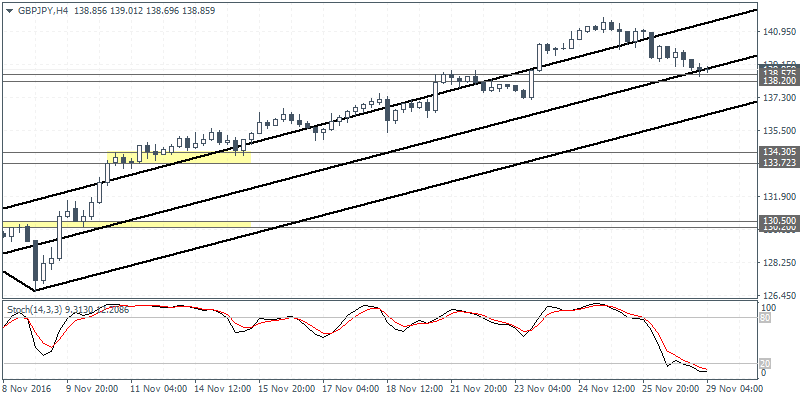 USDCAD Intra-day Analysis
USDCAD (1.3430): USDCAD continues to remain supported above 1.3400 support level after last week price rallied briefly above 1.3500 resistance level. In the near term, USDCAD could remain range bound within 1.3500 - 1.3400 with a breakout from either of these two levels likely to show further continuation. Below 1.3400, USDCAD will likely target 1.3285 support which was previously tested around early November, while to the upside, 1.3500 resistance will need to be retested for support before a price can rally towards 1.3800.