The currency markets look to a quiet trading day with the UK and Canada closed on account of bank holidays. Overnight Japan's inflation data showed further deterioration in the core CPI as the Tokyo and the National core CPI figures fell 0.6% and 0.4% respectively. The BoJ's core CPI gauge was also slower, rising 0.2% as expected. The U.S. dollar was trading flat on Monday and price action continues to remain range bound from December 15th high and low of 103.57 and 102.15. On the economic calendar, data from the U.S. includes the consumer confidence report and the Richmond Fed manufacturing index.
EURUSD Intra-day Analysis
EURUSD (1.0439): EURUSD was seen making modest gains on Monday but the price action remains flat near 1.0500 and 1.0400 levels. On the 4-hour chart, EURUSD is seen consolidating after a brief rally to 1.0472 - 1.0463 resistance level last Friday. Support is seen at 1.0400 which could be tested in the near term. Mind the potential inverse head and shoulders pattern that is likely to be formed in the near term at the support level of 1.0400. A reversal here will signal the right shoulder formation as EURUSD could be preparing to breakout from the previous resistance established at 1.0472 - 1.0463 for a target move towards 1.0533 and above.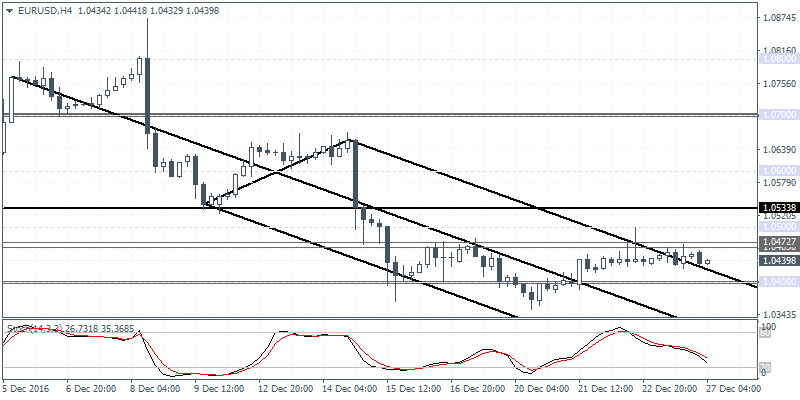 GBPUSD Intra-day Analysis
GBPUSD (1.2274): GBPUSD closed with a doji pattern on Monday which comes after a prolonged decline off the 1.2600 handle which saw price fall below 1.2400. A bullish reversal here could signal the start of a corrective move towards 1.2400 which could now prove to be resistance. Above 1.2400, further gains can be seen coming towards 1.2571. Support at 1.2250 - 1.2224 remains the key level currently and a reversal here is essential to maintain the bullish bias. A break down below 1.2224 could signal further continuation to the downside.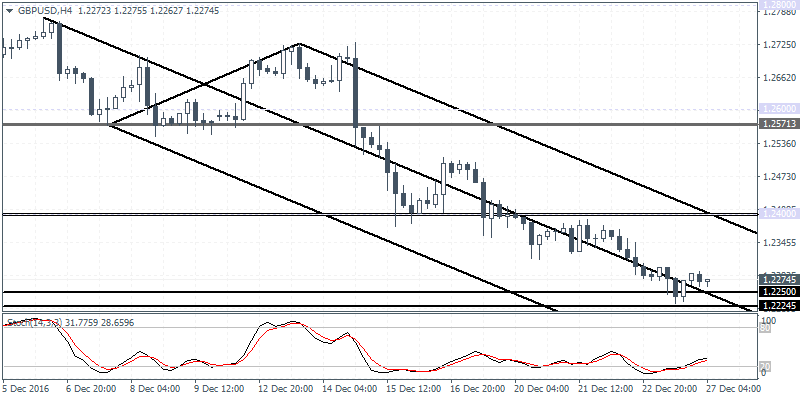 USDJPY Intra-day Analysis
USDJPY (117.33): USDJPY has been gradually declining after failing to breach the 118.00 resistance level. Price action is seen consolidating within the December 15 range of 118.66 and 117.01. A break out above or below the high or the low could signal further continuation in the near term. To the downside, support is seen at 114.00, while an upside breakout above 118.00 could signal further continuation towards 120.00 round number resistance level. On the 4-hour chart, price is seen breaking out from the rising price channel but so far the sideways range is likely to continue. The Stochastics currently is bullish and could see some near term continuation to the upside back to 118.00.