January 3, 2017
---
Traders will be coming back to their desks as normal trading conditions resume amid a busy day which will see a lot of economic data from both sides of the Atlantic. From the UK, the manufacturing PMI will be released as forecasts point to a slight decline to 53.3 in December, compared to 53.4 in November. From the Eurozone, flash inflation estimates from Germany and France will likely set the expectations for the eurozone flash inflation data due later in the week. From the U.S., the December manufacturing PMI data from ISM and Markit's final manufacturing PMI will be the key event risk for the U.S. dollar which continues to move sideways.
EURUSD Intra-day analysis
EURUSD (1.0487): EURUSD was bearish yesterday, falling to the support at 1.0472 - 1.0463 as mentioned the day before. Price action is likely to continue to the upside in the near term, with a retest back to 1.0533 support/resistance level. A breakout above this level is essential to keep the bullish bias intact for a move towards 1.0700. Alternately, failure to breakout above 1.0533 could signal EURUSD to stay range bound within the support and resistance levels with the potential to break down below 1.0463 which could open the declines back to 1.0400.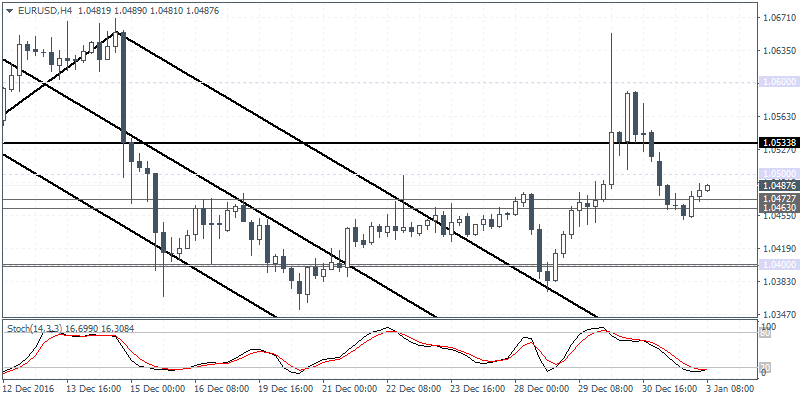 GBPUSD Intra-day analysis
GBPUSD (1.2302): GBPUSD was bearish yesterday after prices turned bullish after nearly 7-consecutive days of declines. The bearish price action yesterday signals an inside bar formation which could see further continuation on a breakout. To the upside, 1.2400 resistance remains key while to the downside, 1.2200 comes in as a key support level. A breakout from either of these two levels will signal further continuation in the near term. On the 4-hour chart, the Stochastics is currently positioned for a move to the upside but there is a potential for price to dip back to 1.2250 - 1.2224 support in the short term.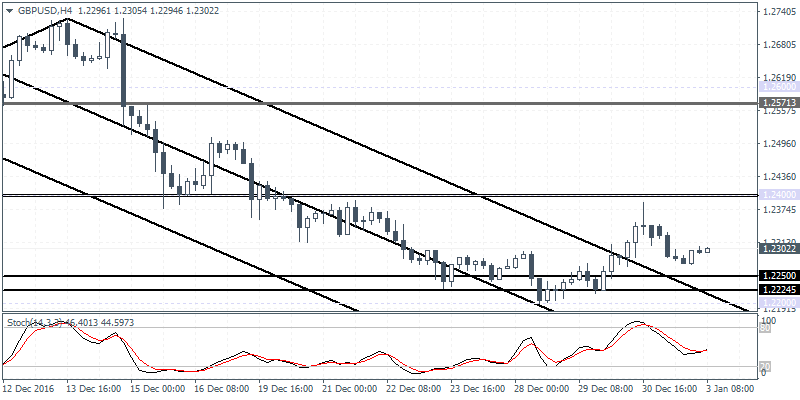 AUDUSD daily analysis
XAUUSD (0.7231): The Australian dollar is seen posting a bullish reversal on the daily chart after price fell to 0.7183 a week ago. AUDUSD has been consolidating at this level for the past couple of days and the current bullish follow through could signal a near term correction. The previously broken support at 0.7340 is quite likely to be retested in the near term where resistance could be established. A reversal near 0.7340 will signal further declines as AUDUSD will target 0.7183 support followed by further declines to 0.7080.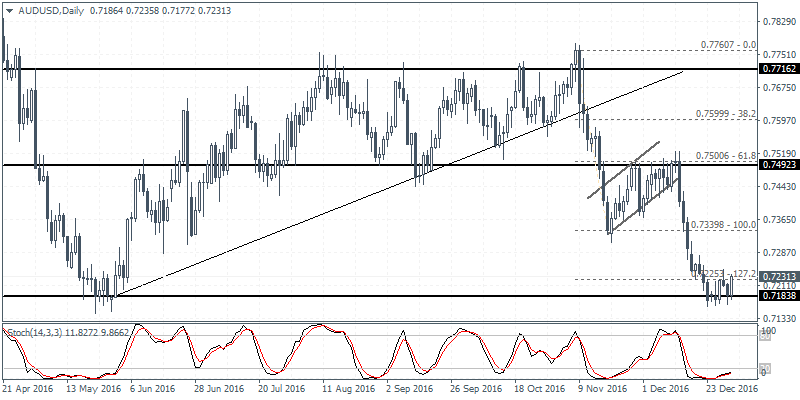 Publication source
---
Orbex information
Orbex reviews
January 18, 2017
German HICP confirmed at 1.7% y/y, as expected, with prices up 1.0% m/m. The sharp acceleration from just 0.7% y/y in November was mainly due to base effects from lower energy prices and the breakdown showed that prices for heating oil jumped 21.9% y/y in December...
---
January 18, 2017
The British pound posted strong gains yesterday with the Prime Minister Theresa May outlining her vision for Brexit and the parliamentary approval of the Brexit deal...
---
January 18, 2017
The Sterling/Dollar exploded into extreme gains on Tuesday with prices clipping above 1.2400 after Prime Minister Theresa May's optimistic Brexit speech signaled that the United Kingdom was seeking a deal which would satisfy both parties...
---