The UKs Supreme Court will be giving its verdict in the High Court on whether the Brexit referendum should be put to a parliamentary vote or note. There is a widespread consensus that the Supreme Court will rule in favor of the High Court. For the currency markets, this could offer some support to the British pound, although the MP's are unlikely to vote down the results from the June 2016 Brexit referendum.
GBPUSD intra-day analysis
GBPUSD (1.2508): GBPUSD posted a strong reversal yesterday with price breaking out above 1.2400. We suspect the GBPUSD's inverse head and shoulders pattern is now in play. In the near term, expect a pullback towards 1.2400 although it is unlikely that GBPUSD will correct this far. Look for a reversal between 1.2434 - 1.2365 which marks the 38.2% - 61.8% Fibonacci retracement level of the rally from 1.2253 - 1.2545. To the upside, GBPUSD will be looking to target 1.2800 which is the minimum upside target of the inverse head and shoulders pattern.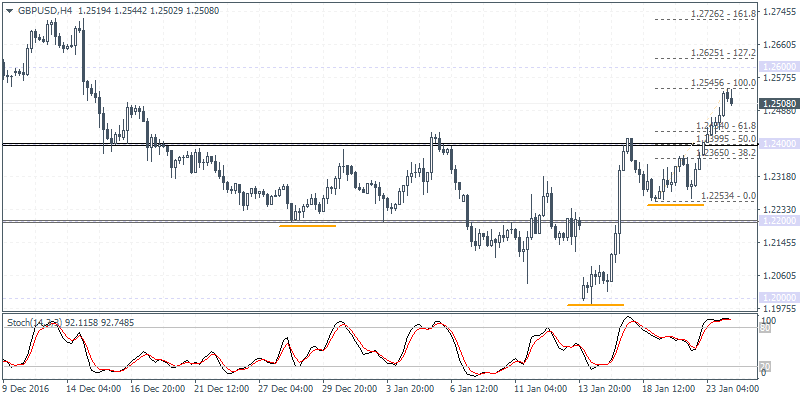 EURUSD intra-day analysis
EURUSD (1.0750): EURUSD could be in for a short term correction to the downside after price rallied towards 1.0765 - 1.0800 resistance level yesterday. The breakout from 1.0500 off the falling median line saw a straight rally with little to no pullbacks. Furthermore, there is a chance that the current pullback from 1.0765 - 1.0800 will result in a right shoulder formation of the inverse head and shoulders pattern near 1.0600 - 1.0551. This could potentially pave the way for a medium-term rally towards 1.1100. On the 4-hour chart, EURUSD is seen trading near the rising median line with the potential for the declines to extend on a break down below the support level at 1.0700. Watch for a retracement back to 1.0700 for a confirmed move to the downside towards 1.0600.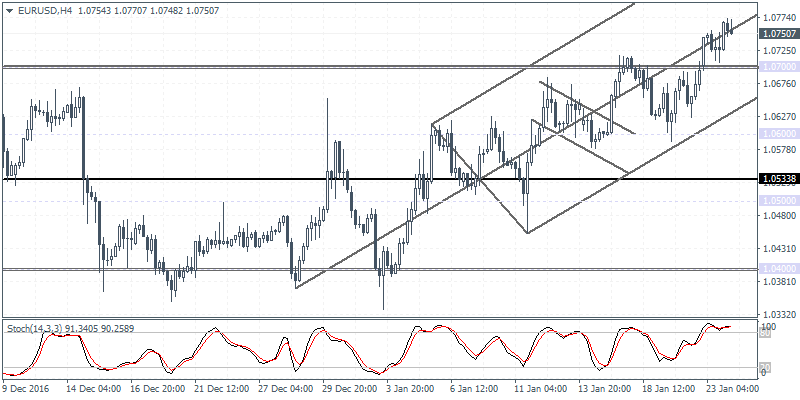 XAUUSD intra-day analysis
XAUUSD (1216.02): Gold prices continue to maintain their gains after price tested the $1200 support level a few days ago resulting in a doji pattern and a bullish follow through. Further upside gains could see gold prices rise towards the resistance level of 1240 - 1250, but the risks of a downside correction remains. On the 4-hour chart, gold prices are seen consolidating into a triangle pattern which will see a decline towards 1189 at the very least if price breaks down to the downside. The major technical support is seen at 1161.00, however, where a correction is likely to occur with the technical support pending a retest.