The U.S. dollar was stronger yesterday after the ICE Futures U.S. dollar index found support near the 100.15 - 99.85 support level. The bullish reversal seen yesterday could signal near-term continuation to the upside with the price likely to target 101.75 - 102.50. On the economic front, the preliminary GDP estimates for the U.S. for the fourth quarter of 2016 will be released. Economists polled expect to see the GDP rise 2.1% during the quarter, slower than Q3's 3.5%. Besides GDP, durable goods orders will also be released.
EURUSD intra-day analysis
EURUSD (1.0663): The euro fell sharply yesterday after failing to break through above 1.0765 resistance level. The reversal at this resistance level will keep the single currency biased to the downside as EURUSD is likely to target 1.0600 at the very least. On the 4-hour timeframe, EURUSD has cleared the initial support at 1.0700. Ahead of the decline towards 1.0600, expect a near-term pullback towards 1.0700 where resistance can be re-tested before the price falls further towards 1.0600. This view is also supported by the 4-hour Stochastics which is currently in the oversold levels while also forming a hidden bullish divergence.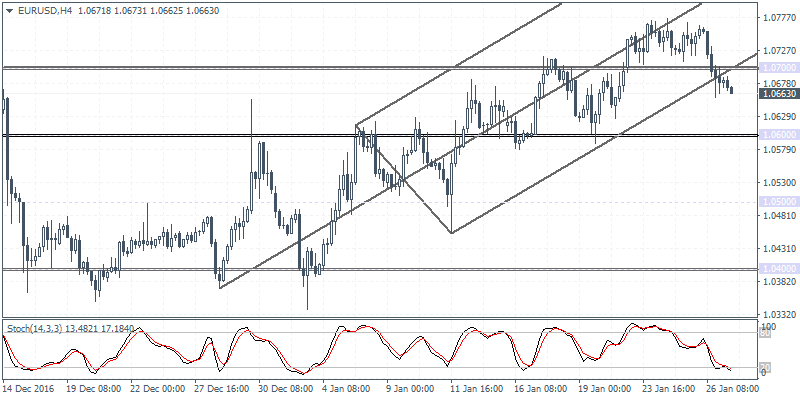 GBPUSD intra-day analysis
GBPUSD (1.2535): GBPUSD has posted a strong decline despite yesterday's advance GDP data showing a better than expected performance in the fourth quarter. The reversal in GBPUSD coincides with price reaching 1.2666, marking the 161.8% measured move of the bullish flag pattern. The continued declines to the downside could mean, a retest back to the previously held resistance level at 1.2412 which could be tested for support in the near term. On the daily time frame, GBPUSD bias remains to the upside, so watch for potential buying opportunities near 1.2412.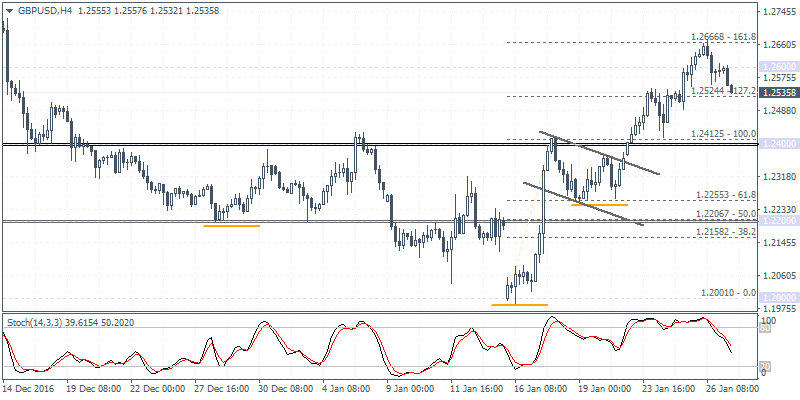 XAUUSD intra-day analysis
XAUUSD (1182.06): Gold prices are down for three consecutive days with prices posting an 11-day low at 1184.52 yesterday. On the 4-hour time frame, gold prices broke out following the triangle consolidation pattern near the top. After prices broke down below 1200.00, the continuation saw a dip towards 1189.25. Further declines could be seen pushing gold prices back to 1161.00 support which is pending a retest to this level after prices broke out above 1161 in late December. To the upside, any corrections could be limited to 1189.25.