The U.S. dollar index is showing signs of posting a reversal after the past 5-weeks of steady declines which could well turn out into six weeks unless today's payrolls surprise to the upside. Expectations are modestly higher, especially after the ADP private payrolls data posted a 200k headline print in the private sector. However, much of the focus will be on wages, which is expected to pullback after hitting a high last month.
EURUSD intra-day analysis
EURUSD (1.0756): EURUSD remains stuck near the 1.0800 - 1.0765 resistance level and the failure to post a breakout above this level indicates that the bearish outlook is still in play. Price action in EURUSD over the past few days shows an inside bar formation with a fake out to the upside that was met with strong resistance. A bearish follow through today, and a potential close below 1.0700 will confirm the downside view. Alternately, while another daily session of range bound price action might not help much, a breakout to the upside will see 1.0900 coming into focus.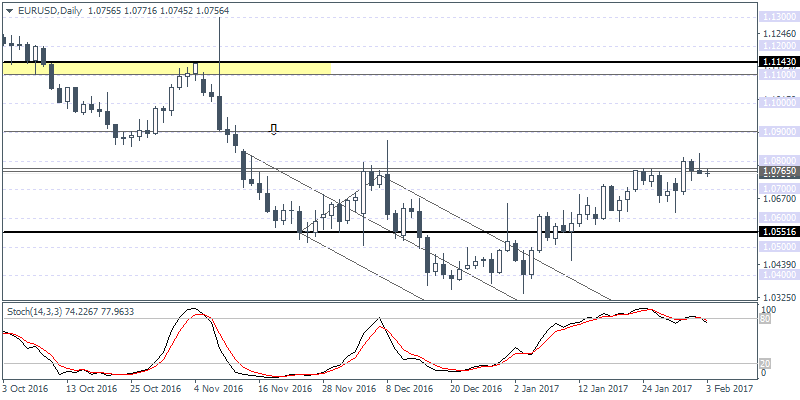 EURGBP intra-day analysis
EURGBP (0.8590): EURGBP posted a retracement off 0.8500 levels with the bounce in price supported by the hidden bullish divergence on the charts. The British pound has remained resilient especially after the British lawmakers voted to approve PM Theresa May to invoke Article 50 to kickstart the exit talks with the EU. While EURGBP remains choppy, the current gains in prices come amid two straight weeks of declines with this week's price action most likely morphing into an inside bar. The bias remains to the downside however but on a retest back to 0.8650.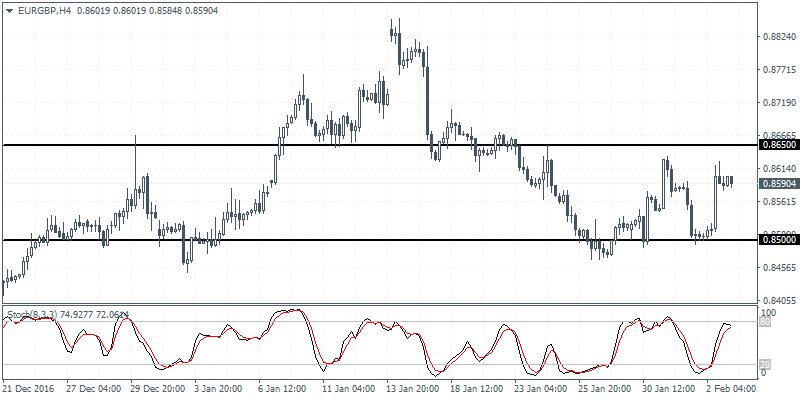 XAUUSD intra-day analysis
XAUUSD (1213.52): Gold prices touched a 3-month high yesterday at 1225.36, but prices pulled back to settle somewhat higher at 1215.83. The rally towards 1225.36 saw gold prices attempt to breakout from above the resistance level at 1220.00 as noted yesterday and the failure to do so resulted in a bearish reversal. Still, there is scope for some upside bias as 1200.00 remains a strong support level that is likely to be tested more firmly. In the near term, gold prices are likely to remain range bound within 1220 and 1200 and further gains or declines expected only on a breakout from these levels.