After a slow start to the week, the economic calendar is busy today with the UK set to report inflation figures for January while later in the U.S. trading session, Fed Chair Janet Yellen will be testifying to Congress as part of her two-day semi-annual monetary policy report to the Senate Banking Committee. Investors will be looking for any clues from the Fed chair on the prospects of when the next rate hike will come and if the Fed will look past the weaker pace of GDP growth and the slowdown in average wages. The next FOMC meeting is due in March but the markets are assigning a 30% probability of a rate hike. Moreover, the markets are expecting to see only two rate hikes this year, compared to the Fed's projections of three hikes.
EURUSD intra-day analysis
EURUSD (1.0611): After posting strong declines yesterday which sent the single currency to a fresh 1-month low at 1.0600, the EURUSD is looking to retrace some of the declines. A sustained bounce off 1.0600 support will signal a retracement back to 1.0700 in the near term as the resistance level of 1.0733 - 1.0700 remains in focus. Alternately, a breakdown below 1.0600 support could see EURUSD post further declines towards 1.0558. The main event risk for the euro today comes from the Eurozone flash GDP figures and Germany's inflation and GDP numbers.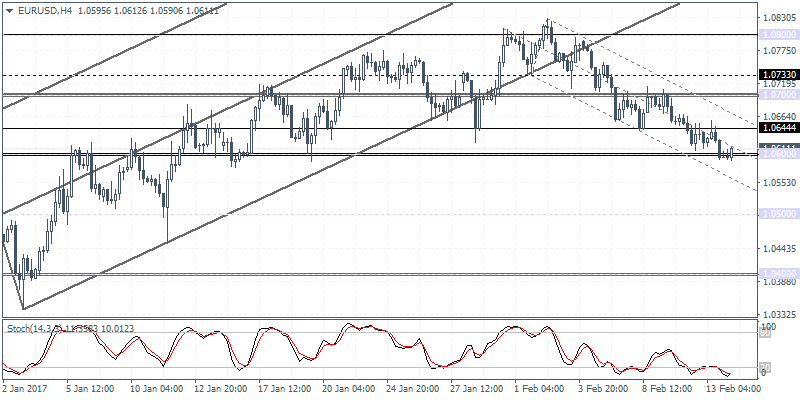 USDJPY intra-day analysis
USDJPY (113.46): The Japanese yen is looking a tad stronger this morning after the rally yesterday towards 114.00 resistance level. This coincided with the test of the falling trend line and the current bearish price action could see USDJPY post declines towards 113.00. With the support near 113.00 - 112.50 firmly established, USDJPY could be looking for a larger bullish rally. Watch for a dip to 113.00 - 112.50 followed by a breakout of the trend line which will signal further upside in USDJPY towards 115.36.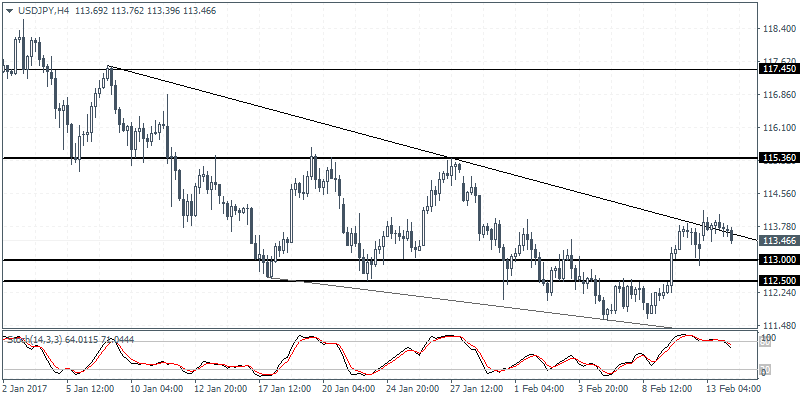 XAUUSD intra-day analysis
XAUUSD (1228.66): The decline to 1220.00 support yesterday in gold prices is indicative of a near term bounce back to the upside. Gold prices could be seen rising back to the 1235.50 region in the near term with the resistance level of 1241.10 - 1235.50 likely to see a bit more action of the price action at these levels. On the economic calendar today, Fed Chair Janet Yellen will start her two-day testimony to the U.S. Congress which could be the key market event to look for today as a hawkish narrative from the Fed chief will likely indicate the timeline for the next rate hike.