The U.S. dollar is attempting to post some gains to build up from Friday's reversal. Price action has formed an inside bar among EURUSD and USDJPY which could indicate a potential breakout trading that could establish the near-term direction of prices.
The markets are looking to a quiet day of trading as the U.S. session is light on account of Presidents Day. The Economic calendar is quiet for the most part with only German PPI (expected 0.3% m/m) and the UK's industrial order expectations due over the European trading session. Canada's wholesale sales figures are expected later in the day followed by the Eurozone consumer confidence.
EURUSD intra-day analysis
EURUSD (1.0615): EURUSD's reversal on Friday saw prices breaking down below 1.0644 by the end of the day. Although this morning's price action is a bit bullish, EURUSD could be seen testing 1.0600 here support is likely to be found. A bounce of the 1.0600 support could signal a continuation to the upside targeting 1.0700 followed by a move towards 1.0800. Alternately, failure to establish support at 1.0600 could mean further decline in prices as EURUSD could slide towards 1.05550 support.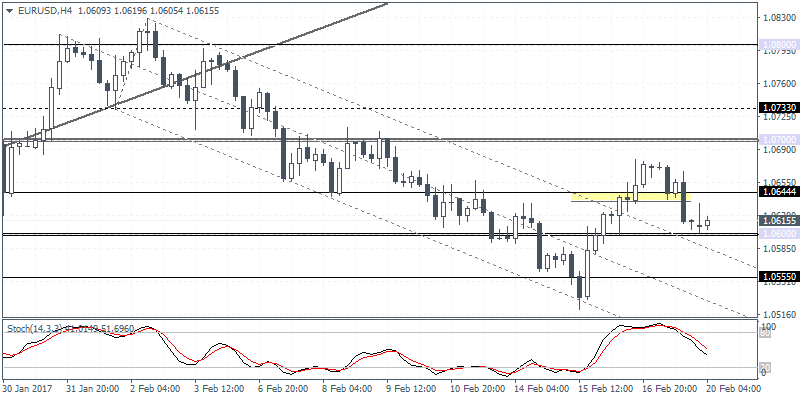 XAUUSD intra-day analysis
XAUUSD (1233.88): Gold prices were seen retesting 1241 resistance last week, but failure to break out higher has signaled a near-term push lower. A breakdown below 1235.50 could signal near-term declines as gold prices could be seen testing the lower support once again at 1220.00 - 1217, which was briefly tested last week and was met with strong rejection at these levels. Price action on the 4-hour chart also shows a possible double top pattern being formed which could mean that a breakdown below 1220 could signal further declines towards 1200.00 at the very least.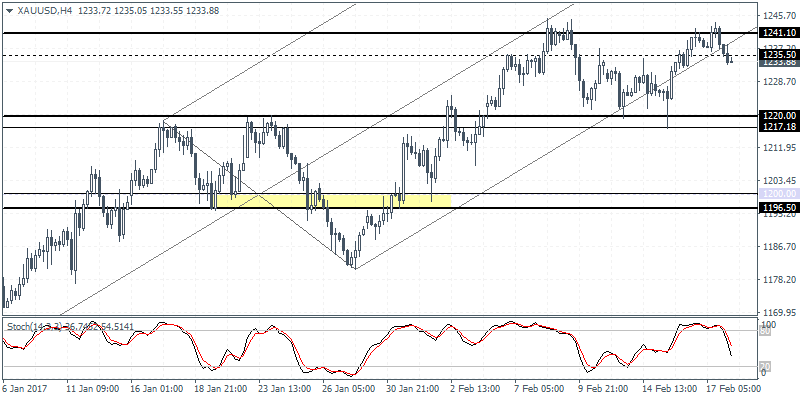 USDJPY intra-day analysis
USDJPY (113.12): USDJPY is looking to post a reversal after falling to 113.00 support last week. The rebound from the support zone at 113.00 - 112.50 could signal a short-term move to the upside in USDJPY which could see prices potentially rally back to target 115.36. The 4-hour chart also shows a hidden bullish divergence at the current level, meaning that USDJPY could see some consolidation within 113.00 - 112.50 following which an upside move can be expected. This bullish bias will be invalidated on a close below 112.50.