The U.S. dollar was the weakest currency yesterday as surprisingly, the Mexican peso rallied, rising 1.22% over the day against the greenback. This was followed by gains of 0.96% recorded in gold and among the major currencies; the British pound logged 0.84%. Lack of any clear economic data saw the dollar waver which failed to capitalize despite the Treasury Secretary calling for a stronger U.S. dollar. The markets will be focusing on next week's Trump speech.
Looking ahead, the economic calendar is quiet during the European trading session. In the U.S. session, Canada's inflation figures will be coming out with the various measures of CPI. Canada's core CPI is expected to have declined 0.1%. Data from the U.S. will see the new home sales data which is expected to increases 575k.
EURUSD intra-day analysis
EURUSD (1.0588): EURUSD has so far managed to bounce of the support level at 1.0500 and having cleared 1.0555, the single currency will most likely target 1.0600 resistance level which also marks the previous support level that held prior to the break down following the bearish flag pattern. Only a close above 1.0600 will signal further continuation, but EURUSD could remain range bound within 1.0600 and 1.0500 in the near term. On the daily chart, EURUSD is showing strong signs of posting a recovery after hitting 1.0500 and could see further gains coming next week.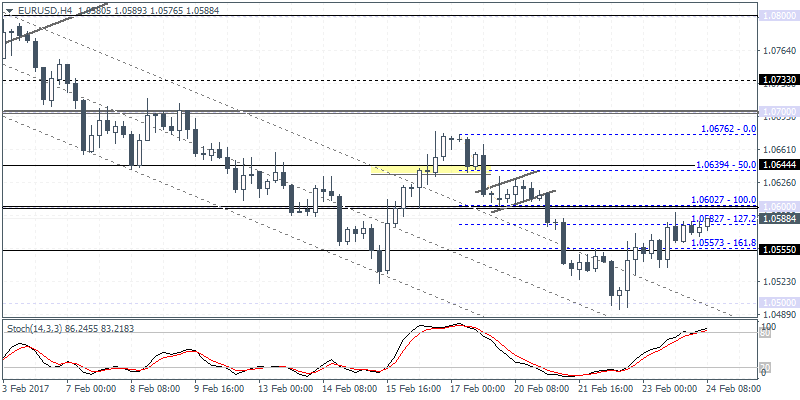 GBPUSD intra-day analysis
GBPUSD (1.2559): The British pound has managed to break out from the consolidating triangle that price was stuck t for nearly three weeks. A breakout above 1.2566 marking the triangle pattern's high is required to sustain further gains to the upside as GBPUSD will target 1.2700 resistance level, the highs from February 1. The downside in GBPUSD is looking limited for the moment, although this could change in the event of price breaking below 1.2500, in which case GBPUSD could continue its sideways price action.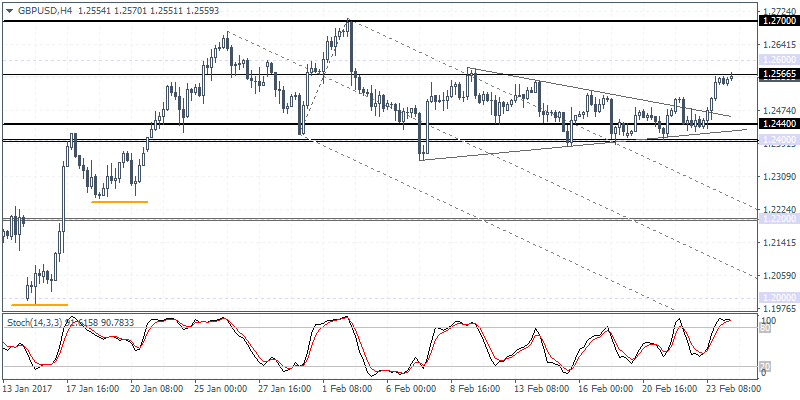 XAUUSD intra-day analysis
XAUUSD (1253.09): Gold prices broke above 1250 handle earlier today, but the daily chart continues to show the hidden bearish divergence, which could signal a near-term correction to the downside. The breakout to 1250 occurred after nearly a week of flat price action in gold. With prices breaking to 1250, further gains can be seen only if support is seen firming near 1240 - 1235 region. Failure to find support here could signal near-term weakness as 1200 support remains the downside target.