The U.S. dollar remained mixed across the board, weaker against the Australian dollar, gold and the Mexican peso but was seen stronger against the rest of its peers. The dollar continues to ride on the expectations of a March rate hike. Lael Brainard was the latest FOMC member to join the growing majority of Fed members who have publicly expressed their support for a March rate hike.
"Assuming continued progress, it will likely be appropriate soon to remove additional accommodation, continuing on a gradual path" of rate rises, Ms. Brainard said. The Fed Chair, Janet Yellen will be speaking tomorrow and could offer more clues into the prospects for a rate hike at the next Fed meeting. So far, the CME Group's 30-day Fed fund probability tool shows a 66.4% probability of a 25 basis points rate hike.
GBPUSD intra-day analysis
GBPUSD (1.2276): The British pound broke out to the downside at the support level of 1.2400 with prices extending the declines sharply. The next major support level is seen at 1.2200 and could be tested in the near term, thus warranting any pull backs to this decline as a good opportunity to sell. Economic data continues to remain in focus, especially after yesterday's manufacturing PMI data for February showing a decline to 54.6 from 55.7 in January. Construction PMI figures are expected today with economists forecasting no change to the PMI at 52.2.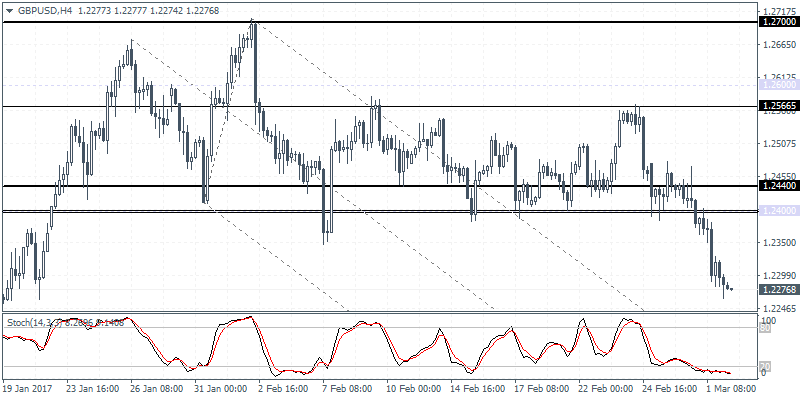 USDJPY intra-day analysis
USDJPY (114.01): USDJPY is seen struggling with the resistance level at 114.00, and a breakout above this level is required for traders to expect any near-term gains. USDJPY has been trading in a sideways range of 114.00 and 112.00 with the previous test to this resistance level pushing prices lower. Therefore, USDJPY could either post some bullish gains above 114.00 or continue to remain range bound. On the 4-hour chart, the bullish breakout from the descending triangle pattern will see a continuation towards 114.38 as the initial target followed by a move to 115.38.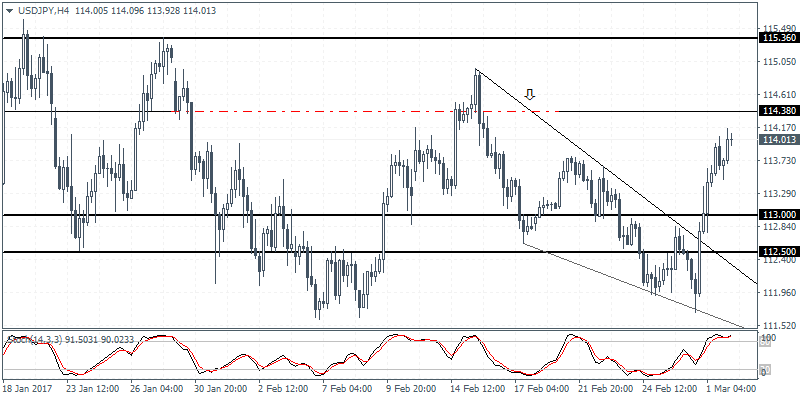 XAUUSD intra-day analysis
XAUUSD (1246.44): Gold prices posted a pull back from a 4-day intraday low before closing modestly higher. A bearish follow through is required for gold prices to post a daily close below 1241.00 for a continuation to the downside. Support at 1200.00 remains an ideal target to the downside, ahead of a minor bounce near the 1220 - 1217 support zone that has been formed. Further upside can be expected only on a close above the 1250.00 level which has currently capped the gains from yesterday's retracement. The markets are likely to wait and watch in the run up to tomorrow's speech by Fed Chair Janet Yellen, in what could further reinforce expectations of a March rate hike.