The initial exit polls from various sources have clearly put the Dutch incumbent Prime Minster Mark Rutte's party in the lead against his radical opponent, Geert Wilders. Although official results will be announced only next week, the markets are breathing a sigh of relief on fears that European voters will swing to the far-right parties.
Series of central bank meetings yesterday saw no major policy changes, this included the Bank of Japan, Swiss National Bank, the Norges Bank and the Bank of England. The currencies continued to follow up on their themes from the Fed rate hike as Gold continued to edge higher.
In the UK, the Brexit bill received the Royal Asset, making it into law and empowering the Prime Minister, Theresa May to proceed with invoking Article 50 and paving the way for the negotiations with the EU.
As the markets prepare for the weekend, the economic calendar is fairly light today with Canada's manufacturing sales numbers and the UoM consumer sentiment data.
EURUSD intra-day analysis
EURUSD (1.0767): EURUSD advanced yesterday led by encouraging signs from the Dutch elections. The common currency closed at 1.0771 which is a strong resistance level that was firm on two previous occasions. A breakout above 1.0765 - 1.0800 resistance zone will no doubt be bullish for EURUSD which could extend gains to as much as 1.1100. On the 4-hour chart, there is a small risk of price pullback to 1.0700 on the rising wedge pattern. This could, however, put the bullish bias into question as a break down below 1.0700 could signal near term declines towards 1.0600.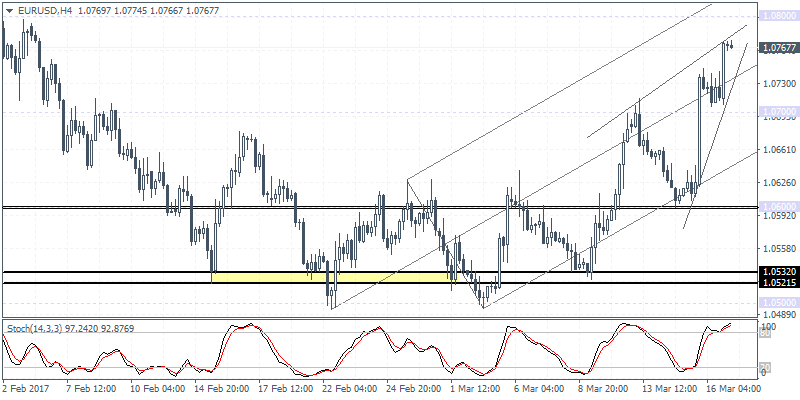 GBPUSD intra-day analysis
GBPUSD (1.2353): GBPUSD posted the second day of strong gains yesterday, but the rally is quite likely to be short lived as price approaches the resistance level of 1.2400 which is pending a retest. The gains in GBPUSD came about on the dissenting vote from the BoE's monetary policy meeting yesterday. But in the backdrop of Brexit negotiations, it is unlikely for GBPUSD to maintain the gains. Following the break down below 1.2400 which previously acted as support, GBPUSD extended the declines to 1.2109 before posting a reversal. If resistance is established at 1.2400, then we can expect to see further declines coming for GBPUSD to test the support level at 1.2100 more firmly.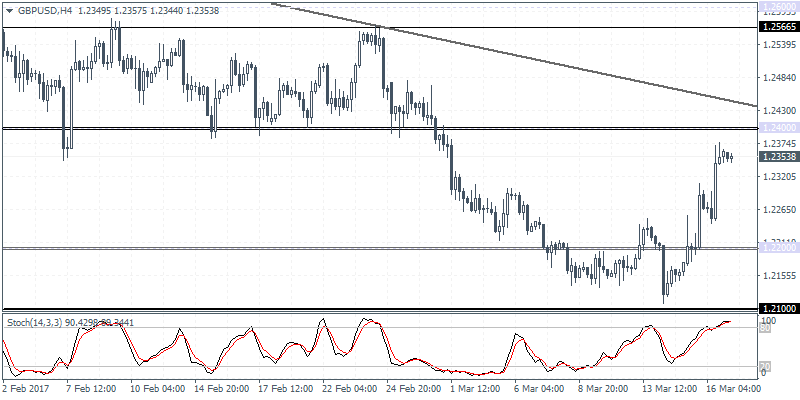 XAUUSD intra-day analysis
XAUUSD (113.25): Gold prices continued to rally for the second day after the FOMC meeting. The price touched an eight-day high at 1233.66 yesterday before pulling back lower to close the day at 1226.45. Resistance is seen at 1240 - 1235 level on the daily chart which indicates near term sideways range with support seen at 1200.00. On the 4-hour chart, gold prices could continue rising towards the support/resistance price level of 1237.00 following which we can expect to see a pullback towards 1220.00.