The U.S. dollar index fell below the 100.00 handle yesterday as investors scaled back the Trump Trade. Lack of any clear details on the tax reform and the proposed infrastructure spending saw investors shunning the U.S. dollar. The GBPUSD rallied to a 4-week high on a weaker greenback and stronger than expected inflation data.
The U.S. dollar index was trading mixed, however, weaker against the British pound and the euro but the currency was seen stronger against the Australian dollar and the New Zealand dollar.
On the economic front, data today will include the U.S. existing home sales figures followed by the RBNZ's monetary policy meeting. No changes are expected from the central bank at today's meeting.
EURUSD intra-day analysis
EURUSD (1.0800): EURUSD is looking increasingly at risk of a downside correction following the strong rally to 1.0800 resistance level. Price action on the 4-hour chart shows the momentum consolidating into a rising wedge pattern. A downside breakout could signal a correction towards 1.0700 where support can be established and eventually a longer-term decline back to 1.0600. To the upside, if support is formed at 1.0700, then expect EURUSD to continue pushing higher with stronger gains likely to come by on a break out above 1.0800. With the economic calendar quiet today, the focus will remain in the existing home sales data from the U.S. which is forecast to show 5.59 million, slightly down from 5.69 million previously.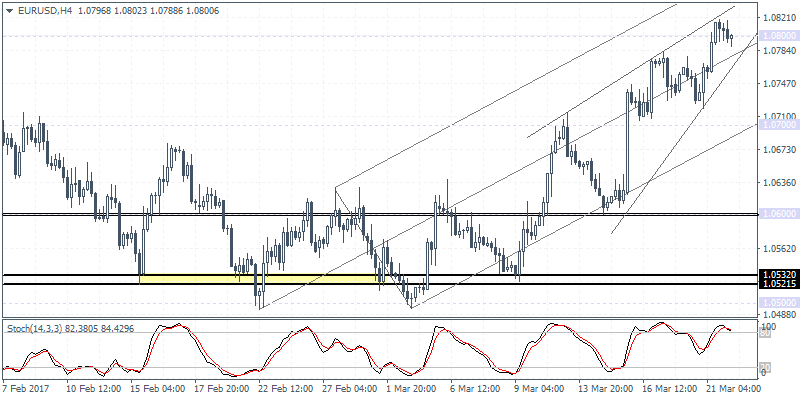 GBPUSD intra-day analysis
GBPUSD (1.2477): GBPUSD is likely to maintain gains in the short term but is at risk of a near term correction. After price action broke out above 1.2400 resistance level, expect the downside correction to push GBPUSD back to test 1.2400 where support can be established. In the event of a breakdown below 1.2400, GBPUSD could be seen staying range bound within 1.2400 and 1.2200 with increasing risk of a decline towards 1.2100 where support needs to be tested a bit more firmly.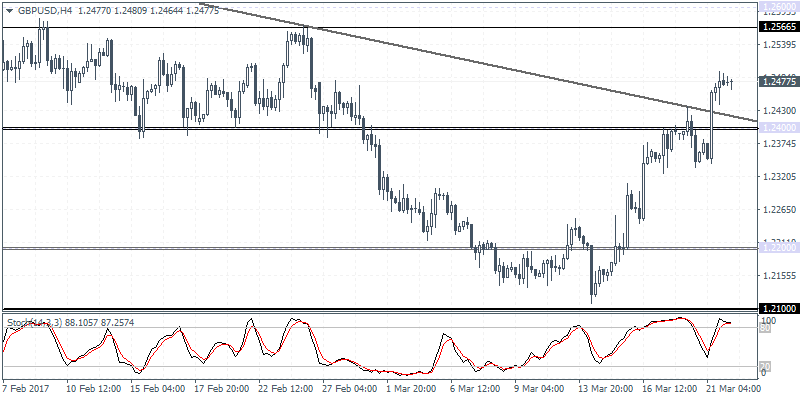 USDJPY intra-day analysis
USDJPY (111.64): USDJPY extended the declines sharply and broke past the 112.00 support level yesterday. The downside momentum is expected to slowdown in the near term, but any corrections can be expected only a break out above 112.00. To the upside, the resistance level is seen at 114.00 - 113.78 where the initial resistance remains, followed by a test to 114.50. However, if USDJPY fails to break out above 112.00 then expect to see the price to consolidate below 112.00 for the short term with no clear direction in place.