With the French elections just around the corner, investors turned attention to the high risk event yesterday amid a lack of any other cues from the markets. The euro currency managed to post some impressive gains only to give back most of those gains by the day's close.
Data from the U.S. saw the Philly Fed manufacturing index slipping to 22.00 form 32.8 previously, but investors were tuned to the comments from the U.S. Treasury Secretary, Steve Mnuchin who said that tax reforms would be announced very soon. He had previously given a timeline of August for the tax reform plans to be tabled.
Looking ahead, a lot of flash PMI numbers coming out from the Eurozone today while Statistics Canada will report on the inflation figures. Expectations point to a month over month increase of 0.4% in the headline inflation.
EURUSD intra-day analysis
EURUSD (1.0716): EURUSD rallied to a fresh three week high yesterday at 1.0777 before giving up the gains towards the close. The single currency fell closer to the evening after news outlets reported a terrorist attack in France, just ahead of Sunday's French elections. From a technical stand point, the failure to maintain gains above 1.0750 - 1.0740 means that EURUSD could be looking to push lower towards the technical support seen at 1.0674. Establishing support here could keep EURUSD poised for a move into Monday's open following the results of the first round of voting.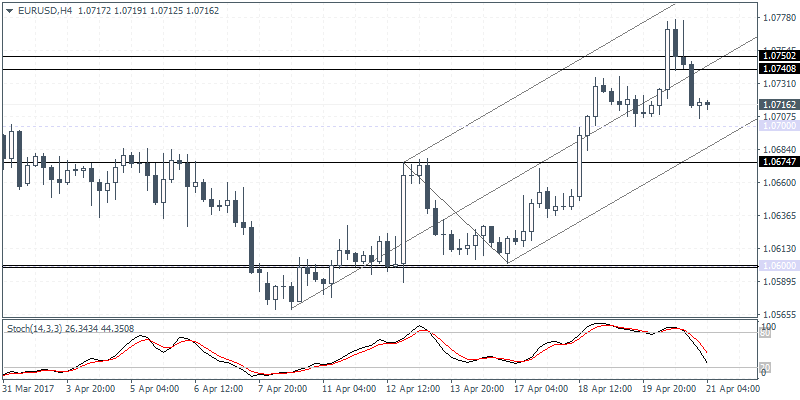 GBPUSD intra-day analysis
GBPUSD (1.2795): GBPUSD has managed to consolidate around 1.2800 price point, and the bullish rally is expected to see a possible upside continuation in prices. However, there is also the scope of a pull back towards 1.2500 where support could be established. To the upside, a bullish break out from the pennant pattern could signal an upside move towards 1.3100 at the minimum, but on the flipside, failure to break out higher could signal a correction towards 1.2600 where there is a good chance of the support level holding out.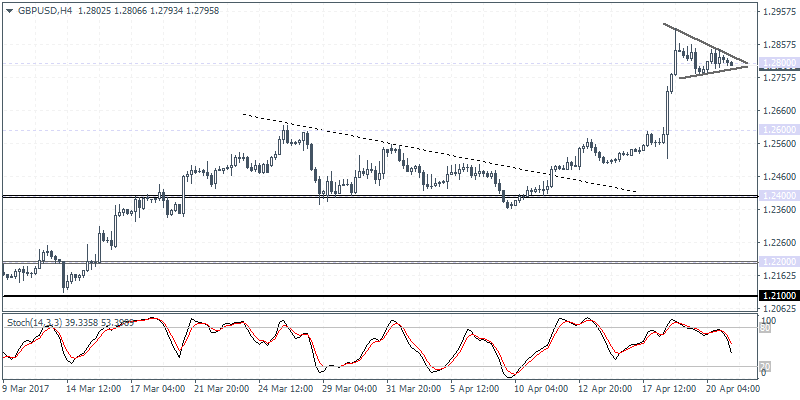 EURCAD daily analysis
EURCAD (1.4440): EURCAD posted some big gains yesterday but failed to hold on to the gains by the day's closed. Price spiked to a fresh one-month higher yesterday at 1.4532 before giving up those gains and closing almost flat on the day. A bearish follow through is required here to confirm a move to the downside. Initial support is seen at 1.4182 which could be tested. Posting a higher low higher could signal an upside bias in EURCAD which will see prices consolidate between the resistance level of 1.4446 - 1.4476 and support at 1.4182. Further continuation can be expected only on a breakout from either of these two price levels.