The Japanese yen and gold retreated as investors' risk appetite increased. Even the 10-year Treasury yields rose to a 2-week high during yesterday's session. Lack of any major economic releases managed to keep the euro well supported as the common currency continues to gain in the backdrop of Sunday's election results. On the economic front today, the Australian inflation data was released. Data showed that inflation increased at a slower than expected pace during the first quarter despite an increase in gasoline prices. Traders were not impressed as the Australian dollar extended the declines after rising to a session high of 0.7556. Looking ahead, Statistics Canada will be releasing the retail sales figures today while the EIA will be coming out with the weekly crude oil inventories.
EURUSD intra-day analysis
EURUSD (1.0943): EURUSD has cleared the resistance at 1.0863 - 1.0854. This could potentially set the stage for further upside in prices for EURUSD. However, expect to see a possible pull back where the recently breached resistance at 1.0863 - 1.0854 could be tested for support. As long as this support holds, EURUSD can be seen extending the gains towards 1.1000 at the very minimum. Ahead of the ECB's meeting due tomorrow, EURUSD could very well trade within a small range ahead of increased volatility into tomorrow's meeting.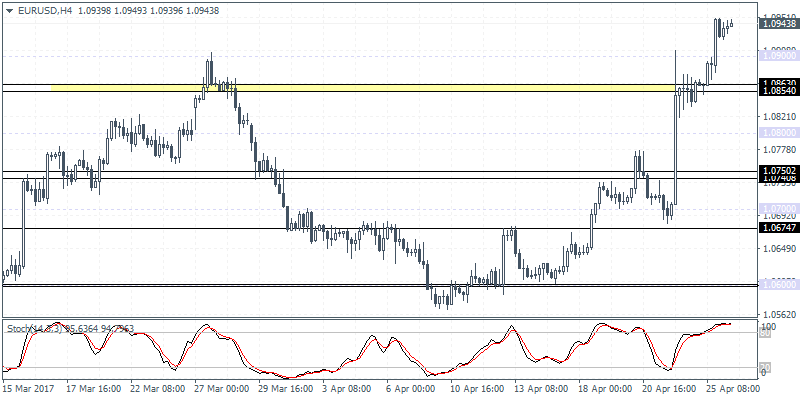 GBPUSD intra-day analysis
GBPUSD (1.2833): GBPUSD has been consolidating within the bullish pennant pattern for the most part of this week. If the current break out from this triangle pattern is to be believed, we can expect to see further upside in store. The gains are likely to be held as support could be formed near 1.2800. As long as the support holds, GBPUSD will be targeting the previous highs of 1.2902 followed by a rally towards 1.3000 and 1.3200.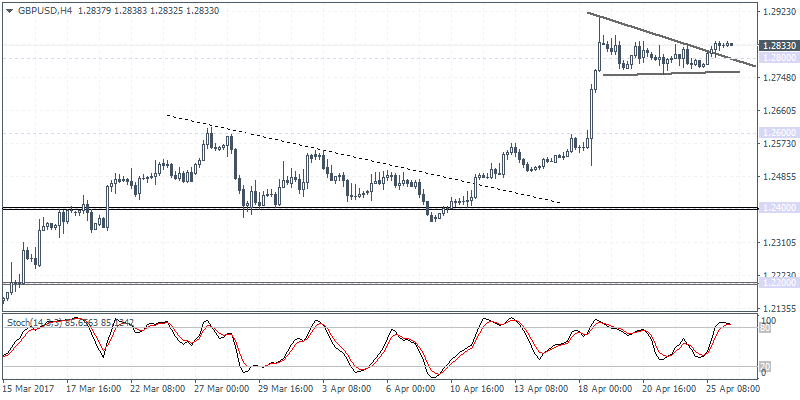 USDJPY intra-day analysis
USDJPY (111.38): The Japanese yen has been trading softer over the past few days, and the upside is likely to prevail. Expect to see further gains that will push USDJPY to test the upper resistance near 111.56 - 111.65 region. This could potentially cap the gains to the upside ahead of a modest pullback towards 110.00 where support is most likely to be established. USDJPY could remain trading flat today ahead of tomorrow's all-important Bank of Japan monetary policy meeting. A break out from 111.00 or 110.00 could signal a continuation in the near term.