Sellers continue to prevail on the black gold market. The WTI crude oil futures grew by more than 5.5% during the last 2 weeks. The oil prices have reached the $55 (per one barrel) key price level. The oil quotes have the potential for recovery. I've pointed out several factors that may support the oil prices in the medium term:
1) The fall of the US oil inventories. Here are the details of the report by U.S. Energy Information Administration: Inventories of oil: -2.435 mln barrels; Inventories of gasoline: -4.02 mln barrels; Distillates inventories: -0.32 mln barrels; Oil production: 9.553 mln par day (+46000 per day);
The oil, distillates and gasoline inventories have decreased. At the same time, the growing oil production in the US pressures the prices.
2) As the Reuters agency stated, the oil production by OPEC decreased by 80000 barrels per day during this October. That's why the level of compliance with the OPEC's agreement on the production reducing grew from 86% to 92% this September.
3) Market experts say that OPEC may extend this global agreement by the end of 2018.
The current technical pattern:
Support levels: 54.40 USD, 53.80 USD, 52.60 USD
Resistance levels: 55.00 USD, 56.00 USD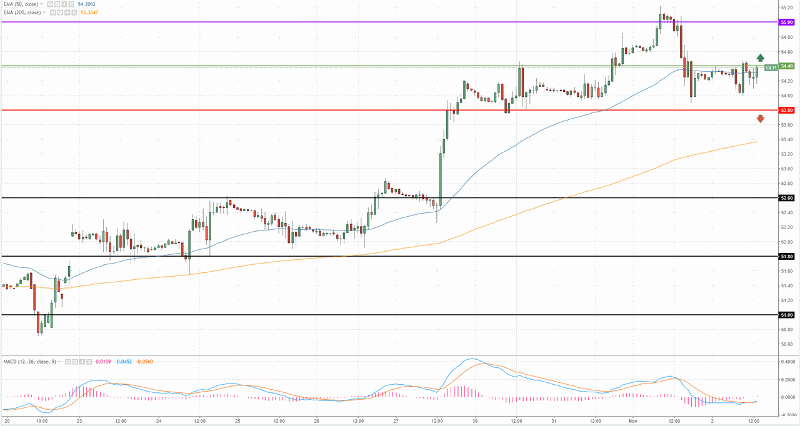 The WTI crude oil futures are consolidating at the moment. The technical pattern is doubtful now. The key support and resistance levels are 54.40 and 55.00. The indicators don't give us any precise signals: the quotes have crossed 50 MA and 200 MA; the MACD histogram has fixed near the 0 mark. However, I advise opening deals in the current trend direction.
You may open long positions in case the quotes fix above the 55.50 resistance. Taking profit would be appropriate at the 56.00 level. The price can move to the 57.00-58.00 mark in the medium term.
One more option. A technical correction may take place. So, you can open short deals when the price consolidates below the 54.40 support. The quotes can move to 53.80-53.20.
It's also advisable to use a trailing stop for both positions.