We're pleased to announce that the PAMM service, developed by Alpari in 2008, now has a new record holder for the most profitable PAMM account of all time! The record was broken by the manager of the Moriarti PAMM account, who has consistently featured around the top of the ratings over the last few years across virtually all categories, including the number of investors, and amount of funds under management. This historical milestone was reached on the 25th of March, 2020, when the all-time return on the account hit 166,900%. The previous record of 165,900% had been held for nearly 10 years by the Expensivebuyer account.
On their way to breaking the record, the manager of the Moriarti account had just recently managed to overcome the largest historical drawdown seen on the account over its 5-year lifetime! Moreover, this deficit was overturned in the space of a week, which makes for good viewing on the monthly return chart: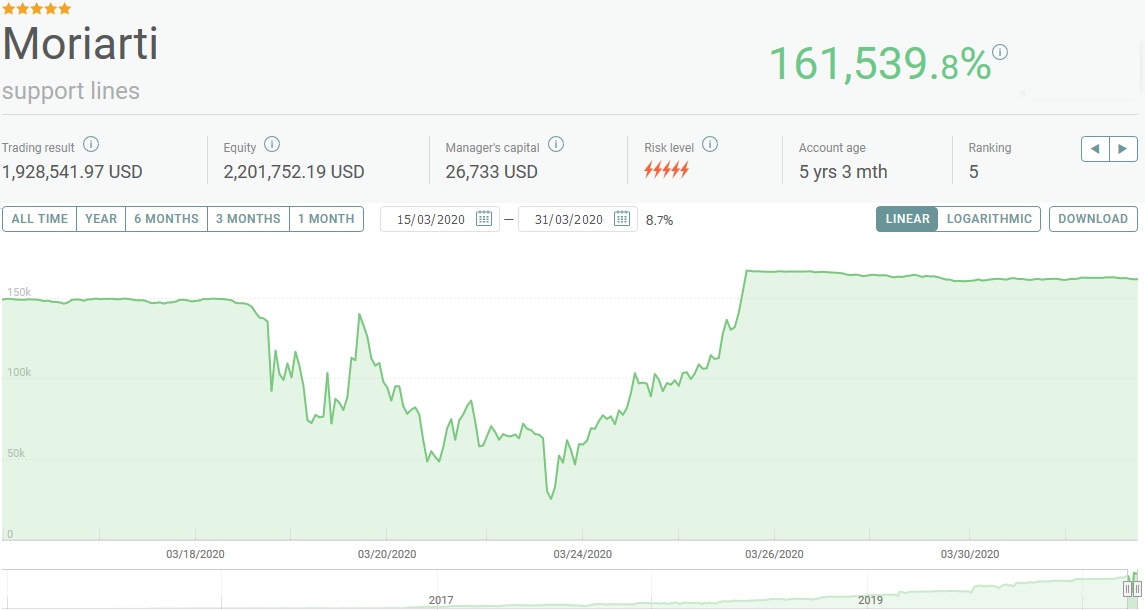 For those who invested in the Moriarti account during its downturn, this provided a golden earning opportunity in the heat of a financial crisis where more traditional sources of income such as investment accounts are losing their appeal. Investors who bought in at the trough saw an incredible return of around 300% over the course of just one week.
To mark this momentous occasion, Alpari has decided to add a special marker titled "Record breaker", which can be featured on any account that breaks the PAMM service's all-time returns record. Having this marker will ensure that the record-breaking account will remain at the top of the PAMM account ratings for as long as its current return is higher than that of the previous record, regardless of any of the account's other performance indicators.
The success of the Moriarti account shows that now is the perfect time to make some extra income without leaving the house! Join now to avoid missing out on the opportunity to earn in an ever-changing financial market. Click here to find out more about how to invest in PAMM accounts or how to become a manager.
If you have any questions, please don't hesitate to contact our customer support team. You can reach us on Telegram, Facebook Messenger, Skype (calls only), via our Live Chat service, by email at info@alpari.com , or by phone on +44 8449 869559.