AMarkets online broker offers a Webmaster affiliate program that allows partners to attract clients and receive payouts for account registrations and for funded accounts. This affiliate program will be suitable for website owners, bloggers and lead generators who work with web traffic and can redirect it. Now, let's see how it works. As we have already mentioned, a webmaster receives payouts in two stages. The first stage (payouts based on a CPL model) is when a webmaster sends traffic to AMarkets and this traffic is then converted into qualified leads. For each confirmed client registration, a partner receives $5 (START package) or $10 (PRO package), depending on his remuneration rate. To get the PRO package rates, the partner needs to attract more than 10 new active traders per month.

At the second stage, a webmaster gets paid after the referred clients fund their accounts and start trading (payouts within a CPS model). As soon as clients complete a verification procedure and achieve a required trading volume, a webmaster receives a one-time payment of up to 500 USD per client, depending on the net deposit amount and the partner's remuneration rate.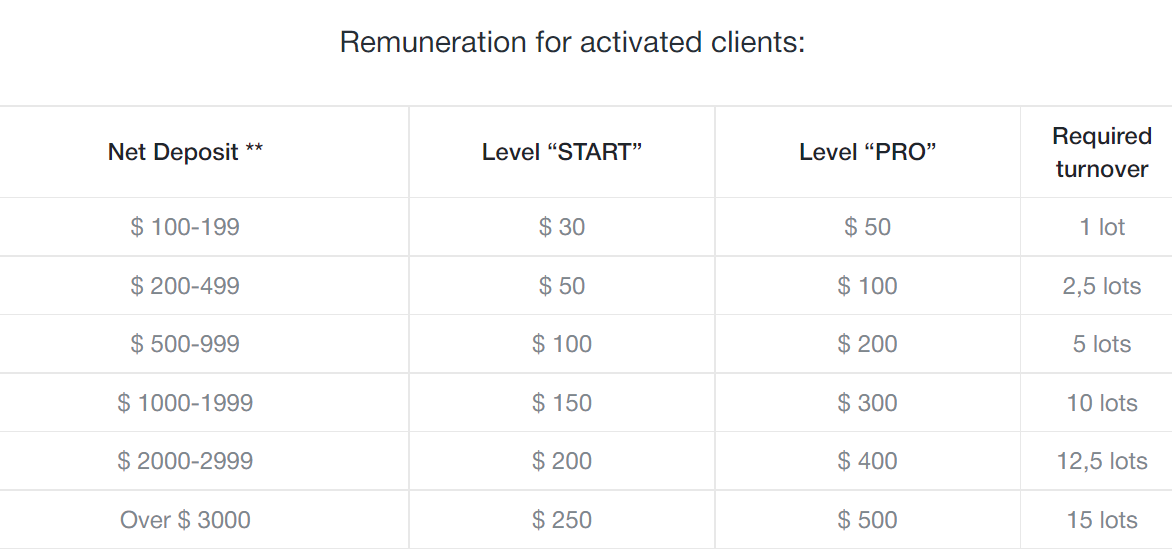 Payments to partners are made in US dollars and are available for withdrawal without any restrictions. Also, once a month, AMarkets compensates its partners for all commissions and fees charged by payment systems to ensure that its agents get 100% of their income.
How much can you earn?
Let's take a look at some real numbers and a real case, based on the activity of one of our Webmasters. A partner created the Telegram channel where he started to make regular posts, sharing successful strategies and trading methods that can be found in the public domain on the Internet. He also used the Autochartist technical analysis software to share trading signals from this analytical platform in his Telegram channel. By the way, Autochartist is a trading signals service provided by AMarkets to all its clients absolutely for free.
At the beginning of every week, the partner does a short review, summing up the past week's results. To show how traders can make money in the financial markets using these trading signals, a partner topped up his own trading account for the amount of $1000. To make sure everything worked correctly and test the Autochartist service himself, the partner had first traded on a demo account for a couple of months to obtain the necessary experience and knowledge.
Six months after the partner created his channel, it already had about 2,400 targeted subscribers. The partner used social media and native advertising (paid content), targeting niche groups and other Telegram channels devoted to financing and investing to attract new followers. He also started a finance blog on the Yandex Zen media content platform and created his own Youtube channel to share his personal experience and trading results in the financial markets. On some resources, he managed to post his information for free using reciprocal linking.
Here are some real figures and results for 3 months:
Funds spent on channel promotion: $1428
Partner reward for qualified registrations: $2720
Total registrations: 203
Paid: 136
Rejected: 23
Under moderation: 44
Reward for activated accounts: $11,250
Clients: 46
Funds raised: $82,192

The partner's total net profit amounted to $12,542 (15% of the total amount of funds raised), which is approximately $4,180 per month. As you can see, the partner has applied an integrated approach to affiliate marketing, which proved to be highly effective.