Why have indices and energies become so popular? Nowadays, many traders prefer trading indices and energies for several reasons. First, an index is a measure of a stocks group. Index trading is a process of selling and buying a stock index that tends to go up in a long-term period. However, traders can profit from both up and down index price movements in the short term. One more benefit of such trading is a lower risk since an index is a kind of diversified portfolio, not a single company's share. Indices allow trading the leading worldwide markets without analyzing a specific company.
Energy trading relates to such products as natural gas, electricity, crude oil, wind power. Trading energies with FBS include natural gas and crude oil of Brent and WTI. Prices of these products are highly volatile and give an opportunity to profit quickly.
Plus, trading indices and energies can be easily analyzable and hence advantageous. You can apply both technical and fundamental analysis and your favorite strategies to earn on these instruments. Energies and indices reflect economic health, and their price will grow together with the economy and vice versa. So, this simplifies forecasting.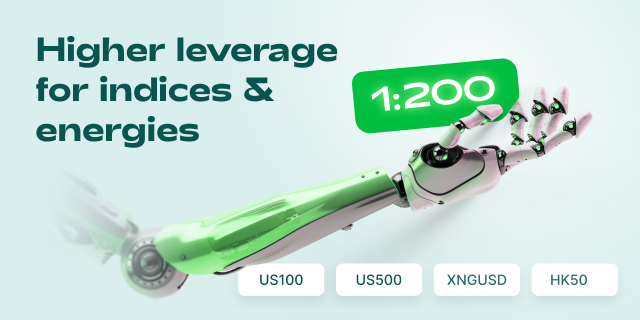 Multiply your earnings with leverage
Leverage allows traders to use borrowed funds to enhance their trading position beyond what would be available from their balance alone. Thus, trading higher volumes using leverage allows making more profit without big deposits. Previously, FBS traders could trade indices and energies with 1:30 leverage. Now, you can try multiplying the profit with leverage of 1:200 for the next instruments: JP225, US100, US30, US500, AU200, EU50, FR40, HK50, UK100, DE30, ES35, XNGUSD, XTIUSD, XBRUSD.
FBS is constantly improving trading conditions, putting the traders' opinions and requests into account. This time it's higher leverage for popular index and energy assets. Stay tuned for the following FBS features and updates.
FBS is one of the leading worldwide brokerage brands. It unites independent regulated companies. The brand is constantly developing trading opportunities and adding new features and services for its clients. Thus, everyone can improve the financial side of life by joining FBS Loyalty Program in a tap.