Navigate the ever-changing global economic landscape with tixee's premium products and services, including CFDs on FX, indices, stocks, commodities, cryptos, and more on a wide range of platforms! Here we'll look at the major asset classes that tixee offers as CFDs. We'll also explore what influences these markets and which type of trader they could suit.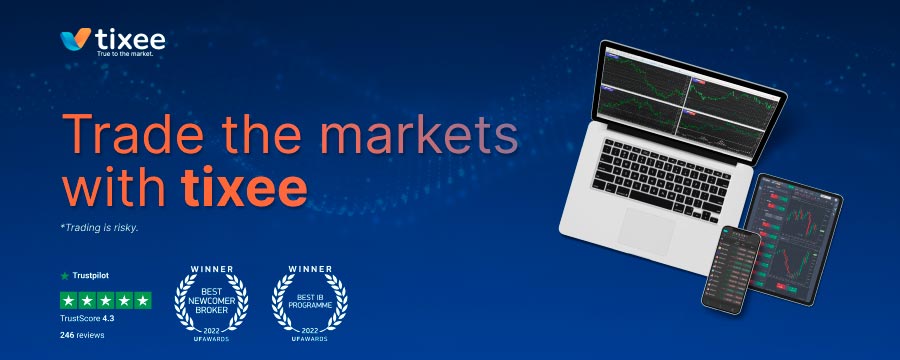 What are CFDs?
tixee is a CFD (Contract for Difference) provider. When you trade CFDs, you don't own the underlying asset. Instead, you trade the price movement. This means you can go long (buy) if you think the price will rise, or you can go short (sell) if you believe the price will fall.
Forex
The FX market is the world's largest and most heavily traded market, with a daily turnover of over $6.5 trillion dollars. Every currency pair is made up of two currencies - the base currency, and the quote currency. Effectively, you sell one to buy the other. For example, EUR/USD - if the value of the EUR, which is the base currency, rises, then it has increased in value against the USD (quote currency).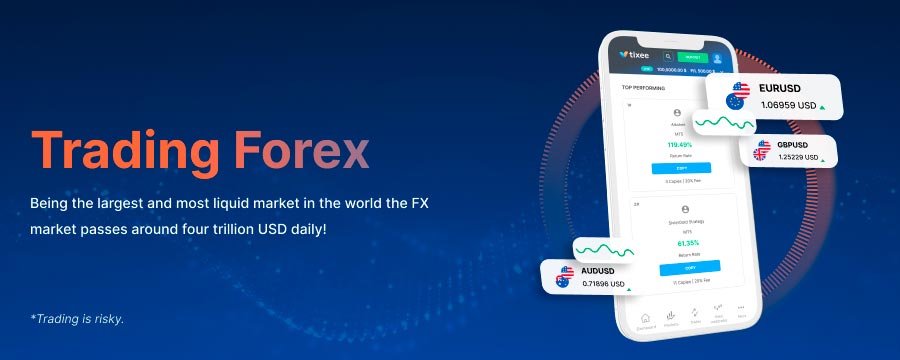 tixee offers a total of 58 currency pairs, including major pairs such as GBP/USD and USD/JPY, as well as non-USD crosses, like EUR/GBP and exotic pairs like the USD/ZAR.
One of the key advantages of FX trading is that the market is open 24 hours a day, five days a week. This is because FX trading doesn't have a central marketplace or an exchange, so there is no opening or closing time. Major forex pairs such as the EUR/USD tend to be highly liquid, particularly in the main trading hours. The forex markets tend to be driven by economic data releases, such as inflation data, jobs reports, and economic growth figures. They are also often heavily influenced by central bank monetary policy decisions such as interest rate cuts or hikes, and political events like elections.
Commodities
tixee offers a range of commodity CFDs. These include oil, gas, and metals such as gold, silver, and copper, as well as agricultural commodities like sugar, coffee and cotton. Supply and demand factors drive commodity prices along with global risk sentiment - as well as the currency that the commodity is trading in. The supply and demand factors are different for each commodity. Oil prices, for example, are closely linked to supply questions. When supply is reduced, the price of oil can rise. This makes the monthly OPEC+ meeting crucial for oil.
tixee offers gold and silver in tandem with the USD. This currency's movement is therefore important, as are inflation expectations and central bank monetary policy. This is because gold is non-yielding, so higher interest rates mean the opportunity cost of holding gold rises.
Copper is another metal that we offer. Copper, or 'Doctor Copper' as it is sometimes referred to, is so widely used in homes and factories that demand for the metal is often considered a leading indicator of the global economy's health.
Indices
An equity index measures the movement of a group of stocks. Indices are typically formed by a group of stocks from a particular country. For example, the Nikkei 225 (Japan225) measures the performance of the top 225 companies on the Tokyo Stock Exchange. The FTSE 100 measures the movement of the top 100 stocks on the London Stock Exchange.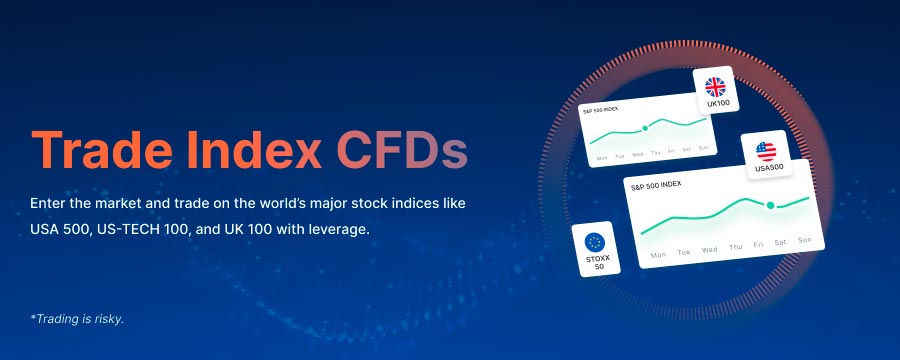 tixee offers nine indices to trade from different regions across the globe, including the US S&P 500, NASDAQ, and Dow Jones, in addition to indices from Asia, such as the Nikkei 225, and Europe, including the DAX and EuroStoxx 50. Indices are usually driven by various factors including macroeconomic data, such as labour market figures and interest rate levels, and sectors' and individual stocks' performance.
Stocks
At tixee, you can trade on the price movement of 140+ different stocks, including household names such as Apple, Tesla, and Amazon. These stocks are available to trade during the opening hours of the exchange on which they are listed. For example, Tesla is listed on the S&P 500, which is open from 8:30 EST to 17:00 EST. Therefore, these are the hours you can trade the Tesla CFD.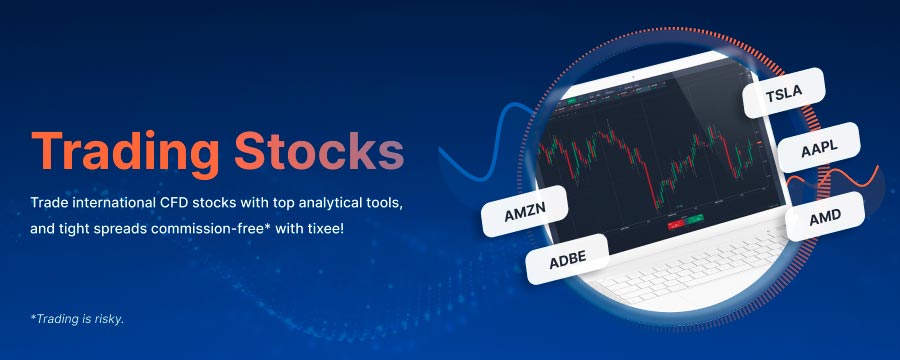 The advantage of trading stocks as CFDs is that you can go long or short. Going long means that you are hoping to profit should the share price rise. Going short means you can sell to open the position and potentially make money from a falling market. In this case, however, if the market goes against you and rises then the trade would lose money.
When trading individual shares, traders like to research the fundamentals behind the company to assess whether it is fairly valued or not. This research can be quite time intensive. However, tixee offers a range of research tools and daily market updates to help speed up the process.
Cryptocurrencies
tixee offers a broad range of cryptocurrencies, including BTC/USD, ETH/USD, as well as DASH/USD, LTC/USD, and XRP/USD, among others. Cryptocurrency markets move according to supply and demand. Risk events within the crypto space can affect the price, including security breaches, regulatory changes, and the collapse of large crypto firms.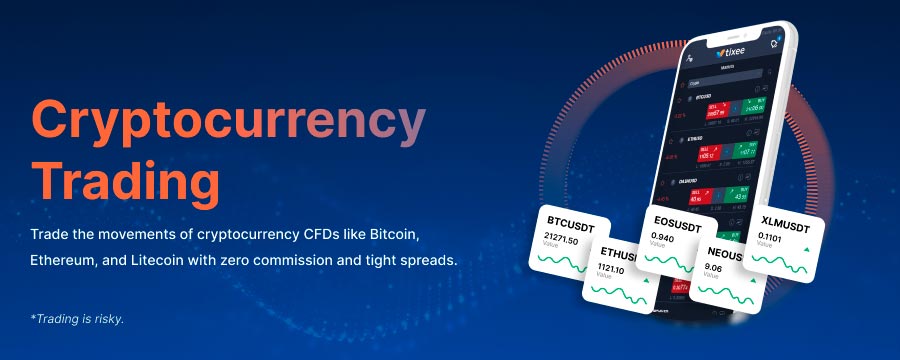 In addition to crypto news, Bitcoin and its peers, which are risk assets, can also be affected by broader market sentiment. A risk-on mood tends to favour cryptos, while a risk-off mood can hit demand for cryptos.
tixee offers a broad range of assets and markets to trade including forex, indices, shares, commodities and cryptocurrencies. We also provide a range of free educational resources, including daily market updates, eBooks, and social media live streams to help you boost your knowledge.
To learn more about trading with tixee, visit our website today or get in touch with our friendly team. We're always happy to help.
*Trading is risky.