The cryptocurrency market capitalisation fell 1.8% to $1.1 trillion over the last 24 hours as risky assets lost traction, dragging the Nasdaq lower. Markets were surprised by interest rate hikes in Australia and Canada, raising the chances of a similar move from the Fed next week. Bitcoin is trading near $26.4K, down 1.5% in 24 hours, a level that has acted as support over the past three months. On Wednesday, the price reversed as it approached its 50-day moving average. This was triggered by a sell-off in the Nasdaq 100, which lost 1.75% on the day. The technical picture remains quite bearish, with Bitcoin remaining within a two-month downtrend channel, setting up an imminent drop towards $25K to test more significant support.
Interestingly, Ethereum feels more confident and continues to find support on dips below 1800, although the 50-day average still acts as resistance.
According to CoinGecko, median trading volume on decentralised cryptocurrency exchanges (DEX) has more than quadrupled in the past two days amid an SEC lawsuit against Binance and Coinbase. The outflow from Binance was nearly $800 million, while Coinbase's outflow was around $600 million.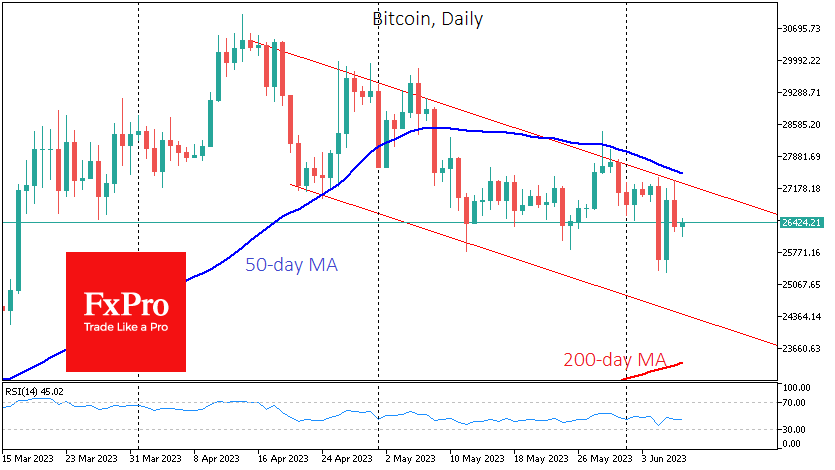 News background
The SEC has issued a regulatory order to freeze the accounts of Binance.US. Representatives of the site insist that all user funds are safe. Bank of America downgraded Coinbase shares to "underperform" following the SEC lawsuit, which could threaten the exchange's business model.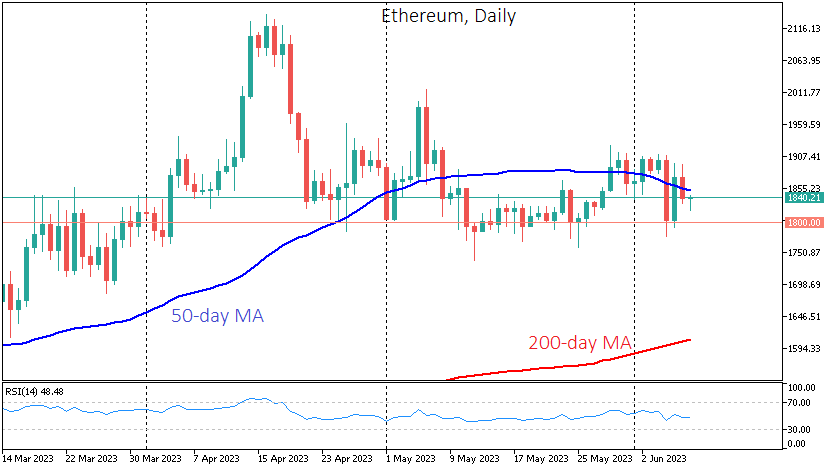 Timothy Massad, the former CFTC chairman, believes the future of the crypto industry hinges on the outcome of the SEC's case against exchanges Binance and Coinbase. The number of cryptocurrency companies on Forbes' Fintech 50 list fell from nine to five last year. The market value of cryptocurrencies has fallen by $1.4 trillion over the year amid the collapse of FTX, Genesis, BlockFi, Three Arrows Capital and other cryptocurrency companies.