Fundamental data of the past few months has been steadily driving down the USD, but that took an extra turn last week when the already dovish Fed suggested it could go further.
Lael Brainard, a leading candidate to replace Jay Powell as Chair if the Democrats have anything to do with it, called for 'new policy tools' last week to combat the COVID crisis in the US.
She stated that US monetary policy "will have to shift from stabilisation to accommodation" which in itself is confusing considering its current actions are highly accommodative. She also suggested that yield curve control like that taken by the RBA in March could help control policy along with "freezing" the Fed funds rate at 0% until inflation reaches 2%.
As we have seen all year, accommodative comments of this nature have been met with weakness in the target currency. Think BoE in May when it flirted with negative rates. This fundamental input is putting pair technicals on a collision course.
DXY
---
The trend is your friend' a saying as old as trading itself and even in this COVID-19 world its a saying that is holding true.
Since the 'peak' of the panic around COVID in March DXY has been under consistent weekly downward pressure. This pressure then consolidated in May as the world started to come out of lock down as seen in the chart below.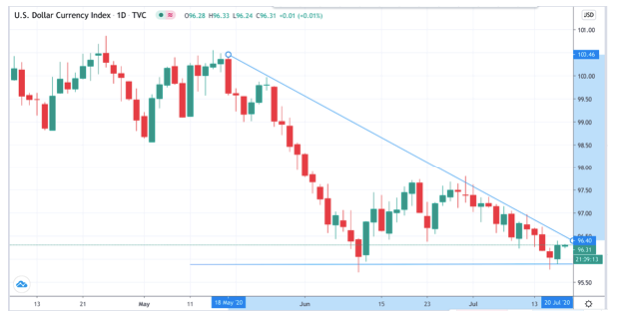 However, we are now finding DXY is running into a level of support that is being backed by the Bears with reasonable zeal. At 96 DXY the Bears appear to be stepping in and fighting off the Bulls attempts to continue to buy risk currencies with almost complete abandonment.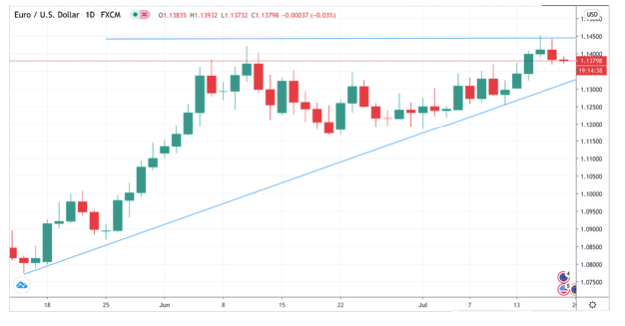 To illustrate this point let's drill into EUR and AUD.
EUR/USD
---
EUR/USD broke out of a small downtrend to find itself back above $1.14 and hit $1.146 a new monthly high but hit resistance quickly at this level. Clearly the USD weakness is driving this rise but at the same time the wedge formation is coming to ahead and a breakout would be a very bullish signal. A rejection, a clear line in the sand as to where the market sees the risk-on sentiment.
AUD/USD
---
AUD/USD is also following a strong wedge pattern. In fact, the pattern here looks stronger than its EUR/USD peer. It is really testing the very strong resistance level of $0.7025.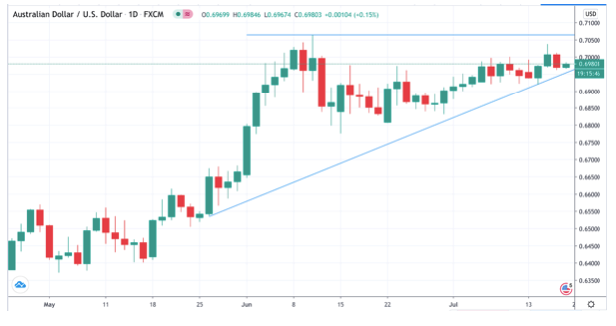 The Bears continue to defend this point and did cover the array of data in the Australian labour force numbers which some paint as a positive. I would also highlight that the pair is looking through the crisis in Victoria incredibly well, COVID really isn't affecting AUD/USD like some of its peers. Again, the USD is the main driver here, but I should also highlight that iron ore prices are making new yearly highs and China did avoid a recession with a second quarter expansion. Like EUR/USD a clear break above $0.705 will be a very bullish signal. So like the old saying the trend is your friend, so too is the adage – follow the momentum.