Has the market mood shifted too far? Last week, we were all fearful over the beginning of the end of emergency stimulus measures even though the world was having to contend with the increasing spread of the Delta variant. A Chinese regulatory crackdown also hit a variety of stock market sectors in the name of greater "social cohesion" in favour of corporate profits. This spooked Asian markets with the Hang Seng index moving into bear market territory, with "peak growth" lingering in the shadows.
This week, although the latter has been evident again in more disappointing economic data, markets are now hopeful that Chair Powell will deliver dovish comments in the vein of other FOMC officials like Kaplan's more cautious approach to policy outlook due to the Delta variant.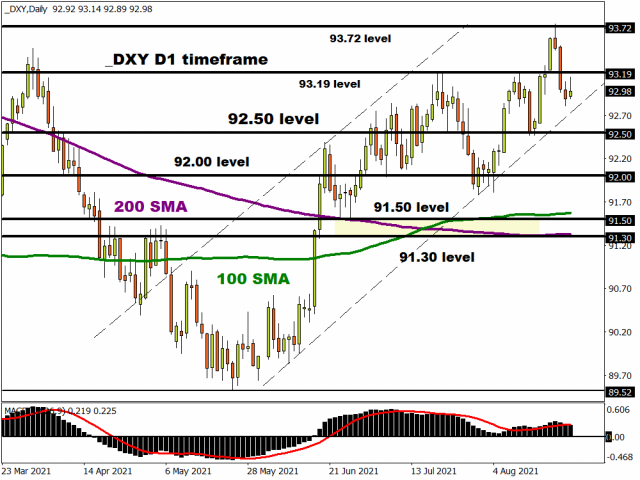 But China has apparently recorded zero cases of coronavirus for the first time in several months while the third busiest port in the world in China has just reopened. We are now getting to the stage when Chair Powell only has to be a bit more hawkish sounding than most expect in order to see some volatility.
FX markets quiet
That said, implied volatility measures of FX moves over the Jackson Hole meeting are not elevated. This points to very few hints being given about the policy outlook. Or at least not a great deal of new colour on the Fed's gradual move towards tapering. The dollar is currently trading marginally below 93 on the DXY with EUR/USD trading around 1.1750.
Disappointing German business survey data released earlier today actually had the opposite effect on the single currency than what would normally be seen. EUR/USD moved higher from an intraday low with markets perhaps positioning for a worse print. The world's most traded pair is still stuck in a down trend with trendline resistance from the June highs capping any upside. Last week's new long-term low at 1.1663 is key.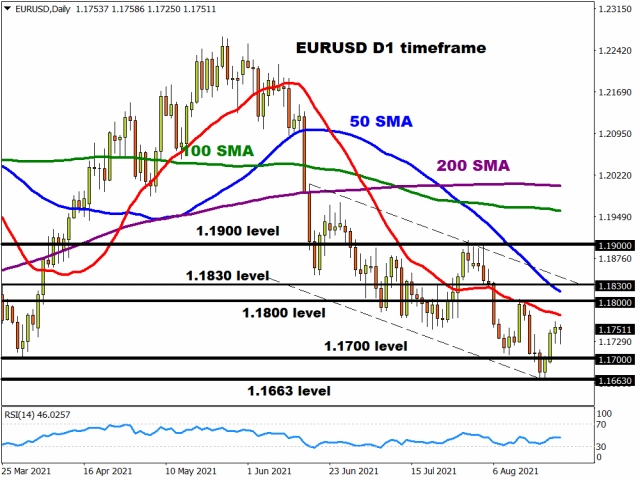 Oil claws back losses
Today, Brent crude is building on its biggest two-day gain since November. Prices are now back to testing the 50% midpoint of the July move lower. Increased demand in India and Mexico's oil platform fire are offsetting Delta worries on the fundamental side. Near-term support sits at $67.46 with bulls aiming to push black gold above $73 initially.