European markets flat at the open this morning as UK inflation surged to a record high in August and Chinese economic data was soft. China's retail sales fell to +2.5% in August, down from +8.5% in July, whilst industrial output grew by 5.3%, the weakest in more than a year. Asian stocks were weaker again following another soft session on Wall Street. Macau casino stocks the latest to plummet on a Beijing crackdown – Wynn Macau –27%, Sands China –31%, leaving the Hang Seng down 2%. Evergrande shares fell another 5%. Apple unveiled new products, more spending on content. Shares fell 1%, taking losses over the last 5 days to more than 5%. Stock these days has a look of a safe utility and it always does badly on the September product day.
FTSE 100 this morning is flat around 7,030, with energy and financials leading the way higher, tech and healthcare at the bottom. Restaurant Group shares weaker despite some good momentum since indoor dining reopened allowing it to raise earnings guidance. Darktrace shares +8% as it raised revenue guidance, now seeing growth of 35-37%, vs the prior guidance of 29-32%. Fevertree shares up 2% as direct-to-consumer sales doing well and US growth good.
Stagflation?
UK CPI inflation jumped to 3.2% in August, the highest since 2012, and rising from 2% in July reflecting a huge month-on-month jump in prices. Not a heap of reaction in the market – sterling still in the recent range after breaking briefly out of it yesterday. Question is one for the Bank of England – it already expects inflation to rise to 4% this year, so it's unclear whether this will force the MPC into taking a more hawkish stance. It's hard to say right now – a lot of the pressure could be due to base effects, but equally the core month-on-month increase stood at 0.7%, which shows inflationary pressures are not easing and can't just be attributed to what happened last year. There is no doubt that with rising energy prices, VAT for hospitality returning to 12.5% and the forthcoming NI rise, living standards are going to suffer. The readings ought to be proving that the transitory narrative was and is wrong and central banks ought to be getting a handle on it to deliver on their mandate. Meanwhile, our power-crazed government are all too willing to impose restrictions on our liberties again over the winter, something that will hurt sentiment and demand in the economy if it happens.
US inflation slows, slightly
US CPI inflation was a fraction softer than expected. The August CPI jumped 0.3% month-to-month, or 5.3% year-on-year. The all-important core reading excluding food and energy costs was up just 0.1% and below the 0.3% anticipated. Stock futures rallied initially on the news but subsequently gave up gains and ended weaker with little appetite to push higher – selling rallies now seems to be the way, at least in the near-term. Yields fell as 10s plumbed 1.275%, while gold recovered $1,800 and holds this level in early trade this morning.
Indices technical analysis
S&P 500 looking at the 50-day line again where it has found support all through the rally this year. Now we are heading into the options expiry choppiness which this year has seen selling into the 19th of the month before recovering. Could see this 50-day area given a real test – failure to hold it would open up the potential for the 10% type correction that many in the market expect this month or next. Yields came off so growth won over cyclicals – Russell 2000 down 1.44% vs the Nasdaq off by 0.45%, the former now through its 50-day and 100-day SMAs and looking towards the 11,282 level where sits the 200-day – last tested in the middle of August.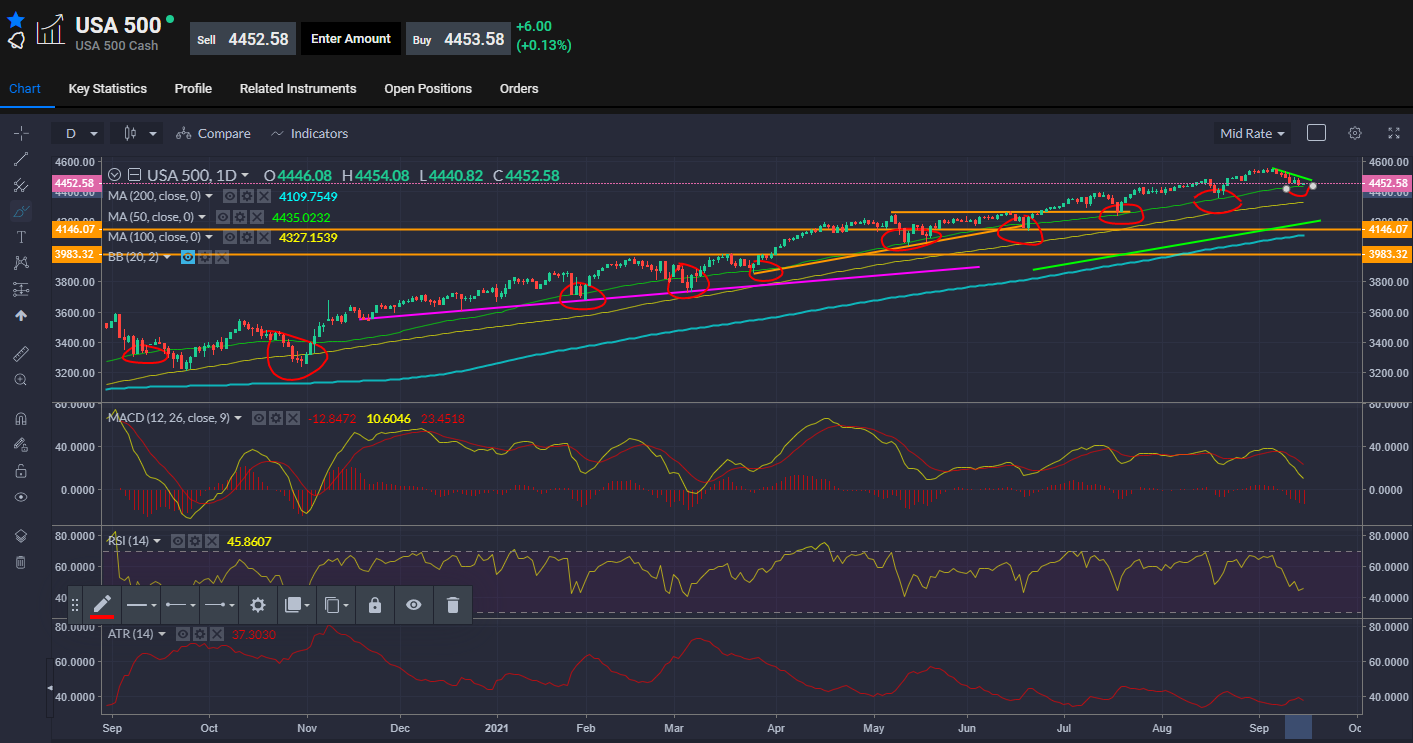 Russell 2000 futs sitting on the 200-day line, the small caps have chopped sideways since February. The dollar lost more ground, sinking to its lowest in a week after the inflation report. Cable rallied to its best since August 6th above 1.3910, but got slapped back down by the 100-day SMA and this morning trades around 1.3820. Crude oil remains well support and the International Energy Agency (IEA) reported yesterday that vaccinations for Covid-19 are set to deliver a major boost for oil demand as concerns about the passage of the delta variant start to ebb.
"Already signs are emerging of Covid cases abating with demand now expected to rebound by a sharp 1.6 mb/d in October, and continuing to grow until end-year," the Paris-based organisation said on Tuesday. Global oil demand is now expected to rise by 5.2m bpd this year and by 3.2m bpd in 2022.
Unexpected outages during August forced a decline in supply for the first time in five months, the IEA said, which extended the sharp drawdown in global oil stocks. "The most severe by far was Hurricane Ida, which wreaked havoc on the key US Gulf Coast oil producing region at the end of August, knocking 1.7 mb/d offline." But concerns over delta and its impact on oil demand has kept prices in check – signs that this is already unwinding. Meanwhile the API reported a hefty draw of 5.4m barrels last week, thanks largely to Hurricane Ida. EIA figs today expected to show a draw of 3.6m barrels. Crude oil (Oct) firmer again and momentum with bulls, just finding some pause for breath at the 61.8% retracement level.