There's been a stealth creep in Crypto and precious metals of late, but they've kicked onto the radar and commanded more airtime on social media and trading floors. I will refrain from saying either market have been bought as an inflation hedge as there is simply little correlation between crypto/gold and expected inflation – I certainly see Gold as a better portfolio hedge against a central bank pivoting in their stance and a potential walk back of rate hike expectations. I guess when rates pricing is so rich across the whole developed market spectrum and yield curves are flattening out (some see this as a rising chance of a future recession), perhaps buying some insurance, within a broad portfolio, against repricing makes sense.
Either way, Gold and Silver are finding buyers despite higher US real rates and a modestly stronger USD.
On the daily, Silver (XAGUSD) has found so much buying support of late between $22.40/00, with price subsequently consolidating before the buyers have now stepped up their game – we pushed through the 38.2% fibo of the late January decline and $23.60 should now be the near-term target. Gold wants to have another sniff at downtrend resistance at $1847, a level that seems so important for the gold market. Clients are largely feeling gold has had its fun, with 60% of open positions held short now.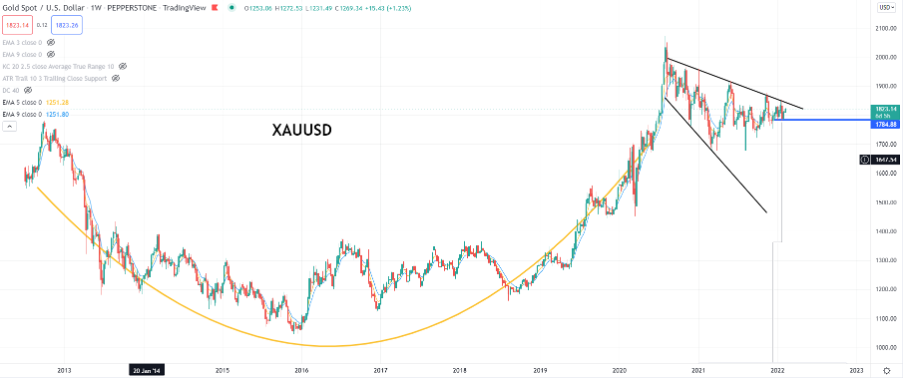 Gold weekly chart
Staying in the commodities scene and Soymeal was my 'Play of the Day' in last week's The Trade-Off and that is trending nicely, as is the case in several commodities I watch. There's a reason why CTAs (trend-following funds) often have so much exposure to soft and agricultural commodities – for swing and position traders, these markets trend better than any other market. The move is now quite mature, there is no doubting that, but this is why we use a trailing stop – for these types of plays we can use an ATR trailing stop loss.
Crypto has traded in a similar fashion as Gold and Silver, and as we've been only too accustomed to for many years, with a higher percentage move. XRPUSD has seen the bigger move in the coins we offer, but Doge and Dash have also seen outsized moves. I don't mind the shape of ETH, but Bitcoin looks interesting here, with price breaking the 44k mark and the supply zone seen throughout January – this looks strong, having rallied for five straight days and the best run since September.
Bitcoin is a momentum vehicle for me – I only take longs when it's rallying and short when it's falling – simple but when Crypto is a pure flow type instrument hitching a ride and aligning with the collective thoughts of the market serves me well.