It's been more than two years since the beginning of the global pandemic which has had tremendous effects on every aspect of our lives. Among the most obvious "side effects" of COVID-19 has been its impact on the economy and the financial markets. Traders and investors have witnessed fluctuating prices, ranging from record-breaking highs and unpredictable lows. While it's been quite challenging to keep up with the volatile markets, it has also been exciting to see how specific assets have managed to push through and surpass investors' expectations.
After all, as a trader you should know that trading always entails risk, as every day comes with ups and downs. Let's see now how the global pandemic has rattled the markets over the past two years and still is.
1. Trends that existed before the pandemic have accelerated
The extremely fluctuating prices of CFDs has altered traders' and investors' behavior. In order to keep up with the daily challenges of the markets, it's been essential that traders are constantly monitoring their trades and making swift decisions. This has created a movement towards "rapid trading" in which the markets experience extreme highs and lows, keeping traders on the edge of their seats.
The lockdowns created a surge in the popularity of streaming services, online video conferencing, and electric vehicles, as these were already growing before the pandemic. This has enabled traders to dive deeper into trading through mobile devices and remote work, which is something that could continue to grow in the following years.
2. Rising unemployment
During April 2020, retail sales plummeted in the United States before recovering by July 2020. In addition, the Fed data show that manufacturing output has suffered its worst dip since the 1940s. It was inevitable that the sudden drop in demand would have a disastrous effect on employment. A further estimate indicated 25.7 million workers had been affected by the pandemic. While in 2022 there is a clear move towards remote working, there still are noticeable cases of unemployment around the world.
Unemployment is a huge factor to look out for in fundamental analysis. As a country's employment rate increases, its currency will strengthen. A number of relevant statistics are usually analyzed in relation to jobless claims, payrolls, and unemployment rates. It's essential to stay up to date with the fundamentals that could affect your trades.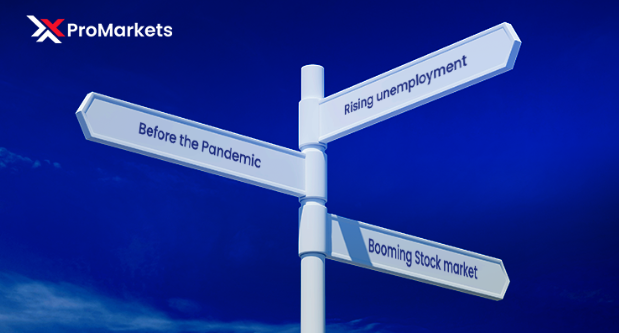 ​
3 Ways in which the Global Pandemic Has Impacted the Markets
3. The booming Stock market
Many markets have been dramatically impacted by the pandemic, especially during the early stages, with highly volatile prices in the commodity markets. On the other hand, the stock market has experienced extreme volatility, ranging from record-breaking highs to intense lows. The consecutive lockdowns put a halt on the global economy, resulting in huge price drops in stocks such as AMC Entertainment (AMC.N) and easyJet (EZJ.L). As many public places, such as movie theaters and shopping malls, as well as travel companies were not in operation, entertainment-related stocks were heavily impacted.
However, as it was expected, vaccine-related stocks such as Moderna, Inc. (MRNA) and Pfizer Inc. (PFE), were among the assets to soar the markets. With new variants emerging, these stocks remained popular throughout the pandemic. Moreover, technology-related and retail stocks also reached beyond expectations, with more and more people ordering online.
The stock market is still being affected by the pandemic, as every economic event could impact the assets.
What you can do to stay ahead of the competition
As a trader, you should know that trading requires constant determination, by boosting your skills and knowledge with educational resources, such as eBooks . With or without a global pandemic, what's even more important is to stay in the loop with every economic event that could affect your trades.
It's up to you to make your own path in your trading journey. XPro Markets is here to guide you through the challenges with educational resources and tools. Do you want to see how the global pandemic has impacted popular CFDs? Log into your account to get the latest information on the markets.