The global transport sector has been witnessing a dramatic shift from petrol and diesel-based cars to electric vehicles (EVs). The Global EV sales took a giant leap in both volume and market share in 2021. The United States is aiming for half of all new vehicles sold to be electric by 2030. Which is quite an ambitious target, when considering that over 15 million new vehicles were sold in the U.S. last year, and EV sales accounted for only 4%.
The global EV market share is still relatively small; however, we've witnessed a significant increase from 10 years ago when it accounted for less than 1% of total global car sales. In 2021, electric car sales represented roughly 9% of the global car market and have tripled their market share from two years earlier. The International Energy Agency estimates that there are currently around 16 million electrical vehicles on the road worldwide.
Global Sales & Sales Market Share of Electric Cars 2010-2021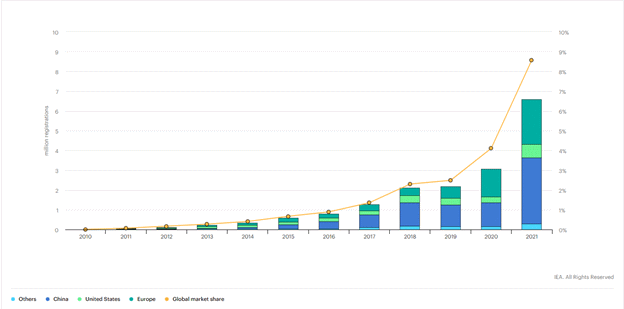 Figure 1. Source: IEA, Electric car sales fend off supply challenges to more than double global sales
Global EV Sales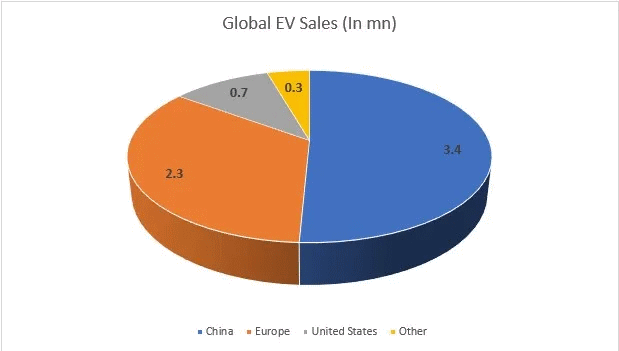 Figure 2. Global EV sales by country
China and Europe are leading the way in global EV sales. China's electric vehicle sales in 2021, have nearly tripled to 3.4 million compared to 2020. In Europe, electric car sales increased by nearly 70% in 2021 to 2.3 million.
Factors Driving EV Growth
Emissions Regulations: Government policies have been the driving force behind EV sales growth. The carbon emission limits and the hefty fines imposed by the European Union on vehicle manufacturers have led to traditional car companies switching to electric vehicles.
Technology: One of the main factors for mass EV adoption and to be considered mainstream consists of cheap batteries that are long-lasting. As battery technology continues to improve, we could soon be able to travel hundreds of miles with a single charge.
Cost: Despite the fact the electric vehicle is still higher in cost than traditional vehicles, due to time the gap should narrow. Most importantly, evidence has shown that running an electric vehicle is cheaper in the long run, mainly due to the difference between electricity and gasoline costs.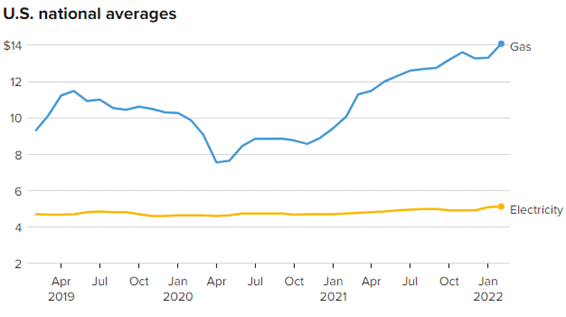 Figure 3. Source: U.S. Bureau of Labor Statistics for the electricity rates and U.S. Energy Information Administration for the gas prices
EV Impact: Oil Market
Due to the increasing popularity of EVs, the oil market is set to be rattled. Many energy experts are anticipating diminishing oil demand regarding transportation across the globe. Norway's Equinor ASA sees an aggressive drop in oil demand. Equinor stated that "Global demand of oil for transportation will drop 47% between 2018 and 2050 due to improvements in fuel efficiency and electric vehicles".
But the case for EVs significantly reducing global oil demand may not be as clear as it seems. Goldman Sachs recently mentioned that it seems that the overall oil demand for the transportation sector is set to peak by 2026 and highlighted that "Petrochemical wills become the new baseload for oil demand". Petrochemicals are components that are extracted from oil and gas are used in various kinds of daily products including plastics, fertilizers, packaging, clothing, digital services, medical equipment. They are also required to manufacture several parts of our renewable energy system, including batteries, solar panels and wind turbines. In addition, according to the IEA, it will account for more than one-third of the growth in world oil demand by 2030.
It is still uncertain to what extent the EV market will impact demand on the global oil market. But it is almost certain that the potential outcomes for both oil and gas are heavily dependent on governmental policies and how aggressive these policies are to decarbonize.