Growth and Value are two different yet fundamental approaches or styles of stock investing. Two key influencers in this space include Warren Buffet, widely considered to be the world's greatest value investor, and Cathie Wood on the opposite end, is a famed growth investor. So, what makes these styles so different? In a nutshell, growth investors are seeking companies that are expected to grow faster i.e. revenue growth, while value investors are focused on companies with a share price that don't reflect their true value – buying at a discount.
Here are some key points of both styles:
Value Investing
Lower priced: Value stocks are considered to be less expensive, and their prices are relatively lower in comparison to their competitors or industry peers.
Low volatility: Value stocks carry less risk than the overall market because they are typically more mature, and have stable earnings.
High dividends: Since value stocks have more solid earnings, they often provide higher dividends.
"Price is what you pay. Value is what you get" – Warren Buffett
Growth Investing
Higher Priced: Investors and traders are willing to pay a higher price for these companies. For instance, these companies tend to have a higher Price to Earnings and Price to Sales ratio because they are expected to grow at a faster rate.
High Volatility: Growth companies tend to offer higher upside potential and so it is only natural for it to be riskier. As the old saying goes "with high risk comes high reward".
Low dividends: Growth companies tend to offer little to no dividends because they are concentrated on reinvesting earnings back into their company to drive future growth.
Growth or Value…. Who's the Winner?
The battle between Growth and Value has been ongoing for years, with each style offering its unique advantage. We have witnessed periods when value has beaten growth significantly and for extended periods and vice versa. So, picking one style over the other may not be a sound strategy, because performance drivers are period-specific.
Here is an example:
Growth stocks have the potential to perform better when interest rates are falling, and earnings are rising. However, they may be the first to be punished when the economy is cooling.
Value stocks, typically outperform when interest rates are rising, and during periods of high inflation.
As displayed on the chart there have been different periods of rotation between value and growth over the past year. But we are now witnessing a rotation from growth to value, and this could mainly be due to the Fed's more hawkish stance on interest rates along with higher rates of inflation.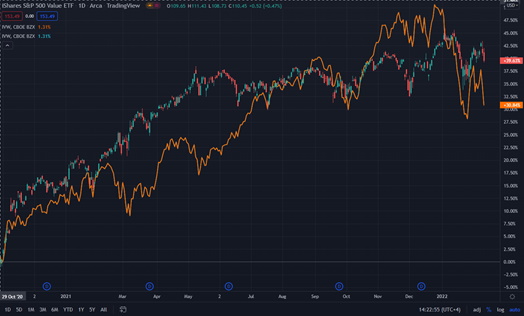 As displayed from the breakdown, the technology sector accounts nearly for 44% of the ETF as opposed to the Value ETF where Health care and Financials both account for roughly 31%.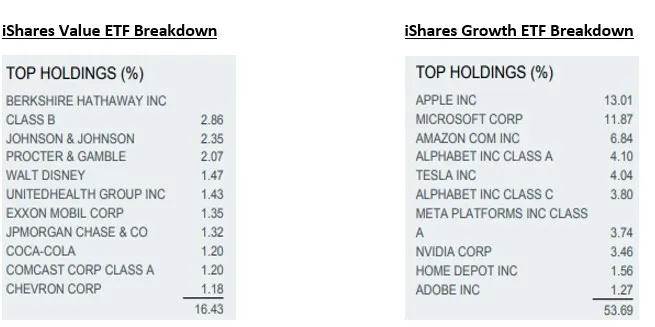 The Bottom Line
Every investor or trader has varying risk tolerance, investment goal, and time horizon. It Is important to highlight that the performance of either growth or value will depend largely on the market cycle we are in. However, if investors are seeking a more balanced style with high rewards and less risk, then a balanced approach of both growth and value stock would be optimal.
Here at MultiBank Group, we equip traders and investors with the right tools and knowledge for them to succeed. We always aim to take one step further for our clients to succeed in the financial markets. MultiBank Group offers clients 20,000+ CFDs across six asset classes including Forex, Indices, Shares, Commodities, Cryptocurrencies, and Metals. Trade with the World's #1 Online Financial Derivatives Broker.