Stablecoins have one job. To maintain their value at $1 per coin. That job failed after Tether (USDT), the most prominent "stablecoin" and integral part of the cryptocurrency ecosystem, found itself on the verge of a bank run after breaking its peg to the dollar. The crypto asset is designed to be tied to the dollar one-to-one. But, it found itself briefly trading as low as $0.94 on Thursday, according to Coinbase data.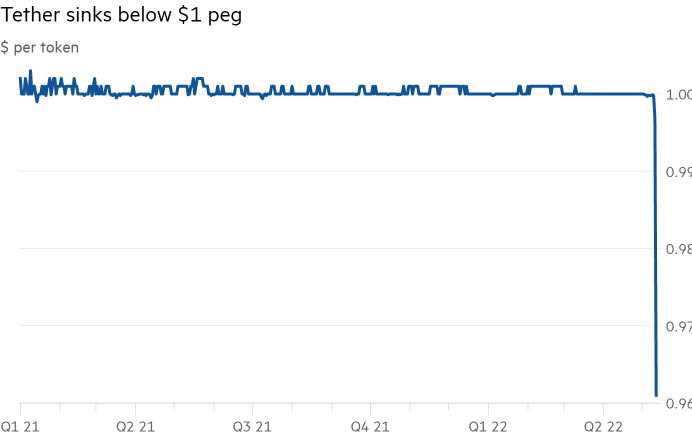 Its 6% free fall is but a drop in the ocean of a wider cryptocurrency crash that has erased hundreds of billions of dollars within days. Yet anther stablecoin, TerraUSD (UST), also completely slipped its peg from the greenback.
How "Stable" Really Are Stablecoins?
Stablecoins like Tether and TerraUSD are designed to be backed by sufficient capital reserves. This ensures depositors can confidently collect their dollars at withdrawal. However, concerns have often been raised as to whether stablecoins like Tether owns the reserves to support its intended dollar peg. The company previously stated that all tokens are backed 1-to-1 by U.S. dollars, stored in a reserve.
The group, however, has been criticised for lacking transparency over its holdings. Tether was fined $41 million by the U.S. Commodity Futures Trading Commission in 2021 over misleading reports about its stated reserves.
Stablecoins are designed to be relatively safe assets in an otherwise highly volatile cryptocurrency market. With a market capitalization of over $80 billion, Tether is by far the world's largest stablecoin. It's also the third largest in the overall market. With Tether's value fixed to the U.S. dollar, the coin should never trade below the $1 mark. If it does, this guarantees profit from commercial arbitrageurs that can take advantage of the coin's break from its true value.
The Wider Market is in Panic
The entire sector saw a rush of selling since the collapse of TerraUSD. At their lowest, Bitcoin and Ethereum both plunged around 30% this week. Smaller cryptocurrencies such as Solana, Ripple and Dogecoin were down between 20-30%. On Thursday, the world's largest cryptocurrency by market cap tumbled below $26,000 at one point to trade at its lowest point since late December 2020. Bitcoin then recovered slightly, settling around the $30,000 mark on Friday morning. The cryptocurrency selloff wiped over $200 billion of wealth from the market within the space of a day, according to estimates from CoinMarketCap.
"Quite a few people are lacking confidence in all stablecoins at the moment. I wouldn't be surprised if a lot of USDT holders saw what happened to Terra and are now exchanging for cheap Bitcoin," remarked Mati Greenspan, founder of Quantum Economics.
U.S. crypto exchanges are now facing a downturn larger than that of their global competitors. Trading volumes at Coinbase have progressively fallen since the start of 2022. Meanwhile, Binance's U.S.-focused business saw even sharper declines.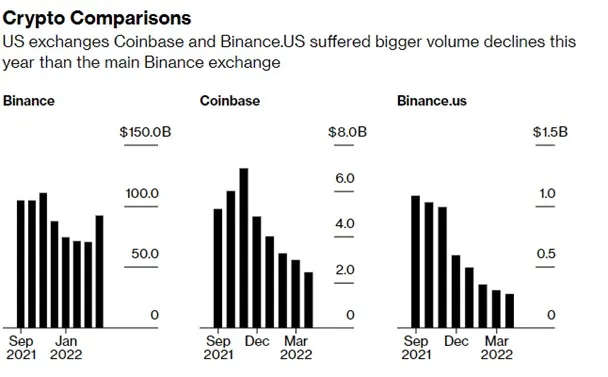 Investors appear to be fleeing from cryptocurrencies during the time that stock markets have dived from the highs of the pandemic on fears over soaring prices and fears of a deteriorating economic outlook. With central banks around the world now moving to aggressively tighten monetary policy to fend of 40-year high inflation, digital tokens have endured a bearish sentiment as safe-haven assets have taken the top spot in investors' portfolios.