Egg is widely considered to be a great source of quality protein and chicken egg in particular, is one of most commonly consumed foods in the world across various cultures. Have you ever wondered how many eggs would we eat in a year? Well, according to the International Egg Commission (IEC), the consumption of eggs per person in a year average around 161 in 2018, with exponential year-on-year increases.
In recent years, the relatively stable price of eggs was rocked by various factors, each boosting the prices of eggs higher and higher. Over the last three years, egg prices have been pushed approximately 300% higher at an unprecedented rate.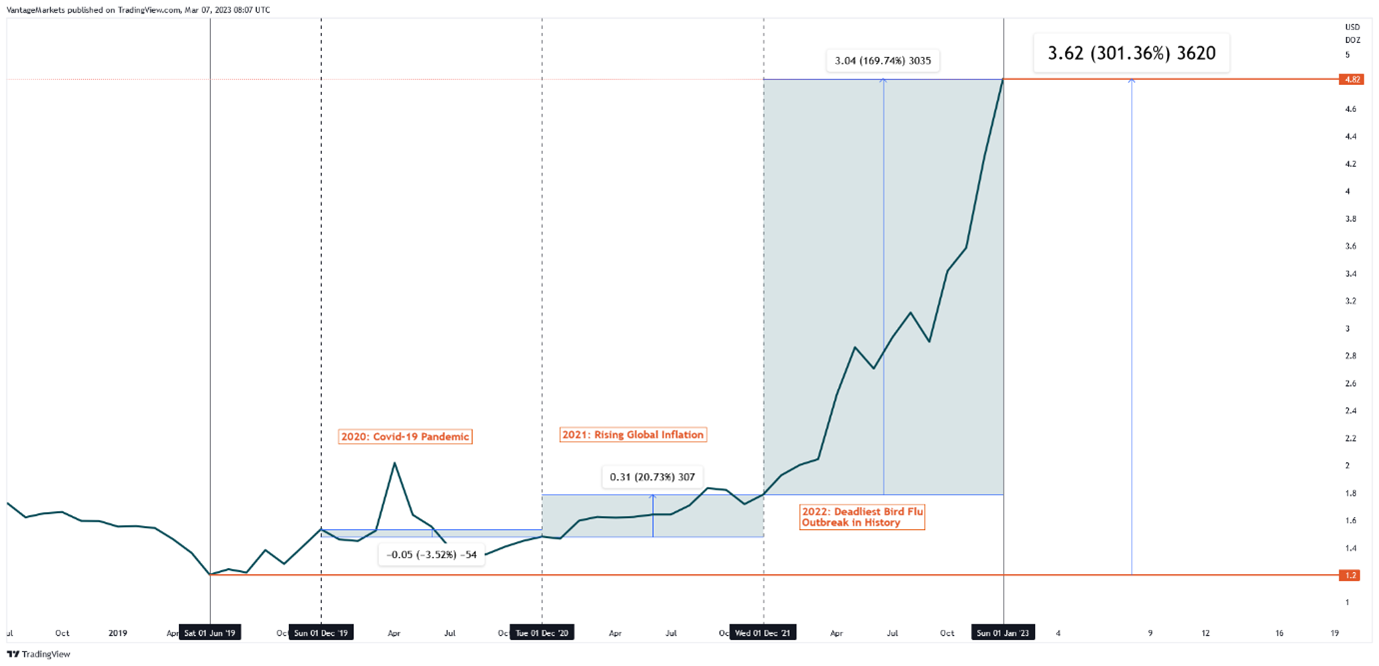 Egg-cellent Prices in Recent Years
So just how high, is high?
Looking at the chart above, let's dive deeper into how prices of eggs have changed.
2020: Egg-streme Fear, Uncertainty, Doubt from Covid-19
During the 2020 Covid-19 pandemic, economic and societal lockdowns resulted in the increased demand for food and necessities. Egg prices fluctuated greatly at the beginning of 2020 but stabilised towards the tail end of the year. The initial volatility can be credited to erratic buying patterns from consumers, and an initial oversupply of eggs pre-pandemic.
As the initial oversupply of eggs met its demand, egg prices began to go on a bullish run. The initial phase of the bull run as noted in Figure 1 can be credited to economic lockdowns forcing the supply of eggs to be reduced, while demand remained high [2].
During this volatile year, egg prices peaked to 2020 highs of approximately $2, and the lowest price was around $1.30. Despite the huge price volatility eggs traded at 2020, it declined by 3.52% by the end of the year as measured in Figure 1.
2021: Consumers 'Scramble' to Adapt to Rising Costs
According to the United Nations Food and Agriculture Organisation (FAO), global commodity prices peaked to the highest levels in more than a decade in 2021. FAO states the increase in overall commodity prices is due to disruptions to supply chains, factory closures, political tensions, and inflation. As the overall prices of commodities increased, prices of eggs moved in tandem. Eggs cost $1.46 during the start of 2021, and ended the year at $1.79 – an approximate gain of 20.73% measured in figure 1.
2022: Avian Flu Out 'Break'
Through the bulk of 2022, a highly pathogenic avian influenza (HPAI) impacted the bird population, more specifically the egg-laying hens. The reduction of hens due to disease or culling led to a 29% drop in US egg inventories by the last week of 2022. Prices of eggs rocketed to $5.43 in December 2022, reflecting a 137% increase in prices because of diminishing supply, coupled with inflationary pressures and on-going global supply chain issues.
Apart from egg prices, companies dealing with the sale of eggs also posted record gains during 2022. A prime example would be Cal-Maine (CALM), a company controlling approximately 20% of the egg market in the US, hitting gross profits of 600% compared to 2021 [6], and gaining approximately 46% in stock price through 2022.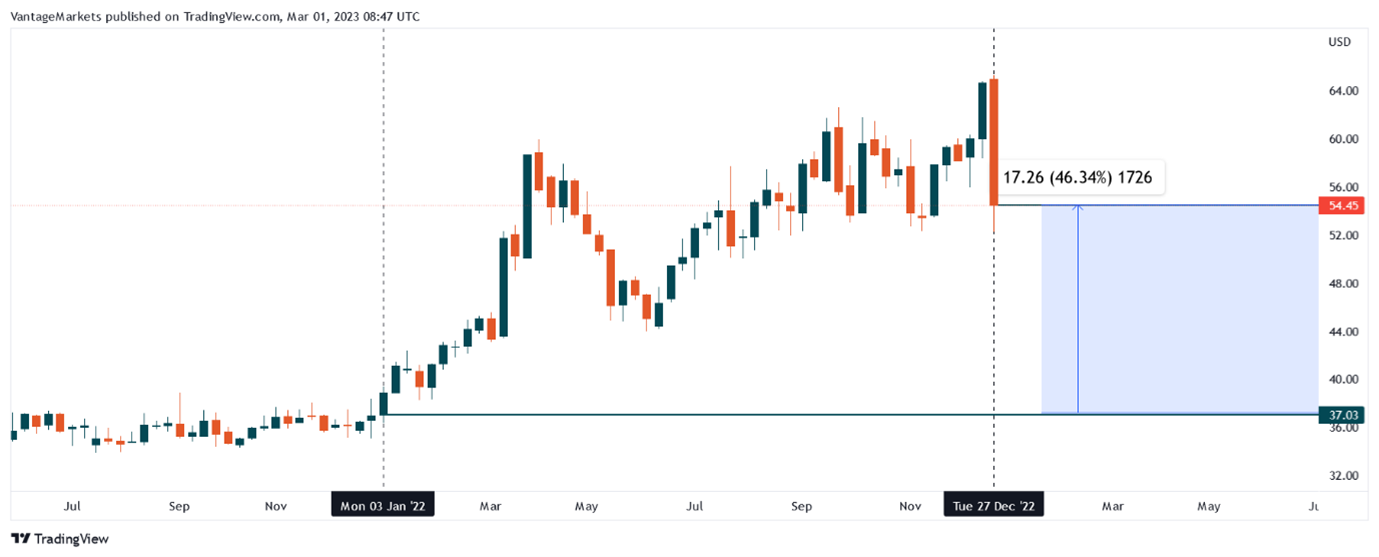 Conclusion
Egg prices were a standout in 2022 due to historically high inflation and bird flu outbreak. The bullish prices of eggs have been on a roll, reaching all-time high in December last year before they took a turn and dropped like Humpty Dumpty as we entered 2023. The egg prices have seen a big adjustment downward of over 50% from the peak at $5.43 on December 19 and another 47% decrease from the beginning of 2023.
As there has not reportedly been a rebound in bird flu outbreak since December 2022, the declining wholesale pricing is expected to gradually reflect in the retail market where eggs can hopefully be bought at a consumer-acceptable level again [7].