The EURJPY currency pair on the H4 time frame was in a down trend until 24 May when a lower bottom was recorded at 132.523. After the top at 132.523, the market broke through the 15 and 34 Simple Moving Average and the Momentum Oscillator broke through the zero baseline into positive terrain. The above indicators as well as a Morning Star Candle Pattern confirmed that a likely price reversal was in the making.
A possible critical resistance level formed when a higher top was verified later in the same session on 24 May at 133.045. Bears then tried to pull the market lower but on 25 May, but bulls formed a support level at 132.785 and managed to take control again.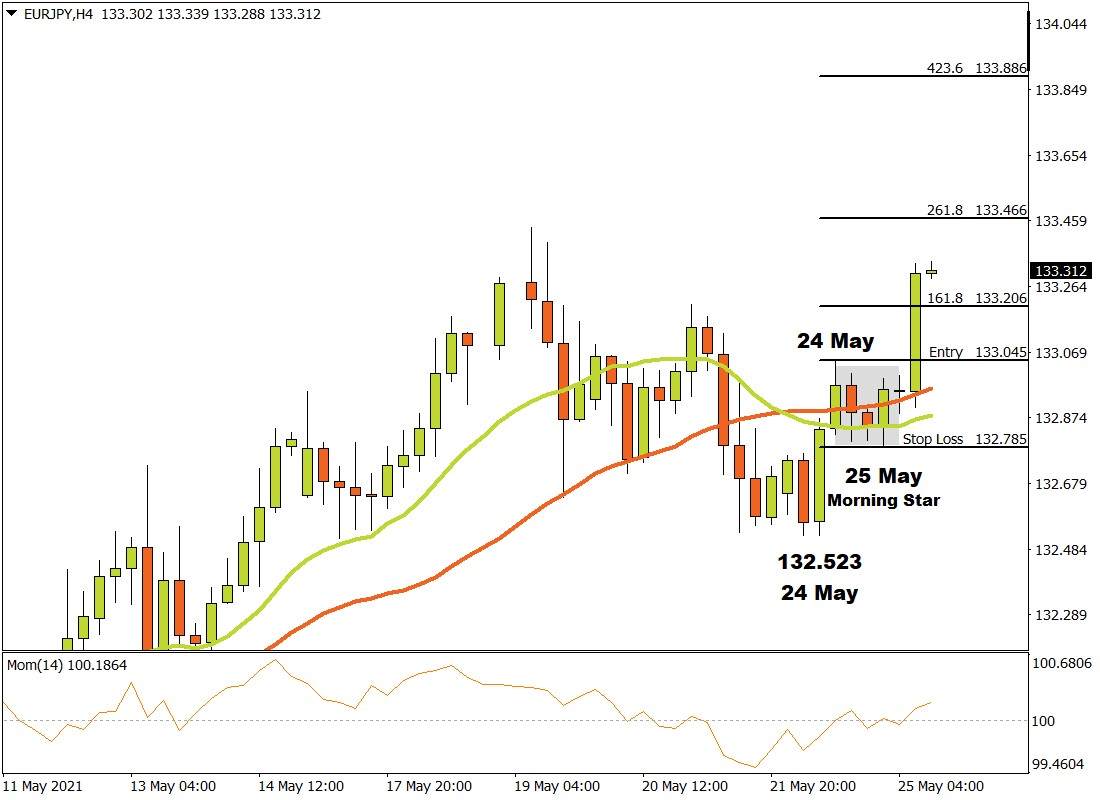 Later, during the 25 May session, the EURJPY broke through the critical resistance level at 133.045, triggering a long signal. Three possible price targets could have been considered from there. Attaching the Fibonacci tool to the higher top at 133.045 and dragging it to the bottom of the support level at 132.785, the following targets were calculated. The first target was estimated at 133.206 (161.8%) and the market has reached this target already. The second price target was forecast at 133.466 (261.8%) and the third and final target might be anticipated at 133.886 (423.6%).
If the resistance level at 132.785 is broken, the above scenario is no longer valid. As long as bulls continues to dominate and demand overcomes supply, the outlook for the EURJPY currency pair on the H4 time frame will remain bullish.
For more information, please visit: FXTM
Written on 25/05/2021 by Theunis Kruger, FX Trainer at FXTM