The EURUSD currency pair on the D1 time-frame was in a protracted uptrend until 18 August when a higher top was reached at 1.19649. Sellers found the price attractive and supply started overcoming demand.
After the higher top at 1.19649, the price navigated downwards through the 15 Simple Moving Average until August 21 when a possible support level was reached at 1.17535. Increased demand cause the price to go up again.
Although neither the 34 Simple Moving Average nor the Momentum Oscillator has crossed yet, a possible lower top might be forming as the Bears gather again after having been dominated by an exceptional three-month-long bullish move. A lower top is a warning for technical traders that a likely price reversal might be in progress.
If the Bears can gather in significant enough numbers and the price breaks through the critical support level at 1.17535, then three possible price targets may be calculated from there. Applying the Fibonacci tool to the support level at 1.17535 and dragging it to the top of a possible resistance level that might be forming at 1.19285, the following targets could be considered.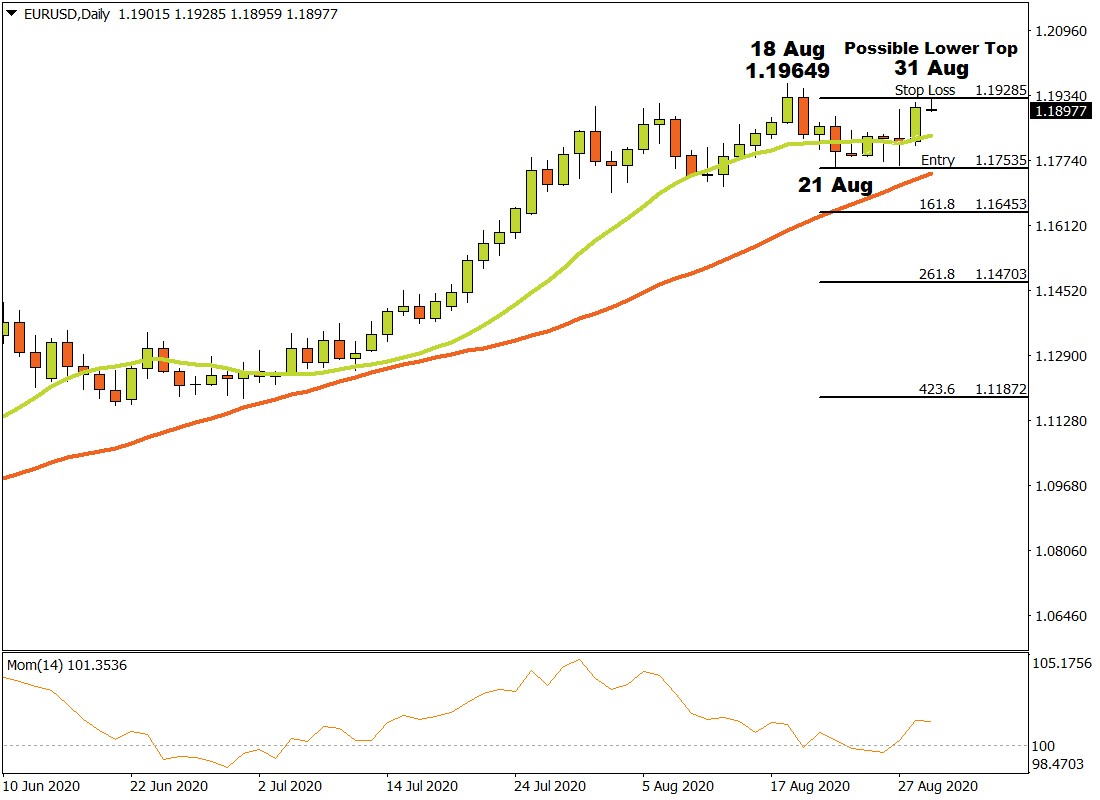 The first target can be projected at 1.16453 (161 %) and the second price target might likely be at 1.14703 (261.8%). The third and final target may be expected at 1.11872 (423.6%) if the downtrend continues.
If the 1.19285 potential resistance level is breached, the bearish scenario above is invalidated and will need to be reassessed.
If sellers can maintain a negative sentiment and supply overwhelms demand, the outlook for the EURUSD currency pair on the Daily time-frame might become Bearish.
Written on 31/08/2020 by Theunis Kruger, FX Trainer at FXTM