The EURUSD pair trended slightly lower on Thursday, October 8. The euro dipped 0.02% against the US dollar to 1.1757. During the North American session, the pair traded as low as 1.1733. This happened when the pound sterling rebounded against the dollar and the euro. By the close, buyers pared a 50% decline, pushing the price back up to 1.1762. The key pair climbed to 1.1781 in Asian trading today.
Interest in risk assets returned after Donald Trump tweeted that House Speaker Nancy Pelosi wants to close a Covid-19 relief deal. On Tuesday, Trump halted stimulus talks with the Democrats, but later spoke out in favor of more targeted stimulus bills to offset the economic damage from the coronavirus. Specifically, bipartisan talks are currently focused on rescuing airlines and sending out $1,200 stimulus checks to US households.
---
Today's macro agenda (GMT+3)
15:30 Canada: employment change and employment rate (September)
16:00 UK: NIESR Monthly GDP Tracker (Q3)
20:00 US: weekly oil rig count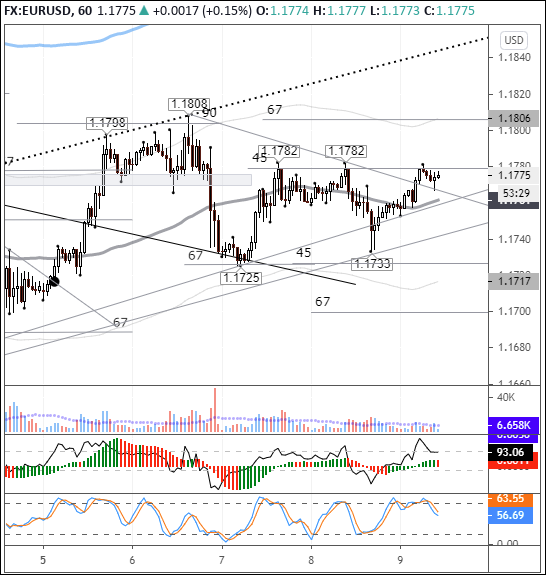 Current outlook
---
Despite the lack of headway in stimulus talks stateside, US stock indices closed in positive territory on Thursday, with the S&P 500 advancing 0.80% to 3,446.8.
In Asia, buyers pushed the price back to the 45-degree line at 1.1781. The standout performer is the New Zealand dollar (+0.44%), although it remains unclear why the kiwi moved higher, as representatives of the Reserve Bank of New Zealand said it was mulling the possibility of introducing negative interest rates. Thus, there was no news to drive the rally. Perhaps the kiwi is playing catch-up with other commodity-pegged currencies based on strong data out of China.
There is another important issue that should be noted. House Democrats are planning to introduce a bill to set up a commission to evaluate Trump's fitness for office, invoking the 25th Amendment. Nancy Pelosi and Jamie Ruskin have tabled a motion to remove him from office due to his inability to discharge his official duties.
Negotiations appear to have stalled again after Trump tweeted back that "Crazy Nancy is the one who should be under observation". In terms of negotiations, Nancy Pelosi told reporters that she rules out standalone bills without comprehensive relief.
EURUSD looks poised for continued growth. Given that the price action is at the 45-degree line and the Stochastic Oscillator is on top, we could see a pullback to 1.1760 before the North American session.
Could the euro fall below 1.1760? As a matter of fact, we think it could sink to 1.1725 for a number of reasons:
Negotiations between Republicans and Democrats are deadlocked
Trump walked away for the proposed online debate
Germany reported 4,516 new daily coronavirus cases
German health officials have warned that the above figure could rise to 10,000. Should the German government decide to impose tougher restrictions, which might then stifle recovery in Europe's largest economy, the euro could be expected to head south.
If Europe builds on gains in Asian trading, we think the pair could trade up to the 67-degree line. (1.1806). We also believe it would be highly advisable for Trump to be promptly disconnected from Twitter, otherwise the markets will face never-ending uncertainty.