The EURUSD pair traded marginally higher on Wednesday, November 4. The euro rose 0.08% to 1.1721 against the greenback, with an intraday range of 168 points. The FX market experienced heightened volatility against the backdrop of the US presidential election. At present, it remains unclear who the new president of the United States will be.
According to the latest reports from Fox News, Biden leads Trump with 264 electoral college votes out of the required 270, while Trump has 214 electoral votes. There are five states with votes still left to be counted. Donald Trump holds the lead in four states, but is still two votes short of 270.
Donald Trump's team has filed lawsuits in the courts of several states. Suits were filed in Georgia, Michigan and Pennsylvania on grounds that Trump's team allegedly did not have meaningful access to the tallying process. His team is also demanding a recount in Wisconsin.
---
Today's macro agenda (GMT+3)
12:30 UK: construction PMI (October)
13:00 Eurozone: retail trade (September)
15:00 UK: BoE interest rate and asset purchases
16:30 US: nonfarm productivity and unit labor costs (Q3), initial weekly jobless claims
22:00 US: Fed interest rate decision
22:30 US: Fed press conference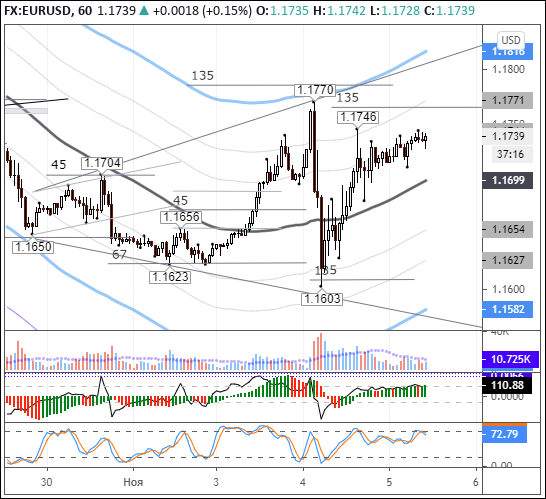 Current outlook
---
At the time of writing, the euro fetched 1.1729. The euro has been grinding higher on thin volumes since 5:00 pm yesterday. We expect the single currency drop to 1.1700 in line with a corrective movement. And while Biden still does not have enough votes to become president-elect, he will most likely gain 270 electoral votes before long. The question is what Trump will do. The Republicans have lost the lower house of Congress, and the Senate remains in question. In our view, the Democrats could end up controlling Congress for the next four years.
The euro is likely to strengthen against the US dollar as the Democrats rapidly move to pass the stimulus package that they have been calling for, i.e. over $2.2 trln. As noted above, support is now at the 1.1700 balance line. If buyers are able to push the price action higher until the end of today's trading session, then the euro will recover to 1.1810. Uncertainty over the final election results could drag on for days given that a large number of Americans mailed in their ballots.
Stateside, 300,000 mailed ballots have gone missing. The court ordered the U.S. Postal Service to investigate, but the service refused, claiming they cannot be traced. A lot now depends on the news flow. Prolonged vote counting is bound to spark social unrest and rioting in the United States. Meanwhile, market players should watch for the FOMC meeting with a press conference hosted by Jerome Powell.