The Gold market on the Weekly time-frame was in an extended uptrend until 2 August 2020 recording a higher top at 2074.87. This was followed by bearish pressure that upset the bulls thus moving the market lower.
After the higher top (at 2074.87), the market broke through the 15 and 34 Simple Moving Averages and the Momentum Oscillator crossed into negative terrain as it pierced through the zero baseline. Both technical indicators as well as the market structure of lower tops and a lower bottom confirmed that the bears exercised enough pressure to start a new downward trend.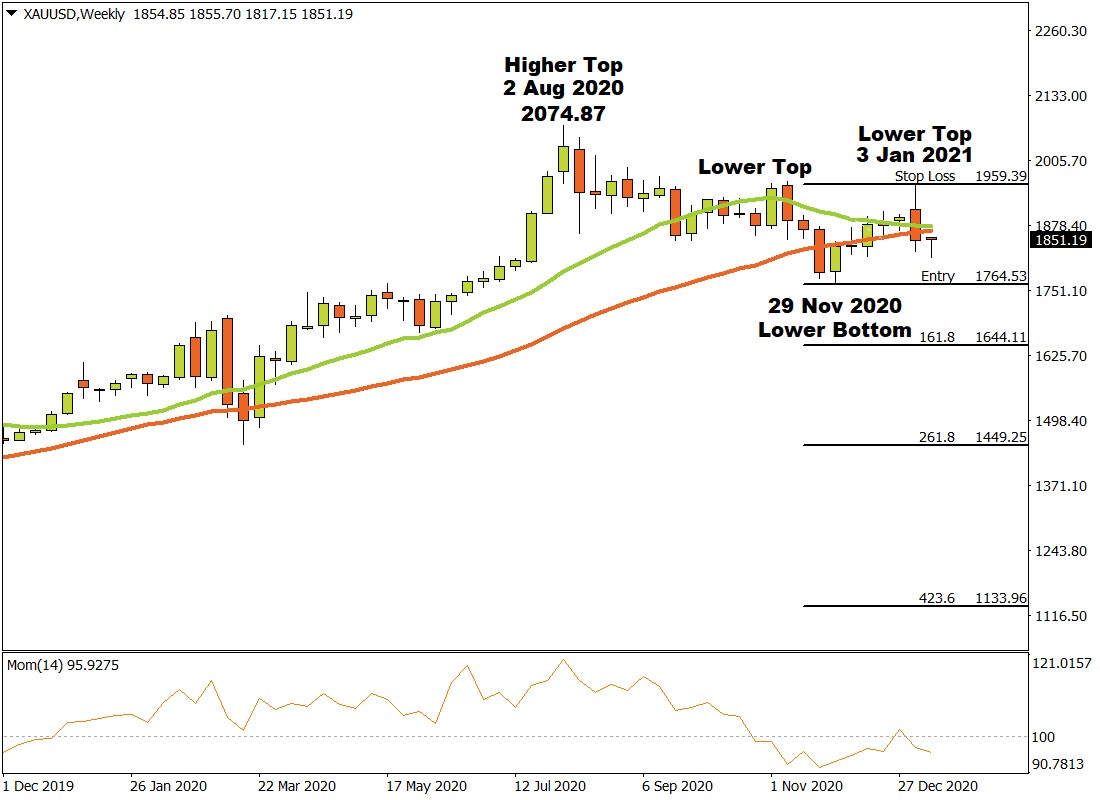 A possible critical support level formed on 29 November 2020 at 1764.53, after which the bulls started pushing back but they failed near a resistance level at 1959.39 on 3 January 2021 and the bears took control of the market again.
Important to note is that although the down trend is confirmed from a structural point of view (consecutively lower tops and bottoms), how far it might continue is always unsure, so risk management is essential.
In the event that Gold breaks through the critical support level at 1764.53 and makes another lower bottom, three possible price targets may be calculated from there. Applying the Fibonacci tool to the bottom of the support level at 1764.53 and dragging it to the resistance level at 1959.39, the following targets may be considered: The first target can be projected at 1644.11 (161 %). The second price target may be foreseen at 1449.25 (261.8%) and the third target may be expected at 1133.96 (423.6%).
If the resistance level at 1959.39 is broken, the above scenarios are annulled, and appropriate action must be taken. As long as sellers maintain a negative sentiment and supply keeps overwhelming demand, the outlook for the Gold Market on the Weekly timeframe will remain bearish.
For more information, please visit FXTM
Written on 11/01/2021 by Theunis Kruger, FX Trainer at FXTM