In the most traded currency market pair, there is an even more persistent downward trend. The EURUSD has rolled back to 1.1550 from the local peak at 1.1900 in early September, experiencing a systematic decline. Since late September, the RSI on the daily charts has been moving around 30, an oversold area, but that hasn't stopped the single currency from rewriting its lows from last July.
EURUSD has been methodically declining since early September
As we pointed out earlier, there are no significant support levels in the pair up to the 1.14000 area. However, locally, one may notice buying on declines. A consolidation above 1.1600 by the end of the week may allow us to talk about breaking the descending trend and launching a broader rebound, but the bulls will have to try harder for that.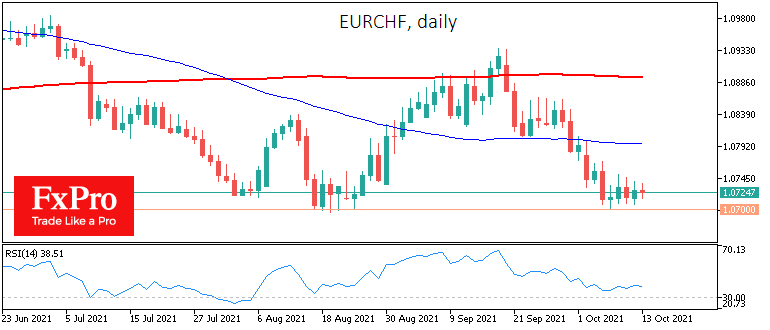 The Swiss National Bank, which is preventing the CHF from rising against the Euro, might be on the side of the Euro again. The EURCHF pair has formed a "floor" near the level of 1.07, approximately where it was in August. The SNB predominantly monitors the CHF against the Euro but doesn't neglect the USD either.
EURCHF refuses to fall below 1.07. Is the SNB behind it?
The USDCHF has been on an uptrend since August, so the intensity of the interventions against the Euro might weaken, reducing the support for the single currency. In any case, one hardly can expect the Swiss National Bank to reverse any meaningful long-term trends.